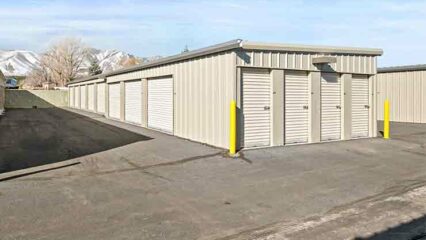 Flagstaff, AZ Storage Solutions Near You
Flagstaff is a city in Northern Arizona and lies near the southwestern edge of the Colorado Plateau. It sits along the western side of the largest contiguous ponderosa pine forest in the continental United States according to the cities page on Wikipedia. Flagstaff, AZ is home to Northern Arizona University (NAU) which is the heartbeat of the town. Shield Storage is excited to serve the Flagstaff community. From students to locals who are here year-round, we are here to serve you and all your storage needs. We offer self storage units with a month-to-month agreement to meet your needs whether you need storage over a long or short period of time.
Flagstaff Storage Solutions with a Personal Touch for Students and Residents Alike.
In Flagstaff, our team offers all our customers a personalized experience. We understand that everyone has different needs. Thus, we offer self storage options to fit your individual needs. Whether you need short-term storage or long-term storage, our month-to-month agreements will fit any need. We also offer multiple sizes of storage units to make sure that you have just the right amount of space for your items. At Shield Storage, we also strive to make convenience a priority which is why we offer access seven days a week and have our office open six days a week. With your personal access code, you can access your items without the help of an employee during access hours. Also, you can also choose how you prefer to pay! We offer multiple payment options for our customers to make on time payment as easy as possible. Whether you prefer to pay online, by phone, by mail, or in person, our team is ready and willing to assist you!
Contactless Move-ins Available with Shield Storage
Shield Storage is committed to providing our customers with a safe environment which is why we continue to offer contactless move-ins for all customers. If you would like a contactless move-in, please notify your store manager.
Shield Storage: Committed to Serving Flagstaff Small Businesses
If you are a small business owner in Flagstaff, AZ, we offer great business storage solutions for you! If you need a small self storage unit for old documents, office furniture you aren't using, or inventory, we have a unit that can meet your needs. Maybe you need business storage for extra supplies, we can provide you with a unit in no time! There are many reasons a small business may need extra space. No matter what your need is, large or small, contact one of our local Flagstaff storage facilities to learn more about how we can serve you.
Safe and Secure Mini Storage Options
Our storage facilities keep your items safe and secure through offering protection from every angle. First, our property is fully enclosed and gated. Customers can only access the property with their personal access codes, so we are able to know who is on the property and when. Our properties also offer features such as sprinkler systems and digital surveillance systems to add an extra layer of security. We are committed to providing you with the most protection possible, which is why we offer our customers protection plans. The Shield Storage Protection Plans will add an additional layer of protection in case of an unexpected event such as a fire or theft. You can rest easily when you store your valuable and sentimental items with Shield Storage.
Shield Storage Locations in Flagstaff, AZ:
Our Flagstaff Shield Storage locations are convenient and easy to access just off HWY 89. You can find local storage nearby here!
Shield Storage Also Serves the Following Cities Nearby in Arizona.
It is our goal to serve each community to our fullest potential. In efforts to do this, we also serve residents in cities nearby such as: