Your Guide to Better Storage Solutions!
You've Got Questions, we've got answers!
We all have questions, and many go unanswered. At Shield Storage, we hear your concerns and frustration, so we've compiled the answers to 20 frequently asked questions to help guide you to better storage solutions.
Self storage is a rather simple solution to many complicated problems. However, many tend to make it much more complicated than it needs to be.
Some think mini storage is just a place for people to put their belongings because they're leaving for college or being deployed with the military. In all actuality, however, self storage facilities can supply better storage solutions for many different situations.
Self storage provides better storage solutions for:
Holiday Decorations
Clothing
Extra furniture
Businesses
Cars and other vehicles
Seasonal sports gear and other items
And so much more!
5 Basic Storage Questions
To help clear up some of the questions about self storage, we've compiled a few questions and answers for you.

Q: What is Self Storage?
Self storage provides an individual with a flexible way to store their belongings in a place that is outside their home. The storage unit, the space being rented by the customer, is typically rented on a month-to-month basis.
Though many use self storage for short-term purposes, there is no limit to the duration you rent a storage unit if you adhere to the agreement you signed.
Q: Do I have to sign a long-term contract?
A: We understand that your storage needs may change from month to month, which is why we offer our Shield Storage customers the convenience of month-to-month agreements.
Q: What self-storage promotions do you offer?
A: Promotions at our facility will vary. Please be sure to contact us today for the most up-to-date promotions being offered at each of our locations.
Does climate-control really matter in my storage unit?
Many storage facilities offer climate-controlled units for their customers. This provides a safe place for you to store furniture made of wood, electronics, and other materials that can be damaged by extreme weather or humidity.
Some environments don't present as big of a need for climate-controlled units while others practically require it. You can learn more about climate-controlled storage in our Help Center or in the Storage Guide.
Two of the most common questions we get about climate-controlled self storage include: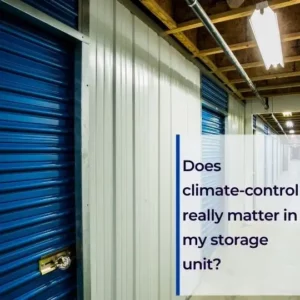 Q: Will a climate-controlled storage unit be more expensive?
A: Typically speaking, climate-controlled storage units are more expensive than a traditional storage unit. This price difference is due to the cost of keeping the required temperature within climate-controlled storage units.
Q: Can I move to a climate-controlled storage unit if I am currently renting a non-climate-controlled unit at the same property?
A: Absolutely. If there are climate-controlled units available at the facility you are currently storing, you can talk to the store manager onsite about moving to a climate-controlled unit.
Better Storage Solutions for your Business
Self storage, or mini storage, isn't just for personal use. Many businesses use a self storage unit for many different purposes.
Business storage is a solution that many different businesses in multiple industries use to help with inventory, furniture storage, and much more. Though the uses for business storage may vary, the goals are typically the same – saving time and money.
Some of the commonly asked questions we get about business storage solutions include, but aren't limited to:
Q: How Does Business Storage Provide a Better Storage Solution?
A: Self storage can help a business save time and money by providing convenient storage locations that offer easy access at a reasonable cost.
You can save hundreds, if not thousands, of dollars every year by using self storage to meet your business storage needs.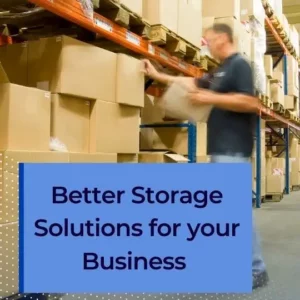 Q: Who Needs Business Storage?
Professionals
Restaurants
Tradesmen
Ecommerce Businesses
Manufacturers
Small Business Owners
Real Estate Agents
Home Stagers
Staging homes that
Q: Can I use a self storage unit for an office?
A: No. Though you can use a storage unit to meet many of your business needs, you cannot use it as an office due to safety concerns.
Q: Can I run a business out of my storage unit?
A: Technically, yes. Depending on the business you can use a storage unit to "run your business" especially if you are in ecommerce. However, you cannot use a storage unit as a shop or office.
Q: Can my self storage unit be used for multiple businesses if I have more than one?
A: Yes. If you have multiple businesses and desire to share the space with your own entities, please feel free to do so.
Cars, boats, and trailers – Oh My!
Who wouldn't love a better storage solution for their work vehicle, boat, RV, or trailer? Did you know that self storage facilities often offer vehicle storage solutions?
Let's take a look at some of the frequently asked questions our team receives about vehicle storage:
Q: What is Vehicle Storage?
A: Vehicles come in many different shapes and sizes. Your storage options for your vehicles shouldn't be limited to a "one size fits all" solution. This is why, at Shield Storage, we offer multiple storage options for your vehicles.
Some utilize a self storage facility to store their work trucks, trailers, and even their cars. Others, on the other hand, use storage for their RVs, boats, and other small watercrafts. Either way, you shouldn't be limited to selecting a one-size-fits-all parking space.
Q: What Types of Vehicle Storage are There?
A: There are a few different types of vehicle storage available depending on the Shield Storage location you choose. These types of storage include:
Indoor/Enclosed Storage
Outdoor Storage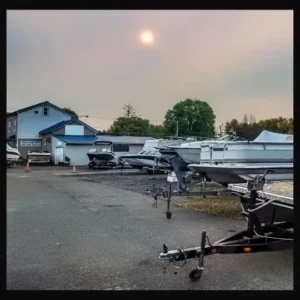 Q: Can I store my vehicle inside a storage unit?
A: Yes! However, not all properties allow it. So, be sure to discuss this with the store manager prior to move in. Also, you will want to make sure that the inside storage unit has drive-up access and is large enough for the vehicle you want to store.
Q: Can I perform maintenance on my vehicle while inside a storage unit?
A: We ask that you perform major maintenance and cleaning on your vehicle at another location other than the self storage location.
Q: Can I tow an old vehicle to be stored at a self storage facility?
A: All vehicles must be driven to the storage location unless they need a trailer for transporting such as with a boat, ATV, or jet ski.
Learn more about general vehicle storage, boat storage, and RV storage at here.
Let's talk about insurance…
Self Storage Insurance and Protection Plans
To ensure your items are covered in case there is a loss, we require that all customers either cover their stored items with their own renters' insurance or that they buy one of our protection plans.
As we have said before, the safety of your property is our priority which is why we require that all customers follow this company policy prior to renting one of our self storage units.
Q: What are insurance and protection plan policies?
A: Insurance or protection policies provide you coverage in case of a flood, fire, or other unforeseen event.
Q: Am I required to have an insurance plan or protection policy?
A: Yes, since you are still responsible for your property when it is stored at our facility, an insurance plan or one of our Protection Plans offer you a layer of protection to ensure that any losses are covered up to the amount of coverage listed in your policy.
Q: Why am I required to have insurance coverage or a protection policy when storing with Shield Storage?
A: The storage facility is not responsible for any loss or damage to your property. You "store at your own risk".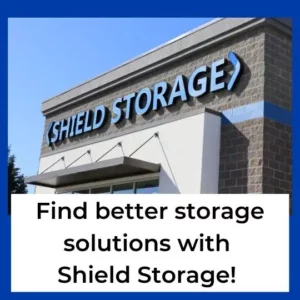 Find better storage solutions with Shield Storage!
 At Shield Storage, you will find a team you can trust. We value our customers and know that providing you with a storage solution that is convenient and cost effective is most important. Visit our locations page today to find a Shield Storage, or one of our managed properties, nearby that can better serve your storage needs.
;
More From Shield Storage