Why Shield Storage is the better Washington Storage Solution 
Storage in Washington can be found in many places. You must be sure, however, that you're choosing the best Washington storage solution for your needs. Is there a better self storage solution near you in Washington? Are your storage needs being met at the highest level, or are you settling? 
Washington has many diverse communities with people who come from many different backgrounds. From the bustling city to a small-town feel, you can find a little of everything in Washington state.  
As the population continues to grow in towns like Billingham, Spokane, and Vancouver, so does the need for residents to find self storage they can trust. No matter your storage needs, you should be able to find a facility that will meet your needs. 
 Relocating can be made easier when you use a self storage facility.  
Any type of relocation or move can be stressful. However, it doesn't have to be. If you are looking to move this coming year, consider how a self storage unit could help you with your move.  
Storage units can help with relocations because they offer a flexible solution for you to store furniture and boxes as you unpack. This can be extremely helpful if you have to wait in a smaller home for a short period while waiting for your permanent residence to be ready. 
If you are relocating to Washington, Shield Storage can provide you with a solution that can provide you with the flexibility to make your move smoother. In some cases, it may save you money in the long run.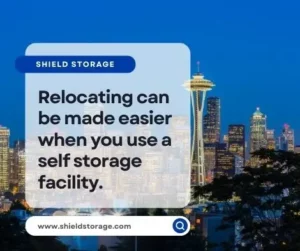 What to consider when choosing your Washington state storage location? 
There are many things to consider when choosing a storage facility. Some use storage facilities more for personal items such as collectibles or furniture. On the other hand, many small businesses use storage units to store files, inventory, parts, and more.  
No matter what you need storage for, you need to keep in mind some of these specifics: 
Location, location, location! 
Location matters. If you can't find a storage facility that offers you the convenience you need, it won't be a good fit – no matter the price! 
Security features you can rely on. 
You want to be sure that you are choosing the right storage solution, be sure that the store you choose offers security features you can rely on.  
 Different storage unit sizes fit any storage need. 
If you are looking at a storage facility that has a limited number of unit sizes, you may end up paying for storage you don't need. Be sure that you ask about all storage sizes, even if some aren't currently available. This will allow you to know what you options may be at that same location if you need to move to a smaller or larger unit at some point.  
Flexibility matters. From size to location, flexibility is a priority for our customers and it's a priority for us.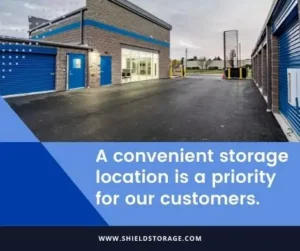 A convenient storage location is a priority for our customers.  
First, location is a big thing to take into consideration. Your Washington storage solution shouldn't be difficult to access. It should also meet all your storage needs no matter what you need to store.  
For some, having a location near a freeway so you can head out of town easily with your boat, RV, or stored camping gear. Shield Storage's location in Vancouver, WA is close to the I-5 just off W Fourth Plain Blvd on Scott Ave which allows for easy, convenient access. 
Others, on the other hand, may want to have a storage unit nearby that is conveniently found near their office or home. Each of our Washington storage locations provides convenient access for the surrounding communities as well as the business owners nearby. 
Also, you should keep in mind that size does matter! It is important to get a storage unit that fits what you need to store. If you are storing furniture, you want to make sure the facility you choose offers units that provide you with the appropriate size units to fit the furniture you have.  
The best storage solution when you have an emergency. 
Unfortunately, emergencies happen. At Shield Storage, we know that when an emergency occurs, you need solutions that are fast, simple, and reliable. Emergencies create enough stress as it is, the last thing you need is for there to be more stress from finding the right solutions.  
For this reason, we strive to make reserving your self storage unit as simple as possible. To accomplish this, we have put in place simple processes to help you get your storage unit reserved online or instore.  
It is important that we offer our customers a solution for their storage needs day or night. So, we offer online registration which allows you to reserve and hold a unit when the need arises, not just during business hours.  
Life's emergencies come in all shapes and sizes and at all times of the day or night. Most emergencies come from nowhere, therefore you need a storage solution you can rely on that will be here when the time comes.  
 Life's emergencies come in all shapes and sizes.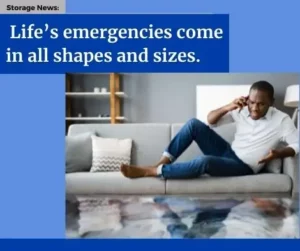 Emergencies can come in all shapes and sizes, but no matter the cause we are here to lend a hand. Some emergencies we've helped customers through include: 
Water damage in the home: Using a storage unit to store furniture and other belongings while your home is being treated for water damage can help limit your stress during situations like these. 
Sudden life changes: It can happen. Suddenly, you lose your job, or your marriage falls apart and you find yourself navigating a divorce. No matter the life change that comes, there are times you must act fast and move with little notice. We provide many options to our customers with flexible month-to-month agreements that allow you to adjust to these sudden changes as smoothly as possible. 
Death in the family: No one really knows how to prepare for the loss of a family member. This is especially true when that loss is sudden. We don't want any of our customers to have to experience this type of emergency, but we know it happens. This is why we help our customers to find the right unit to hold their loved one's things until they are ready to take the time to go through them.  
When a loved one is lost unexpectedly, grief can be overwhelming. One of the hardest parts of this period can be sorting through the items that belonged to the one you lost. We have had many families choose to put these items in one of our storage units so they could take their time to process their grief on their terms. 
No matter the emergency, we want you to know that there is a Washington storage solution nearby that is here for you. If you're in the Spokane, WA or Vancouver, WA area, we have a storage location nearby that can fit your needs.  
Storage solutions nearby in Spokane, WA 
If you are in the Spokane, WA area, you can find a committed group of people ready to help you at one of our two Spokane locations. Whether you need drive-up storage access or indoor climate control, you'll be able to find something to fit your needs at one of our facilities.  
At About Space, you will find a wide-range of storage units available to fit your many storage needs. We also offer indoor, climate-controlled storage at About Space which is great for protecting your wooden furniture while being stored.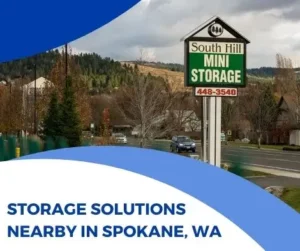 We also offer a large range of drive-up storage unit sizes at our South Hill Mini Storage location. This Spokane storage facility offers extra security for some units by offering unit door alarms.  
Whether you have an emergency or need storage for typical usage, we have a self storage location nearby in Spokane that will meet your needs. 
If you aren't in Spokane, you can find a storage facility in Vancouver, WA which also offers a convenient location.  
Self Storage near you in Vancouver, WA 
If you are in the Vancouver, WA area, we have a Shield Storage location on Scott Avenue that can meet your storage needs. From indoor, climate-controlled units to outdoor, drive-up units you can find the perfect unit for your needs. 
Also, remember that location is important. It's one of the primary factors that customers consider when they reserve a storage unit. Our facility, which is located right off W Fourth Plain Blvd, is just a few miles from I-5. 
With the highway so close, you can pop into your storage unit to get your camping gear before you head out of town. Or you can use our storage facility for business storage. What's better than having a storage unit with convenient highway access to keep your parts and inventory for your Vancouver small business?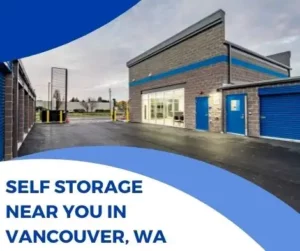 Storage for all your personal and business storage needs.  
Shield Storage is here for all your personal storage needs. From typical household storage to emergency storage, we have something that will meet your needs. However, we can also provide storage solutions for your business storage needs as well.  
If you have a small business in Spokane or Vancouver, we have a storage facility that can provide a cost-effective storage solution. Small businesses need storage too. What better choice than to store your items at one of our convenient storage locations?  
What's more, if you have a growing business, you may need a storage solution that can grow with you. Our lease agreements are month-to-month. This allows you to move storage units when needed, as long as availability allows.  
If you have inventory for an ecommerce business that needs to be stored, look no further. Reserve a storage unit at one of our Spokane storage locations or Vancouver storage location today.  
 Providing you with the safety and security you need. 
It is also a priority of ours to provide you with the safety and security you need and deserve. Keeping your property safe is key. Thus, we strive to continue to provide the necessary security features each Shield Storage location needs. 
One way we provide an extra level of security for our customers is by offering protection plans that will cover your stored items in the case of an unforeseen event. Though we strive to ensure that nothing happens, we can't prevent everything. Thus, we will do our best to be sure the situation is handled swiftly and professionally.  
We train our staff to know how to handle these situations to the best of their ability. We do so by offering support from a district and executive level to ensure situations are handled properly.  
 Self storage shouldn't be as stressful as most make it, rest easy with Shield Storage.  
You should be able to rest easily with your storage solution. When you choose where you are going to store your items, find a place that allows you to rest easily.  
Convenience and price are key but finding the cheapest storage solution isn't always the best storage solution. The Shield team is here to serve our customers. One way we do this is by providing a smooth move-in process. It is a priority to our team for you to be comfortable while at our properties. So, we do our best to make that possible in multiple ways. 
We have been in the storage business for a long time. We want our customers to know that they will get great service. Our team wants you to be able to sleep well at night when they store with us.  

Find a Washington Shield Storage location nearby today! 
With three Washington locations available, we are here to serve you! If you aren't found in Washington, and are looking for storage in another location, we offer facilities in six other states. Please visit our website today to find a convenient storage location nearby. 
Finding a better Washington storage solution doesn't have to be difficult. You deserve the best! And having peace of mind knowing your local storage facility is there when you need us is key. If you have any questions about the items you can store at our Shield Storage locations, contact us today! 
More From Shield Storage