Why a Storage Unit is the Best Gift for Dad this Father's Day
It may seem silly to get your husband or dad a self storage unit for Father's Day. You may be wondering how something like this would make a great gift for the man in your life. However, if you think about what he loves to do and how much space his hobbies are occupying in your home and garage, you may think again and start asking yourself, "Where is there a storage unit near me?" 
A storage unit is not necessarily the first thing that comes to mind when you think about Father's Day, but maybe it should be. Storage units can be used for several purposes. Some can offer space to allow the customer to store anything from a vehicle to tools and woodworking equipment.  
Self storage has been used for years for moving purposes and to help keep the "overflow" of stuff that many accumulate at bay. They have been used, traditionally, for those who need extra space for a short amount of time. Today, however, the uses of these units are used for much more. Some of these purposes include storing someone's classic car, guns for hunting, or tools for working on their car or woodworking projects.  
Bernalillo, NM has so much for dad to do with the kids, friends, or for some me time.  
Bernalillo has so much to offer dad to feed his passions. Whether he enjoys the outdoors, sports, or collecting classic vehicles, he can find something to do in the surrounding areas. 
Bernalillo is located about 20 minutes from Albuquerque, NM. The proximity of such a large city makes it possible for dad to enjoy what he loves, no matter his passion. A storage unit does the same thing in a way.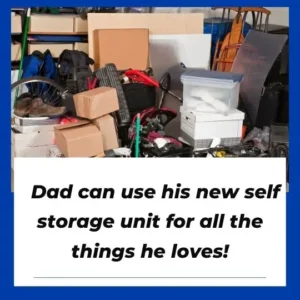 Today, your husband must limit the number of tools he has so that you can still park your car in the garage. You dad can't buy any more guns to go hunting because your mom wants to still have space in her closet for clothes and shoes. Space no longer must be an issue that limits dad! 
Dad can use his new self storage unit for all the things he loves!
No matter what your dad loves to do, a storage unit will give him the space he needs to continue pursuing his passion for years to come. Some examples of hobbies a self storage unit could be used for include, but certainly are not limited to, are: 
Fishing 
Dad can store his fishing boat, rods, gear, and other necessities in a small self storage unit. This way they are there when he needs them, but out of the way when he doesn't.  
Hunting 
Depending on what your husband or father likes to hunt, they could use more storage for their gun safes, camping gear, and coolers. If they are new to hunting, make sure they have the space they need from the start! Whether your husband or dad is an avid hunter or new to the sport, a storage unit will give them the space to continue pursuing what they enjoy most.  
Hiking 
It may not seem like it, but the avid hiker needs quite a bit of gear. If your husband, or father, enjoy hiking for long derations, especially overnight, they will need the right equipment. What better place, that isn't the garage or basement, for your loved one to keep their hiking gear than a storage facility.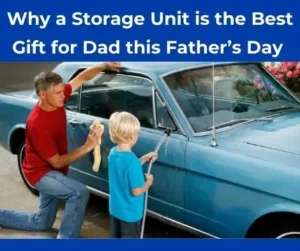 Camping 
What better way to spend a weekend than the outdoors in the trees? The avid camper has a lot of equipment that they use to make their time as easy, and fun, as possible. With this comes the need for extra space. Getting your father, son, or husband a self storage unit to store their camping gear will make it possible for them to keep their gear organized and in good condition.  
Woodworking 
Depending on the types of project your loved one enjoys creating, they need space for large saws and benches. Unfortunately, not all homes come with the space needed to properly use these tools the way they're meant to be. A self storage unit would provide him with the best space available to do what he loves. Creating beautiful pieces with his hands and wood.  
Tool storage 
Does your husband love to collect tools? He may not use them daily, but he will – when he has a need for it. It's time to get your garage space back! This Father's Day, get your dad or husband a self storage unit so they have enough space to collect all the tools they need, and want, while opening your garage back up for your car.  
One of the best places to store a classic car is a self storage unit. Does your dad love to keep his classic car in top shape? It's his "baby", but is having to keep it in the garage or even parked on the street? Not anymore. There must be a better solution. Why not give him the gift of a self storage unit that will fit his "baby" and keep her clean and unscathed for show time? There is no better gift! 
Give dad the gift that keeps on giving – more space!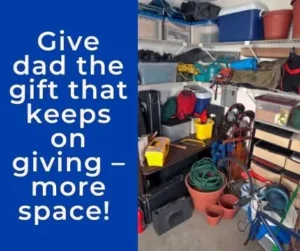 Space is sacred, especially when you have so many interests and hobbies. If dad has the space to store the things he needs to do what he loves most, he will be happier for years to come! No matter what his passions are, there is more space for him and his hobby at a self storage unit. You also get the relief of knowing that his new fishing rods, shotgun, camping equipment, or tool bench aren't being crammed into your garage or backyard.  
Don't wait! You still have time to reserve a unit before Father's Day! Contact one of our Shield Storage stores today to learn more about how you can reserve a self storage unit for dad today! Give the gift that keeps on giving for years to come! 
More From Shield Storage