What is the cheapest storage solution?
When you look to find the cheapest storage solution, you must make sure you consider several different variables. The cost of storage fluctuates and differs based on a few key components.
Just like anything else, you want to remember that you get what you pay for. Many times, if you are looking for the cheapest storage solution, you're also looking for the bare minimum when it comes to features and access.

How can I store cheap?
The cheapest storage solution is going to be your garage, or a storage shed that is at your home. However, there are costs that can be associated with using these options.
For example, if you are using your garage for storage then you may not have the space available for your car, bike, or other items you want to have regular access to. Thus, you will be leaving these items outside to be exposed to the weather and other elements regularly.
Though it is the cheapest storage solution, you could incur costs associated with the maintenance and wear and tear of the other items that should be in your garage. It's something you should consider for the long-term.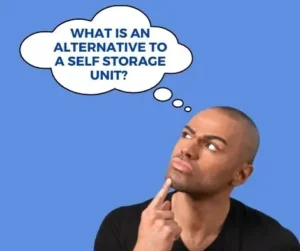 What is an alternative to a self storage unit?
An alternative to a self storage unit, as mentioned above, is your garage. You could also use a storage shed that can be placed in your backyard.
However, these can be quite pricey. This is especially true if you are looking for something that won't leak and can protect precious items such as collectibles, clothing, or wooden furniture.
You could also use an extra room in your home for storage, but then you are losing livable space in your home. For some this isn't an issue, however, if you need that space later on it can be quite cumbersome to clear out.
Why is self storage so expensive?
There are many factors that go into the pricing of a self storage unit. Again, we have to always remember that you get what you pay for. If I'm spending $20 a month on a storage unit, will I really be confident that my items will be safe and secure?
Cheap isn't always better. Sometimes it's just cheap.
Some of these factors include, but are not limited to:
Security Features and options
Accessibility
The size of the unit
Which add on services you select
It is important remember also that the cost of storage will also be location specific. The prices set in one city or state won't typically be comparable to other cities or states.
What am I really paying for at a self storage facility?
When you use a self storage unit to store your items or vehicle, you are paying for many features. Though some of those features are subject to your specific circumstances, we know that our customers value the service they receive and the peace of mind that their items are secure.
At Shield Storage and many of our managed properties, our customers can find features such as:
Well-lit areas at night
Extra security features (varies by location)
Gated with a modern gate with keypad entry
Options for Insurance plans
Helpful staff who care
Clean, well-maintained grounds and units
You aren't just paying for a place to store your things. You're paying for a solution that will give you peace of mind. What's more, you're also paying to keep the space you need access to daily in your home.
It's not about finding the cheapest storage solution, but the best storage solution.
At Shield Storage, we believe that it's not about providing the cheapest storage solution, but the best storage solution. Our customers can count of finding the best storage solution when storing with us, and our rates our extremely competitive as well!
We do our best to ensure our customers get into the storage solution that fits their storage needs the best. Did you know that, depending on what you are storing, you may need vehicle storage or climate-controlled storage?
You can learn more about different types of storage here.
Our team is knowledgeable to not just sell you a storage unit, but to find a solution that fits your needs.
If you're ready to find a better storage solution, find a location nearby and reserve your storage unit today!
More From Shield Storage