What is Self Storage? How Shield Storage is Here to Serve You.
Self storage provides an individual with a flexible option to store their belongings in a place that is outside their home. Shield Storage provides a safe, secure, and clean place for all your storage needs.
The storage unit, the space being rented by the customer, is typically rented on a month-to-month basis. Though you can utilize self storage for short-term purposes, there is no limit to the duration you rent a storage unit if you adhere to the agreement you signed.
Self storage, also known as mini storage, provides more convenience and access to your belongings than other storage services. At our facilities, you have the flexibility of accessing your unit and your stored items as often as you need during the posted access hours.
Storage can be used for several things. Though there are a few restrictions, the possibilities are almost unlimited.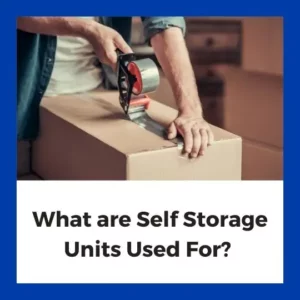 What are Self Storage Units Used For?
Self storage units are used for many different purposes. Some may utilize their unit for a short period of time, while others have found it to offer a great solution for an extended period. No matter the reason, a self storage unit can offer you the convenience and flexibility you need no matter the reason.
Typical uses for a self storage unit include, but are not limited to, the following:
Moving
Life Transition
Decluttering
Storing a Vehicle
Home Renovations
Business Storage
College Storage
Military Living
How do You Choose the Right Storage Unit?
There are many different features that can lead you to choosing which storage unit is best for you and your needs. These features include:
Location
Security Features
Price
Upkeep
Caring and Friendly
Though the importance of these features will vary from person to person, they all serve an important purpose. The key is for you to decide which ones are the most important and look for a facility that will meet your needs.
What Types of Access Can a Self Storage Unit Have?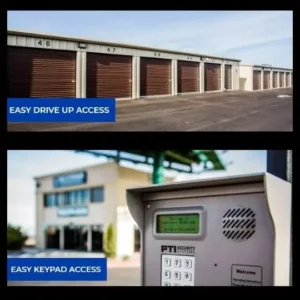 As each storage facility varies in size and set-up, your availability for different types of access varies as well. Some facilities are fully indoor and your access will vary by floor. Others, on the other hand, will offer outdoor access only. Some storage facilities offer a mixture of the two depending on the building.
Having a better understanding of what access types there are and how they can impact your ability to utilize your self storage unit will help you ensure you make the right choice when choosing your unit.
Outdoor, Drive-up Access
Storage units with outdoor access are located so that you can drive your vehicle right up to your storage unit to load and unload your items. These units are very convenient, especially for items such as camping gear, jet skis, and furniture. On the other hand, most storage units with drive-up access are not climate controlled.
Indoor Access
Storage units with indoor access can be on the ground floor, in a basement, or located in a multiple storied building. In these cases, access via elevator is required. Some facilities offer indoor storage units that are accessible via a simple hallway making access rather convenient.
You can find air controlled or climate-controlled storage units at facilities that have indoor storage units. It is important to remember, however, that if your storage unit does have indoor access, it does not guarantee that it will be climate controlled. Be sure to talk contact your closest Shield Storage location to learn more about the storage unit access types available.
What Should You Know About Self Storage?
When choosing a self storage unit, you will want to be prepared by knowing some of the language that is used in the industry. Knowing these terms will also help you to choose a facility that best meets your needs.
Also, having a basic understanding of what these terms mean will allow you to come prepared with questions you desire to have answered. Some of the self storage terms you should become familiar with include:
Every Shield Storage customer is provided a personal gate access code. This code is specific for each unit to allow us to track who is always on the property or in the facility.
Many of our field storage locations offer extended access hours to allow our customers to get to their unit when it is most convenient for them. Many of our locations have access hours that extend past 7pm to provide more convenience to our customers.
Climate Controlled Storage
Climate-controlled storage units provide a controlled environment for many of your belongings that can be damaged by the high heat or increase in humidity.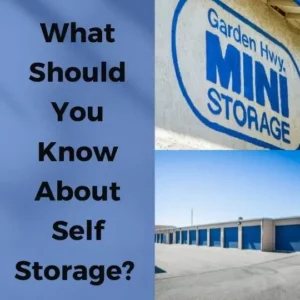 Self storage facilities can offer many different options for vehicle storage. You can park your RV or boat at locations with covered or uncovered parking. Or you can park a vehicle inside one of our larger storage units that are available at some Shield Storage locations.
Wine Storage and Other Specialty Storage Units
Some storage locations offer specialty units such as wine storage units for rent. Our Millbrae, CA location offers wine storage units that allow wine collectors to expand their wine collection without taking up more room in their home.
Self Storage Insurance and Protection Plans
To ensure your items are covered in the event of a loss, we require that all customers either cover their stored items with their own renters' insurance or that they purchase one of our protection plans.
Packing and Storage Supplies
We want to make sure that you have everything you need to have a successful storage experience which is why we have boxes, tape, and other packing materials available for sale during office hours.
What Can be Store in Your Self Storage Unit?
There are a wide variety of things that can be stored in a self storage unit. Though the list below provides examples of what you can store in your storage unit, this is not a complete list.
If you have any questions, please contact us today.
– Furniture
– Collectibles
– Electronics
– Camping gear
– Sports equipment
– Vehicles
– Books
– Yard tools
– Documents
– Appliances
– Clothes
Feel free to visit our Storage Guide to learn more about what you can use your self storage unit for.
What Can NOT be Stored in Your Self Storage Unit?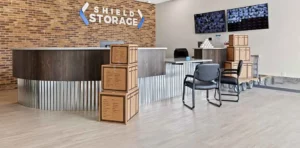 Though there is an extensive list of items that can be stored in a self storage unit, there are also items that can NOT be stored in a self storage unit.
The list below is not an extensive list of all exclusions.
Flammable chemicals
Drugs
Food
Vehicles that do not run
It is also important to remember that it is not safe, or legal, to live inside any self storage unit.
Shield Storage is here for all your storage needs!
At Shield Storage, we have multiple locations nation-wide to serve your storage needs. Whether you store at one of our branded stores or a managed location, you should always expect to receive top notch service. We are here to meet all your storage needs.
More From Shield Storage