The Best Ways Prep Your Vehicle for Long-Term Storage
When it's time to prep your vehicle for long-term storage are you going to be ready? Do you know what needs to be done to ensure your vehicle stays in good shape while in storage?
Long-term storage can take a toll on your vehicle if you're not careful. It's important to make sure that everything is prepared properly before you put your vehicle in storage. So, before we discuss what you need to do to prepare your vehicle, we should talk about what exactly vehicle storage is.
What is vehicle storage?
Vehicle storage is an asset to many, especially in areas where there is not enough space to park extra vehicles, boats, or an RV on your property. In most areas, this would be a violation of your residential HOA (Homeowners Association). Thus, at Shield Storage, we provide covered and uncovered vehicle storage and parking spaces at several of our locations nationwide.
Vehicle storage at a self storage facility offers a great alternative to storing your vehicle especially for long-term storage. This allows you to keep your side yard, garage, and driveway open for another use.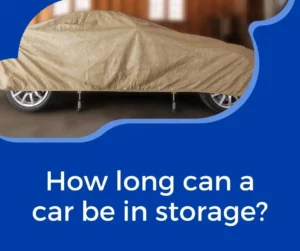 How long can a car be in storage?
At our locations, you can store your vehicle for as long as you need. If you are maintaining the requirements of having your vehicle stored, you can store your vehicle for a few months or a few years. Really, it all comes down to what your needs are and your ability to keep your vehicle in good condition while it's in storage.
Why do people use vehicle storage?
Many people store their vehicles during what we call "off seasons". For example, we have many customers who keep their boats at our facilities during the winter months. They will store them from approximately October through March or April depending on the location. Others, on the other hand, store their RVs during their personal "off season". They have specific times of the year where they travel, but when they are home their RV stays at our facility.
No matter what your vehicle storage needs are, we can accommodate you. Even if your storage needs are short-term, we offer month-to-month agreements that are sure to fit your needs.
What Should Be Considered When Looking for Vehicle Storage?
There are many things to consider when looking for storage of any kind. This is especially true when trying to decide where to store your vehicle.
Typically, customers focus on three main things when looking for a self storage solution for their vehicle. Those factors include:
Security
Access
Weather conditions
Security
Finding a storage facility that is safe and secure should be one of your top priorities. That seems obvious, but this is especially true when storing a vehicle. Again, though this sounds like a no-brainer, you need to consider the overall security of a facility and not just whether it is gated.
First, you want to find a vehicle storage location that offers security features such as digital security surveillance to keep a watchful eye over your vehicle and the property. Also, you should only park your vehicle at locations that are fully enclosed and have controlled gate access.
At Shield Storage, we make the safety and security of your vehicle one of our highest priorities. What's more, we do our best to ensure that our facilities provide security options that will give you peace of mind while utilizing one of our storage units or spaces for your vehicle.
Accessibility
In the storage industry, accessibility is relevant in two ways. First, it speaks to the timeframes in which you can access your belongings.
For example, if you are using a storage unit or space for a work vehicle, you will want to be aware of your ability to access your vehicle before and after work. For some, this could have a large impact on where you choose to store your work vehicle
On the other hand, accessibility also refers to when you can access your vehicle, which is also important.  For example, if you are storing a classic car, you need to be sure you have access early Saturday morning or late on Sunday evenings. Otherwise, it will be less convenient when you need to get your vehicle for a car show or when you want it for the weekend.
This is also true if you are storing a boat or an RV. Not to mention if you store a work vehicle at a storage facility. Therefore, it is important to consider the access hours of any storage location you choose.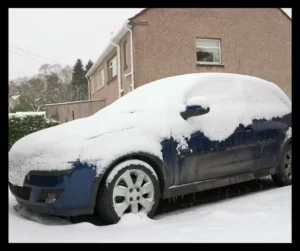 Weather Conditions
In some areas of the country, the harsh weather conditions can affect your vehicle and, in some cases, even cause damage. This is particularly important to consider when you prep your vehicle for long-term storage.
Whether it's the harsh heat in the southwest or the cold, wet weather in the northwest, you want to make sure that your vehicle can withstand the harsh conditions. Thus, it is important to take the weather conditions into consideration when choosing the best storage solution for your vehicle.
At some of our storage locations, we do offer larger enough storage units to store your boat or other vehicle inside a storage unit for safe keeping. This may be something to think about to ensure your boat, for example, isn't outside during the harsh winter months.
What's more, if you are looking for long-term storage for your vehicle, the weather conditions will affect the way you need to prepare your vehicle.
What steps should be taken to safely store a vehicle in long-term storage?
When storing your vehicle for long periods of time, you want to be sure that all required maintenance has been performed. Also, you are storing your vehicle in a cold climate, remove the battery to keep it from freezing.
You will also want to consider adding a fuel stabilizer to keep your gas from going bad. This, among other things, will help your car stay in good shape while in storage which will allow you to drive it away when you're ready.
You can find more helpful information and tips for how to prepare your car for winter storage here.
What types of vehicle storage solutions are available?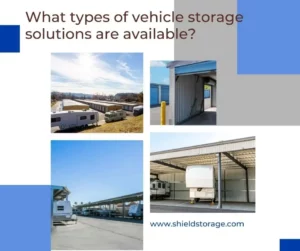 There are many types of vehicle storage solutions. However, each facility will vary when it comes to the types of storage they offer.
For your convenience, we have listed a number of vehicle storage options here.
Uncovered vehicle storage includes all spaces that do not have any type of covering provided. These are best for larger vehicles such as large boats, RVs, and trailers.
Covered vehicle storage includes all spaces that are covered by an awning of some kind to protect your vehicle from sun damage.
Indoor vehicle storage are larger units that are made for storing vehicles and have outside, drive-up access.
When looking for a better long-term storage solution for your vehicle, you will want to consider which storage option will be best for your needs. Then, when you begin your search, you will want to be sure to find locations that offer the solution you prefer.
It is important to note that as you work your way down the list we provided, you will see an increase in the price you pay. Coved parking will be more expensive than uncovered spaces. And, on the other hand, indoor storage will be more expensive than covered, outdoor parking.
So, be sure to consider your budget and what you would like to pay when deciding what storage solution, you want for your vehicle.
What is a vehicle storage facility? 
A vehicle storage facility is any storage facility that offers vehicle storage. Some self storage facilities offer all three types of vehicle storage. However, many don't offer any at all. Thus, you will want to be sure that when you contact a self storage facility for your vehicle they do, in fact, list themselves as a vehicle storage facility.
What's more, you will want to contact the facility to ensure that they offer the storage solution you want. Some list their facility as a vehicle storage facility but they only have spaces large enough to store boats or other traditional vehicles. In this case, you won't be able to store a large vehicle, such as an RV, unless you rent multiple spots.
That's right!
It's important to do your homework and research the facilities in your area to make sure that you are getting what you need and aren't being charged for two spaces when you only need one.
What are the best practices for caring for your vehicle that is in long-term storage?
No matter what type of vehicle you need to store, you must be sure to follow these instructions. All vehicle storage facilities have basic requirements for storing your vehicle. This list will provide you with the best practices to follow for long-term storage, or short-term storage, of your vehicle.
Any stored vehicle must be driven into the facility and not towed.
The tires on your trailer must be in good working condition.
Do your best to remove as much fuel from the fuel tank as possible before storing your vehicle when storing your vehicle for long periods or add a fuel stabilizer.
When reserving your unit, current registration and proof of insurance must be provided.
Have all maintenance completed before storing your vehicle. Extensive repairs and maintenance are not allowed in your storage unit or on the storage facility grounds.
All stored vehicles must have wheels that are in good condition.
If your registration expires on any vehicle while at one of our self storage locations, you must renew it and update it at once.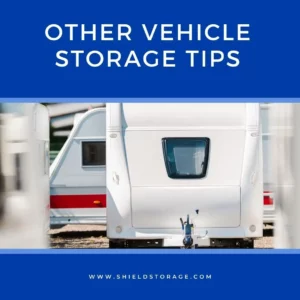 Other Vehicle Storage Tips
We understand how stressful prepping your vehicle for long-term storage can be. There is a lot to do, and it can feel overwhelming. Thus, we have provided some other vehicle storage tips to help guide you along the way:
Always make sure your vehicle has recent registration and license plates.
Make sure your vehicle is insured before bringing it to a self storage location.
Don't forget a cover for your vehicle if it is being stored in an uncovered, outdoor space.
If you would like additional security for outdoor storage spaces, bring your own tire locks and tiedowns for your vehicle.
Make sure that your boat and RV also have current license plates.
Don't be afraid to ask! Talk to our Shield Storage staff to make sure you are reserving the proper size space for your vehicle storage needs.
Find a storage facility that has access hours that meet your needs. Most Shield Storage locations have extended access hours for more convenience. 
Where can you find long-term storage for your vehicle?
Knowing where to go for good vehicle storage can also create a lot of stress. This is especially true if you aren't sure exactly what your needs are. To help, we've provided a list of locations where we offer vehicle storage.
You will be able to find vehicle storage nearby in Northern California, Idaho, New Mexico, and Nevada. As we continue to strive to provide our customers with the best service in the industry, we encourage you to call any of our locations listed below to ask questions and gain more information about what the best storage solution will be for your vehicle.
More From Shield Storage