The Best Storage Solution for Your Tailgating Equipment
Finding the right storage solution can be difficult, especially for your tailgating equipment. You have so many different pieces, having the space for it all can become troublesome.  
Look no further! 
In Millbrae, CA, or any other city with a major college or NFL football team, you need to have the right place to store your tailgating equipment between football games. When you go tailgating before a 49ers game, you want to enjoy the party and not have to worry about dirty or broken equipment.  
No matter where you live, there isn't a home game every weekend, and the offseason can be long. So, it's important to store your equipment properly between uses. Not only will this save you time, but it will also save you money.  
The last thing you want to be doing is replacing your equipment time and again for damages that could have been prevented.  
Take the Time to Prep Your Tailgating Equipment for Storage.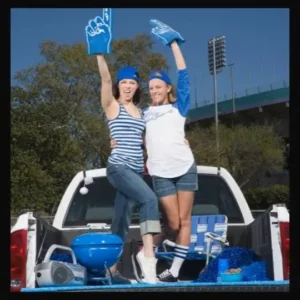 Proper storage starts with your preparation. You want to be sure to prep your equipment properly after it has been used. We have learned, however, that there are two different ways to prep your equipment for storage.  
Short-term storage between uses during the season, which typically can be a week or two between games. And, long-term storage which can last for months between seasons.  
Here are the best ways to prep your tailgating equipment for both short and long-term storage.  
Your Grill 
 Between Games: Clean your grill prior to storing. Make sure any charcoal is disposed of and that any grease is cleaned up which will ensure it is ready to go for the next home game! 
Between Seasons: Thoroughly clean your grill. Cover your grill with a weatherproof cover if necessary. Though the temperatures don't typically get down to the low 30s in Millbrae, CA, it does in other areas.  
Read more about how to store your grill for the winter months here.  
Cooler 
 Between Games: Your cooler should be emptied after each game. To help ensure it gets completely dried, leave your cooler open or keep it upside down for day or two. Nothing is worse than the smell of a cooler after it's been sitting closed for too long! 
Between Seasons: Wash and dry out your cooler after the season is over! Clean it really well before storing and make sure it is dry! If you're short on space, you can store other items inside the cooler during the offseason, especially if you only use this cooler for tailgating.  
You can store, small flags, blankets, grilling utensils, and many other items inside your clean and dry cooler to help save space! 
Tables & Chairs 
 Between Games: Your tables and chairs need to be kept handy during the season. You will want to clean them off between uses and make sure that all that delicious BBQ sauce is off prior to storing – even for a week or two! You don't want any bugs or critters getting a taste of that and making your table their new favorite place to eat.  
Between Seasons: Clean your tables and your chairs thoroughly. We suggest you hose them all off really well and then let them dry. Then, store away until next season! 
Canopy Tent 
Between Games: The canopy tent can be one of these best pieces of equipment for a tailgating. Storage is simple. Many of them come with a cover and back to make storage simple and compact. Just be sure to keep it handy all season long!  
Between Seasons: This bulky item can get stored away for the offseason. Put it wherever necessary to keep it out of the way. Remember, it can be quite heavy and if you have little once they can get hurt if they pull it over onto themselves, so store it somewhere out of their reach.  
Tailgating Vehicle 
Between Games: If you are a real serious tailgater, you have a trailer or truck you use just for football season! Between games, be sure to have your vehicle parked somewhere accessible. Also, you will want to be sure to clean out any mess that was made each week. Do this PRIOR to storing your tailgating vehicle so you can get it and go when it's time! 
Between Seasons: If you are storing your tailgating vehicle between season, you will want to be sure to check any fluids, inflate the tires properly, and clean it thoroughly. Also, you will want to be sure that the battery is removed or unplugged depending on the type of tailgating vehicle you use.  
What are the best ways to store your tailgating equipment?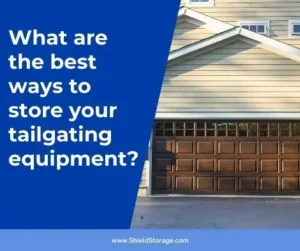 How you store your tailgating equipment matters too. These are some of the best ways to store your gear, during the season and the off-season! 
Use Plastic Bins 
Plastic bins are durable and provide a great solution for storing your tailgating equipment. From blankets to flags and games, plastic bins can help keep everything you need organized and ready for when you need it.  
Utility Hooks 
Utility hooks are a great way to make use of the space you have. You can hang items on them such as certain types of chairs, tables, bags, and other tailgating equipment.  
Shelving Units 
Shelving units are awesome no matter what you are needing to store! For your tailgating needs, however, shelving units can help you stay organized and ensure you can find everything you need when you need it. 
A better storage solution for your tailgating equipment. 
Finding a better storage solution will help you to be ready for each home game with all your equipment accessible when needed. Also, the storage solution you choose should make sense year round.  
Take a look at some of the storage solutions used by tailgaters.  
The Garage.  
Garages can offer a convenient storage solution for your equipment, but what about your car, bikes, and other needs? If you load your garage with your tailgating equipment during the season, where does everything else go? 
Though a garage can provide a solution, it isn't the BEST solution.  
A Shed. 
A shed in your backyard can also offer a solution for your equipment. However, many of these sheds can be quite pricey. Another thing to consider is your off season storage. Do you really want your grill, canopy, tables, chairs, and other equipment in your backyard storage shed, or would you rather use that space for your lawn equipment? 
Again, this provides a solution, but we believe there is a BETTER solution.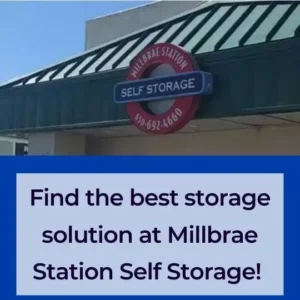 The Self Storage Unit.  
A self-storage unit offers a great solution for your tailgating equipment during the season and in the off season. You can also find a place to park your tailgating trailer or vehicle as well! 
Storage units offer a great way to have your things accessible, while not impeding on the space you need in and around your home.  
Find the best storage solution at Millbrae Station Self Storage! 
If you are looking for a better solution for your tailgating equipment, find a nearby storage solution today! You can find units available in many different sizes, so you can store more than just your football tailgating equipment.  
If you aren't in the Millbrae area, feel free to take a look here to find a location near you!  
More From Shield Storage