The Best of the Best: Your Sonora, CA City Guide
Sonora, CA is a city in Northern California. This beautiful town is in the Sierra Nevada Foothills, and offers a perfect mixture of historic charm, outdoor beauty, and modern entertainment.  
No matter what time of year it is, Sonora won't disappoint. You can find a lot to do in this City whether you have been here a few weeks or for years.  
Having so much to offer, we decided to provide a City Guide to help you navigate all there is to see and do in the Sonora area. From places to eat to the best experiences that you can only find in Sonora, we have something for almost everyone.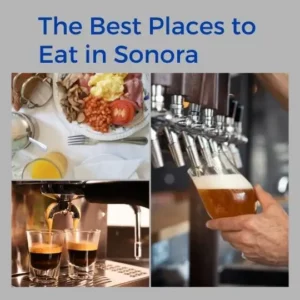 The Best Places to Eat in Sonora 
Food is something we can all relate to. No matter where you're from. No matter where you live or travel, food is an important part of your experience. Therefore, we thought it was important to highlight some of the best places to eat in Sonora, CA.  
The best thing about the restaurants here is that many of them make you feel like you're right at home. Whether it be the ambiance or the food itself, you will feel like you're right where you belong. 
Here, we've provided a quick list, to some of the best places in Sonora, CA to get breakfast, a quick coffee, and more! 
The Best Places to Go 
In a city like Sonora, there are countless options of things to do and see on an ongoing basis. So, we have chosen a few of our favorites to offer suggestions you and those you love spending time with.  
Do you want to go out for a date night like no other? How about experience something like never before with your family. 
No matter what you choose to do in the Sonora area, you won't be disappointed by any of these great Sonoran Gems.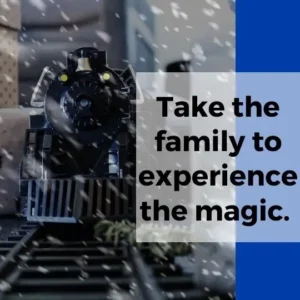 Take the family to experience the magic. 
Experience the magic of trains and Christmas at the real Railtown 1897 state historic park. During the holidays, you and your family can experience the magic of the Polar Express. Other months of the year, you can explore the museum and take an Excursion Train Ride on The Historic Sierra Railroad. 
Take your date to the theater! 
Go to a show! That' right, you can go to the Sierra Repertory Theater to see a live production. There are musicals, like the upcoming SHREK the Musical, for you to enjoy. Or, if that isn't your thing, you can attend one of the Tribute Shows, like this one! 
Take your friends to experience a local favorite. 
Go with your friends to the Indigeny Reserve. Whether you are looking for cider or something a little stronger, you and your friends will find it at the Indigeny Reserve. You can tour their facilities, visit the tasting room, and more! 
The Best Sonora Experiences 
Some of the best experiences in Sonora California or those that embrace the city's history or the outdoors. 
Sonora has experiences that are a MUST for anyone local or visiting. Don't miss out on any of these favorites!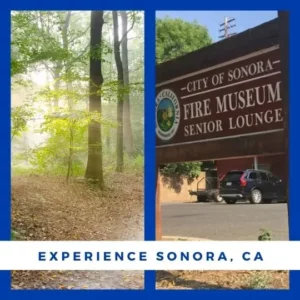 Experience the local Art. 
On the 2nd Saturday of every month, you can find local artists showing off their creations in Historic Downtown Sonora. This event is a favorite to many locals and runs until mid-December. 
Experience Sonora's history. 
Experience the history of Sonora by visiting one of their many museums. From the Veterans Memorial Hall & Military Museum to the Sonora Fire Museum, there is something to be learned and cherished no matter your age or interests. 
Experience the great outdoors. 
Experience the outdoors as you explore The Dragoon Gulch Trail. This trail provides over 3 miles of natural trails right in the heart of the city. 
The Best Help for Your Sonora Move 
With Sonora having so much to offer, it isn't a surprise when families and individuals make the decision to relocate to the area. Local moves are always necessary as well, which as why we want to be sure to offer you the best options the city has to offer.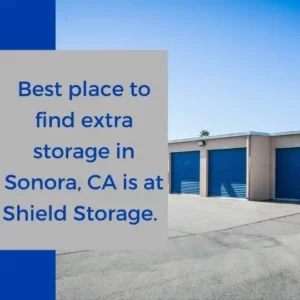 Moving or relocating to Sonora, CA? 
You can find a one of Sonora's best moving companies here! You don't need to worry about getting friends and family to help when you can rely on one of these great companies to handle your move. 
Moving can be full of stress, no matter the time of year or reason for your move. Thus, you shouldn't have to add to the stress by wondering where you can keep your extra items.  
Best place to find extra storage in Sonora, CA is at Shield Storage.  
We offer two Sonora locations to fit your needs and provide as much convenience as possible. Our locations provide a better storage solution for your household or business storage needs. We are also here to provide a safe, secure, and personalized solution whether you need storage for the short-term or the long-term.  
To learn more about how we can help meet your storage needs, contact us today! 
More From Shield Storage