Taking Security to the Next Level: Shield Storage on N. Jones BLVD in Las Vegas, NV
At Shield Storage we take storage security seriously. We have multiple features in place, but this is especially seen day in and day out at our stores such as the one on North Jones Blvd in Las Vegas.
Las Vegas, NV is a destination for travelers from all over the world. However, many forget that there are people like us who live and work here.
Just like anywhere else, the residents of Las Vegas need to be able to have the peace of mind knowing their valuables are safe and secure. Our team at our Shield Storage store on North Jones Blvd take this to heart.
Our team knows that security is a primary feature that you take into account when choosing a storage unit – as it should be.
Storage security features are a vital factor when choosing a self storage unit.
Ensuring your property is safe and secure is one of our highest priorities at Shield Storage. We strive to provide a safe location for you to store you items by offering multiple security features at our properties.
Though some features may vary from store to store, you will can count on each of our facilities having:
– Fully enclosed facilities
– Access via personal access code
– Protection plans available for all customers
– Digital surveillance systems
For some storage companies, this is where "security" ends. For our teams, however, this is only where we begin!
Kat and her team at Shield Storage on N. Jones Blvd take security precautions to a whole new level! She makes it personal, and our customers love it!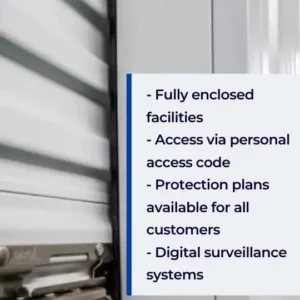 The Shield Storage Team takes storage security to a whole new level!
Our Shield team members take security to a new level by building habits, such as taking "Wellness Duty Walks" as some of our customers like to call them. These walks make our team visible!
Visibility behind the desk is one thing, but coming out from behind the desk takes it to a whole new level. Our team walks the property regularly to keep an extra eye out for anything suspicious, which also allows them the opportunity to connect with customers.
TatianaFYI left a Google Review on September 1st, 2021 noting:
"I would definitely recommend Shield Storage on Jones to anyone. I had the pleasure of speaking with Kat on her wellness duty walk and she was so sweet and helpful. I've had my storage for about 5 months now and it's always clean and not much traffic."
Taking the time to get out and walk the property makes a difference to our customers and building that relationship is another way our team makes a big difference.
Building relationships with our customers makes a difference.
Building these relationships with customers builds trust and confidence. Our customers know that our staff is there for them no matter the need.
Taking the time to stop and talk with customers allows our team to become familiar with who should, and shouldn't, be onsite. This comfort gives our staff the ability to keep your belongings safe.
You can see the appreciation for the time Kat takes to build relationships with her customers in a review left by Kurt Carmichael on September 1st, 2021, where he said:
"(I) was at my RV spot and Kat stopped to say hello and see if there was anything she could help me with. What a pleasure talking to her. Let her know this property is always tidy and clean and I have recommended numerous friends to store here. She is so friendly and willing to help. Thank you Shield Storage and Kat."
If you're looking for a clean, friendly, safe place to keep your belongings, we have a solution that can fit your needs!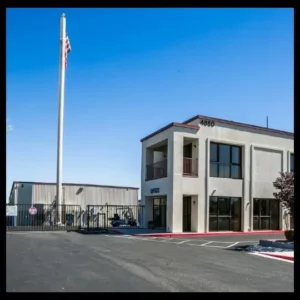 If you're looking for a storage solution that takes security seriously, store with us at Shield Storage on N. Jones BLVD.
At all of our stores, we value our customers and strive every day to provide a clean, secure environment for you to keep your valuable belongings. This is seen day in and day out at the Shield Storage on N. Jones BLVD.
Visit our website today, or call us at 702-658-1115 to find a secure self storage unit to meet all your storage needs.
Google Review by Joshua Betzer
Reviewed on June 09, 2021
"Kat was talking to me today and I just wanted to say that she's pretty freaking awesome. I've been here with this storage facility for over a year and half and never once have I had an issue with anyone in the office. I've even broke a piece of the gate off (it's was fixed) but they were calm cool and collective. I love this place not only for the safety but the staff is freaking great. Thanks shield storage you all are awesome people and all deserve raises."
More From Shield Storage