Storing Your Wine Collection in a Mini Storage Unit
Millbrae, CA is located just under 15 miles south of San Francisco, CA. With proximity to the water and a city as vibrant as San Francisco close by, the possibilities of things to do in Millbrae are endless. One popular past-time in the area, however, is drinking and collecting wine. Many local wine collectors must be wondering, "How can I properly store my wine collection in storage near me?"
With so many vineyards around the Millbrae area, collecting and storing wine is a common hobby. Wine collectors typically enjoy storing the wines they purchase and keep them for special occasions, tastings, and things of that nature. Some wines improve as time goes on, so proper storage for an extended period of time is essential.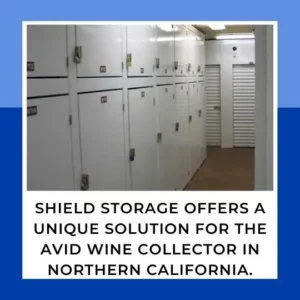 Within just 50 miles there are vineyards and wineries such as:
As simple as it may sound, storing wine is more complexed than just leaving an open bottle in the fridge. From storing your wine vertically to storing it at the right temperature, you want to make sure you are taking the right precautions when storing your wine, so it maintains its quality.
There are many ways to store your wine for safe keeping. From a wine fridge to a wire rack, the options are endless. The key, however, is ensuring that you're choosing an option that will store your wine at the right temperature, humidity, angle, and so on.  What's more, if you have a larger wine collection, you may not have the space in your home or apartment to store your wine.
With Napa Valley, CA only 60 miles away, a quick weekend getaway for the avid wine collector is convenient. Storing your wine, as you can see, isn't as convenient. So, what is the best way to store the wine you collect and bring home from these great vineyards?
A Better Storage Solution for Your Wine Collection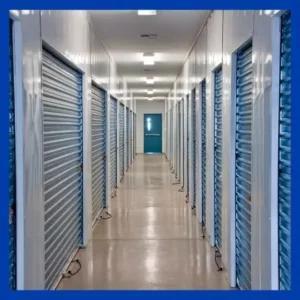 One option for storing your wine collection, that many fail to consider, is self storage. Self storage provides a better storage solution by:
Offering a cost effective solution
Using a wine storage unit at our Millbrae, CA location can provide you with a cost effective way to properly store you wine collection.
Freeing up space in your home.
Many in the bay area don't have the space in their homes or apartments to keep their wine collection properly stored. Thus, a self storage unit provides a perfect solution – but remember to always look for a climate-controlled storage option. You can learn more about climate-controlled storage in our Storage Guide!
Convenient and effective storage solution for those with larger wine collections.
Some may keep a small wine collection on hand to fit their limited amount of space or their budget. While others, on the other hand, may have a larger collection of wine. Utilizing a self storage unit for your wine collection allows you to keep the bottles you want on hand at home while keeping others in your storage unit until you are ready to enjoy it.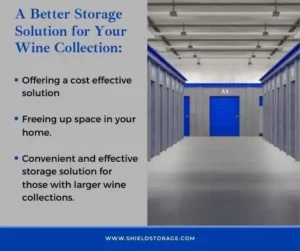 Wine Storage in Millbrae, CA
Shield Storage offers a unique solution for the avid wine collector in Northern California. The opportunity to expand your wine collection is here and our storage facility in Millbrae, CA offers you the perfect wine storage solution. You no longer need to limit your collection to the 6 bottles you can store in your home, but instead expand it to fully show your interest of the variety of wines available at the vast number of wineries and vineyards around.
Find a Shield Storage location today or contact us to learn more about how we can help provide you a better storage solution for your wine collection. Online reservations are available as well as contactless move-ins for your convenience. We are also open for those who would like to come to reserve a wine storage unit in person.
More From Shield Storage