Stop Wasting Space! Here are 10 College Dorm Storage Hacks!
College has started, but the stress of finding space for everything you need still looms… College dorm storage can be one of the more stressful parts of starting a new school year.  
Students in Sonora, CA run into the same issues while attending Columbia College. It doesn't matter where you are, the challenges with storage in college dorms is just as prevalent here as anywhere. 
There has to be a better way.  
Look no further!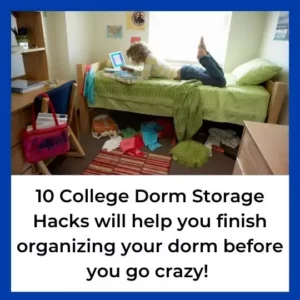 10 College Dorm Storage Hacks will help you finish organizing your dorm before you go crazy! 
1. Utilize Over-the-Door Storage Solutions! 
Over-the-door storage solutions can provide extra space for anything from shoes to food items. For example, a solution like this one offers more space instantly providing 8 tiers. If you're looking for a place to put toiletries, laundry supplies, or your favorite snacks this could be an inexpensive fix! 
 2. Stack Your storage containers when possible. 
Stacking your items isn't just a space savor, it also will help you stay organized. There are plenty of bin options, such as these, that can be stacked in a closet or at the foot of your bed. Storing supplies, shoes, make-up, and many other items in stack-able bins will allow you to store more quickly. 
3. Get Cube-Smart. 
Whether you shop at Target, Walmart, or online it's time to get cube-smart. Storage cubes, such as this one, provide multiple storage options. You can use the shelves for books, the top for a bed-side table, and get bin to store anything from charging cords to school supplies.  
4. Utilize the space under your bed! 
One of the simplest ways to add space to your dorm is by utilizing the space under your bed. Using longer bins will allow you to use more space and still access your items whenever necessary. We found these ones on Dromify.com which would be a great storage solution.  
5. Add a desktop organizer or shelf. 
One area that is often forgotten for additional storage is your desk space. Adding a desktop organizer, can help you stay organized and provide you the extra space you need while studying.  
6. Add a hanging shelf in your closet for additional clothing storage. 
If you don't have space for a large dresser, you can always add more storage to your closet by adding a hanging closet organizer like this one. These provide a simple, and inexpensive, dorm storage solution.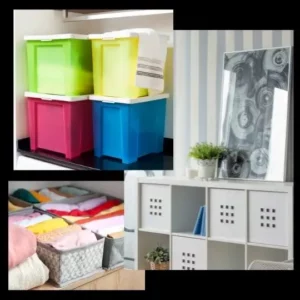 7. Add Shelving in Creative Spaces. 
One of the biggest keys to dorm storage solutions is being creative. Finding different shelving solutions can offer you many ideas for your new dorm room. From a place to hang jackets to a place to keep your clock, Alexa, or text books putting shelves on the wall, in corner spaces, or on the door can solve many storage problems. 
8. Organize your dresser drawers with these! 
Sometimes, the best solution is organization. If that's the case, organizers such as these could be the dorm storage solution you're looking for! If you have any leftover, you could always share with your roommates! 
7. Be deliberate about how you use your wall space. 
Though the first instinct most of us have is to decorate our dorm walls with posters and art, you want to solve all your storage needs first. Being deliberate with your wall space will give you the space you need for your dorm storage solutions. You can use a cute shelf like this one to add space and dimension to your wall. Once everything has its place, put up the posters, pictures, and everything else you want and love! 
8. Use cubbies for storage and more! 
Using a cubby, such as this one, can provide a place to sit AND a place for storage! Cubbies are cute and provide storage for a number of items we all need during our college days.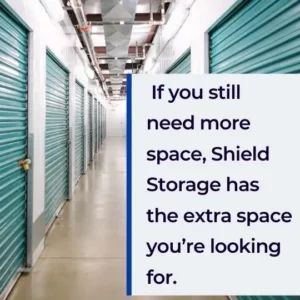 If you still need more space, Shield Storage has the extra space you're looking for. 
If you're still looking for a dorm storage solution, you may need to look into getting a storage unit. Our Sonora, CA Shield Storage locations can offer you the extended space you need. Check our site today for availability so you can finally find the storage solutions you need! 
More From Shield Storage