Stop Using Your Garage for Storage! Do This Instead.
There are many reasons to use a storage unit. In Sparks, Nevada that list carries far deeper than just the storage of your household or personal items. No matter the reason you may need storage, these questions still linger:
"Where can I find storage near me?"
and
"Which unit provides the best storage solution?"
When you live in a place like Sparks, NV, the options for outdoor, weekend fun are almost endless! Could there be a better option for storing your equipment when you're not on the lake, river, or camping?
What about those who are looking to clear out space in their home or garage but aren't ready to get rid of their family heirlooms, old baby clothes, or favorite childhood memories?
In Sparks, there is a storage solution for everyone! No matter what your needs are, you can find a storage facility near you here!
You don't have to have to sacrifice space in your garage for your weekend toys.
Most people store their weekend recreational vehicles and toys in their garages. Boats and kayaks are taking up space and keeping you, and many others, from using your garage for your vehicle. It no longer has to be true.
You no longer have to house all of your equipment at home in your garage or backyard.
If you are not going to keep your boat, RV, Jet Skis, or camping gear at your house then where is the best place for them? It's important for you to have them nearby for when you want to go enjoy your weekend at the lake.
Isn't it the most convenient place to keep these things in your home? In your garage or backyard where they are quickly accessible? For some who have unlimited space, this may be possible, but others who have limited space in these areas are making a huge sacrifice.
There is a better way! It's time to stop the madness and give yourself and your family back your needed space in the garage. Self-storage can be used to house all your weekend toys.
Here's a look at work items you can store at a Shield Storage facility in Sparks, NV near you!
Beautiful Sparks, NV! After living here for any length of time, you know just how lucky you are to be surrounded by so many great ways to enjoy the world around you. Right here in Sparks, NV there is the Sparks Marina Park, rock Park in the Truckee River that allows you the opportunity to boat, fish, and participate in many different water activities.
Paddle boats and other non-motorized boats are fun to use at Sparks Marina Park. But when you aren't using them at the marina, they need a place to be where they are protected. It is also nice to have the ability to store these boats in a place where you could also keep tools for simple repairs. What better place than a storage facility! A 10 x 20 storage unit would provide plenty of space for your boat, tools, and any other items, such as life jackets and a cooler that you may need in order to enjoy a day at Sparks Marina Park.
Parking for RVs, Fifth Wheels, and Pop-up Trailers
RVs are more popular for camping enthusiasts than ever before. They provide a great way to enjoy the outdoors and still have the ability to enjoy some modern comforts. An RV allows you the ability to enjoy the outdoors with the comfort of sleeping on a bed.  As you know, an RV can take up a lot of space, so storing these beasts on wheels can be a challenge.
Others utilize a camper that is towed behind a vehicle, typically a truck, that is known as a fifth wheel or a pop-up trailer that they use for camping, and these take up substantial space as well. Many don't come close to fitting in the garage so many families have to utilize a side yard or their backyard to store them.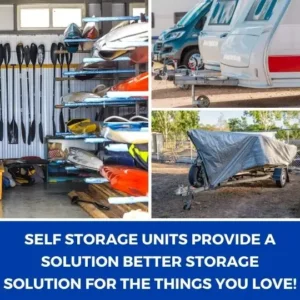 RV parking, as well as spots to keep your fifth wheel or pop-up trailer, are available at any of our managed storage facilities in Sparks, Nevada. To learn more about the availability of these spaces, click here.
Some individuals don't want to make as big of an investment as some boats are, but they love the excitement and the adrenaline they get by going fast on the water! They love the fun and exhilaration of riding jet skis! When the fun is over, however, they can eat up a lot of space. Not to mention the space needed for the ancillary items that go along with owning a jet ski. Some may choose to keep these items in their garage, but what about all the other items you need as well?
A great solution would be renting a 10 x 10 storage unit that provides enough space for a double trailer, which is great if you have two jet skis to store and haul. You'll also be left with enough space for basic tools for repairs, life jackets, and anything else you would need.
Storage for Kayaks and Paddle Boards
Kayaks and their paddles are tough to store due to their awkward size and length. Though many try to find a rack to keep them on a wall in the garage, many end up just leaving them laying out in the garage taking up space that could be used for parking. Whether you enjoy kayaking a couple of times a month or a couple of times a year, having your gear stored in a location that keeps it safe yet out of your way is optimal.
Having a 5 x 10 storage unit would allow you the space you need to stand your kayaks and paddles up for safekeeping. The extra space could provide you storage for any accessories you need as well so all your kayaking gear can be kept in one convenient location.
Paddleboards can present similar challenges from a storage standpoint. I've meant many who would love to own them, but don't have a place to store them. If you have a paddleboard that you would like to store, check out one of the self-storage locations near you to see if there is a unit available to fit your needs.
Fishing Equipment and Scuba Gear
Fishing is a great way to enjoy time with family, friends, or even alone on a sunny afternoon. Sparks Marina Park, Cottonwood Park, the Truckee Riverwalk, and many other places near Sparks, NV offer great places to fish. One struggle, however, can be finding a place to keep your fishing poles, tackle box, and other gear when you're not at the lake or river.
Another popular water activity is scuba diving. Did you know you can dive at the Sparks Marina Park? What better way to practice and get your dives in if you're trying to get certified! The local marina is so conveniently located! The question is, however, what if you don't have the space to store your scuba gear?
The solution is simple. If fishing equipment, your family's scuba gear, and other small pieces of gear are taking up much-needed space at your home, consider moving it to a 5 x 5 storage unit at our Vista Park Self Storage location.
Take the stress out of storage!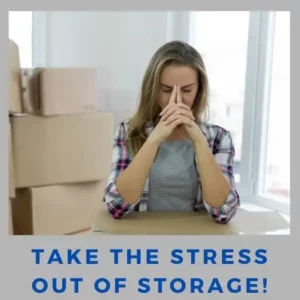 You no longer need to stress about what you were going to do with your stuff. Your documents can be stored in a small storage unit. Your sporting equipment and skis can too. If you are a small business owner, I need space to keep your documents or patient's medical records you too can utilize a self-storage unit.
The furniture that's been passed down and those sweet memories from childhood no longer have to be tossed in the trash or donated to clear out space in your home or garage. Stop stressing about where to put the things you love and want to keep. Instead find a better storage solution that meets your needs and allows you to access your items daily.
If security is what concerns you, you can rest assured that your items in our facilities are going to be safe and secure. With 24-hour security and gate access, we are able to provide a safe and secure location for your items.
Sparks, NV provides ample opportunity to get outdoors and enjoy the surrounding areas. Don't let a lack of storage keep you from having the equipment and toys you need to enjoy it to the fullest!
Within just a few miles anyone can find a lake or a river to enjoy their weekend out. You can swim, boat, fish, kayak, camp, or paddleboard at a number of different locations nearby. Really, the list could go on and on.
Maybe you want to go to Mount Rose campground to get away for a weekend in your RV. Or travel to Lake Tahoe, which is less than an hour's drive from Sparks, to go boating, jet skiing, or even skiing in the wintertime. No matter what you enjoy doing outdoors, there is a place for you to find it in, or nearby, Sparks.
Stop waiting for "the right time" to move your items into a storage facility nearby. For more information about how one of our Sparks, NV managed properties can serve you, contact a facility near you today!
More From Shield Storage