Start Getting More Out of Your Outdoor Space in Sonora, CA 
As the summer approaches, the weather will continue to improve and get more and more beautiful in Sonora, CA. Though the days may get hot, the evenings will be beautiful. What better way to enjoy it than in your very own new outdoor space.  
Sonora offers so much to do outdoors. It's difficult, however, to get out and enjoy the environment around you. We are all busy and need the ability to relax and enjoy a cool summer evening.  
What would be better than re-designing your outdoor space so you can enjoy being outside this summer?  
Give yourself the gift of having an outdoor living space that you can enjoy whenever you want to.  
Self storage opens so many possibilities for your outdoor living space. 
Whether your space is large or small, there is so much you can do to enjoy more of the beauty Sonora has to offer. From bar-b-ques to swimming pools, the possibilities are endless. You may want to re-design your whole space. Others may want to upgrade their space quickly and inexpensively.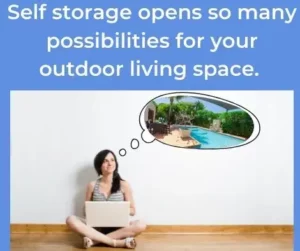 If you are looking to completely change your outdoor space there are many resources, like this one from the DIY Network, available to give you inspiration and ideas. You could add a firepit, new seating, a pool, or an outdoor kitchen. The options are endless! 
No matter what you choose to do, a self storage unit gives you the flexibility you need to really make your space exactly what you want it to be. Give yourself the space, and the time, to really design and complete a space you love.  
A storage unit can help you re-create your outdoor space. 
There are many ways you can update your outdoor space. Creating your space, however, can take time. There's also the question of where you will put your current patio and outdoor furniture.  
If you aren't going to keep your current furniture, the answer is simple. Sale or donate what you have. On the other hand, if you are keeping your current furniture, you will need a place that is out of the way to put it while the work is getting done.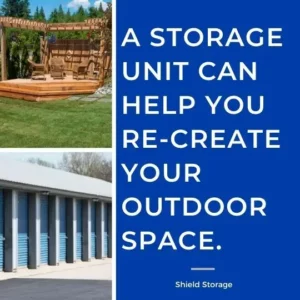 Self storage provides a place for you to put your stuff during your backyard renovation. It provides the flexibility you need to put your outdoor things, so they aren't in the way.  
A storage unit also provides a safe place for you to put the new things you purchased until you are ready to put them in your outdoor space. Did you buy a new firepit, patio set, pillows, and yard games? Self storage provides the perfect solution by giving you a place to put your new things while you wait for the sod to be laid or the rock to be delivered and placed.  
No matter what you decide to do to update your outdoor living space, a storage unit will always give you one thing – more space. More space for the sports equipment that just lays around, the tools that are taking up space on the patio, or the boxes and bins of extra items that are stealing the space that was meant to be for fun and relaxation. 
It's time to enjoy your new Sonora, CA storage space! 
Enjoy your time with friends and family.  
Spend your evenings enjoying the sunset.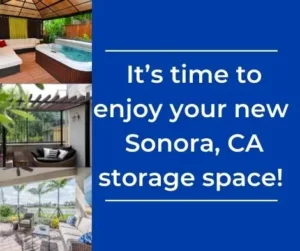 Enjoy the quiet and serenity of the sunset after a long day. 
If you are ready to update your outdoor space, contact one of our Sonora, CA Shield Storage locations today. It's time for you to expand your living experience with a newly updated outdoor living space and a storage unit will make that easier than ever! 
More From Shield Storage