Shield Storage: Your Better Stockton Storage Solution
Storage in Stockton, CA can be found in many places. You must be sure, however, that you're choosing the best storage solution for your needs. Is there a better Stockton storage solution near you? Are your storage needs being met at the highest level, or are you settling?
Stockton, CA is a diverse community with people who come from many different backgrounds. According to this article, Stockton is one of the best places to live in California due to the low cost of living and the variety of things to do in the area.
As the population continues to grow, so does the need for Stockton residents to find self storage they can trust. No matter your storage needs, you should be able to find a facility that will meet your needs.
What to consider when choosing your Stockton, CA storage location.
There are many things to consider when choosing a storage facility for your personal or business items. Location is a big thing to take into consideration. A better Stockton storage solution shouldn't be difficult to access. It should also meet all your storage needs no matter what you need to store.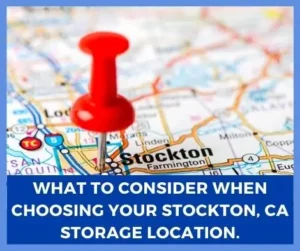 For some, having a location near a freeway so you can head out of town easily with your boat, RV, or stored camping gear. Our Advanced Mini Storage I – Monte Diablo location sits just off the West Side Freeway, on the corner of Monte Diablo Ave and Ryde Ave to allow for easy, convenient access.
Others, on the other hand, may want to have a storage unit nearby that is conveniently located near their office or home. Our Advanced Mini Storage II – Murray Ave location is located just off Hammer Lane and Tam O'Shanter Drive. This location offers a convenient location to those in the surrounding neighborhoods as well as the business owners nearby.
The best Stockton storage solution when you have an emergency.
Unfortunately, emergencies happen. At Shield Storage, we know that when an emergency occurs, you need solutions that are fast, simple, and reliable. This is why we strive to make reserving your self storage unit as simple as possible.
Emergencies can come in all shapes and sizes, but no matter the cause we are here to lend a hand. Some emergencies we've helped customers through include:
Water damage in the home:
Utilizing a storage unit to store furniture and other belongings while your home is being treated for water damage can help limit your stress during situations like these.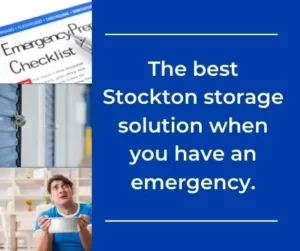 The loss of a loved one:
When a loved one is lost unexpectedly, the grief can be overwhelming. One of the hardest parts of this period can be sorting through the items that belonged to the one you lost. We have had many families choose to put these items in one of our storage units so they could take their time to process their grief on their terms.
Sudden life changes:
It can happen. Suddenly, you lose your job or your marriage falls apart and you find yourself navigating a divorce. No matter the life change that comes, there are times you must act fast and move with little notice. We provide many options to our customers with flexible month-to-month agreements that allow you to adjust to these sudden changes as smoothly as possible.
No matter your emergency, Shield Storage is committed to offering you a better Stockton storage solution.
Providing you the safety and security you need.
It is also a priority of ours to provide you with the safety and security you need and deserve. Keeping your property safe is key, which is why we strive to continue to provide the necessary security features each Shield Storage location needs.
One way we provide an extra level of security to our customers is by offering protection plans that will cover your stored items in the case of an unforeseen event. Though we strive to ensure that nothing does happen, in the times when it does, we will do our best to be sure the situation is handled swiftly and professionally.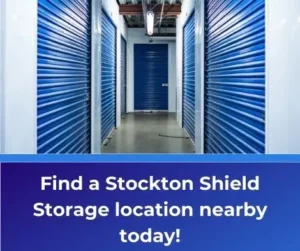 Find a Stockton Shield Storage location nearby today!
With two local Shield Storage locations, we are here to serve you! If you aren't located in Stockton, or need a storage facility in another California location, please visit our website today!
Finding a better Stockton storage solution doesn't have to be difficult. You deserve the best and the peace of mind knowing your local storage facility is here when you need us! If you have any questions about the items you can store at one of our Shield Storage locations, contact us today!
More From Shield Storage