Shield Storage – A Perfect Storage Solution for Your Small Businesses in Northern California 
No matter where you are, finding the right solutions for your business can be a headache. This is especially true if you're looking for a storage solution for your small business in Northern California.  
In Northern California, among other places, this can be especially difficult. We say this because there are several facilities that have units available, but not enough sizes to meet your specific needs.  
Let's say you distribute wine but need to have a place to store inventory. Does your storage facility have specialized units that were built for wine storage? 
What's more, in places like Northern California and everywhere else, there are a lot of businesses downsizing. These businesses are looking for storage for several reasons, and availability is becoming harder to find.  
Small businesses come in all shapes and sizes.  
Small businesses can come in all shapes and sizes. No matter what type of small business you have, there are common factors that can affect your business. Some are ran out of an owner's home while others have a number of employees, offices, and many other factors. Did you know that both of these types of businesses, and everything in-between, can be considered a small business? 
Now, the way your small business runs can really impact the difference between some businesses and others. However, most small businesses need a way to pay their employees, a system to process and keep track of inventory and sales, a place to do business, and a place to keep the items that help their business function.  
This is why the best choice for commercial storage, or business storage, is to utilize a local self storage location. In Northern California, we offer over ten different storage locations nearby to fit your needs. 
In Northern California, and all over the US, small businesses use self storage to help their businesses run smoothly.  
There are many types of small businesses that utilize self storage to help their business run efficiently. Some, for example a staging company, may use self storage units to hold furniture when it is between homes or sites.  
Some staging companies will have multiple set-ups or packages, but those companies need a place to put these items when they aren't being used at a client's home or office.  
On the other hand, there are companies that utilize self storage units to provide a place to store their supplies, inventory, parts, and much more.  
Northern California small businesses can use self storage for business inventory.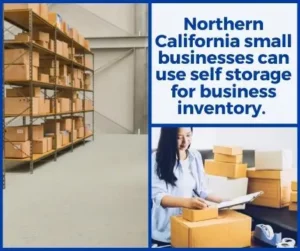 Many believe that self storage is only for personal use. However, this couldn't be further from the truth. In Northern California, small business owners are using self storage locations for their inventory.  
That's right!  
Do you have an ecommerce business and are tired of paying for office space just to hold your inventory? 
Or, are you a plumber or handyman who needs a place to keep your tools, parts, inventory, and work truck? Did you know that most of our Northern California storage facilities offer storage to meet all your business storage needs? 
Contact one of our Northern California locations today to find the best storage solution for your small business inventory needs.  
Doctors and Attorneys love the flexibility self storage can provide their practices.  
Small businesses of all types love to use storage units to solve their needs. However, doctors and attorneys love the flexibility self storage can provide for their practices. 
Many businesses such as these, among many others, save when they buy supplies in bulk. Having a place, especially that is cost effective, to store the extra supplies until they are ready for use. 
Also, these types of offices use self storage for other storage needs as well. For example, they will use a storage unit to store files, furniture, or equipment.  
Doctor offices can especially take advantage of the flexibility of self storage. Depending on the type of practice, a doctor may need to have a number of files, supplies, and additional PPE (personal protective equipment) that they need to have access to throughout their work week.  
Your small business in Northern California could use storage for old files, paperwork, or records.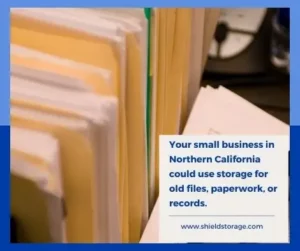 Another great use for self storage for small businesses is storing files and paperwork. This is especially useful for specific industries such as doctors and lawyers. 
In these industries, along with others, there are requirements for maintaining client and patient records. Who wants to keep these old records in their current office space? 
In Northern California, office space is expensive enough. Why spend so much extra for the extra storage space to keep these records on site? You don't need to waste money, or space, storing old paperwork and files. 
Instead, call one of our locations below and learn more about what types of storage units we have available for your small business in Northern California.  
Small business owners need a solution they can rely on.  
Many small business owners need a solution they can rely on. Most of these individuals, like yourself, have a lot on their plates.  
The last thing you need to worry about is what to do with their extra files, supplies, and any other items they need stored. This is why, at Shield Storage, we provide storage solutions business owners can rely on.  
We also provide a secure and safe solution for your small business. As a business owner, you know that you can't prevent everything from happening. However, we do our best to ensure that our customers are covered. 
Shield Storage provides security your small business can rely on.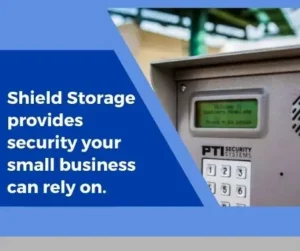 At Shield Storage, and all of our managed properties, you can find security features that will help ensure your property is safe. From security cameras to extra locks on unit doors, each facility has specific features that will meet the needs of the community. 
Though some believe that all security is created equal, we believe that it is best to serve each community and facility with features that meet their needs. Thus, not every Shield Storage facility, or managed properties, will offer the exact same security features. 
Typically, you will find features such as: 
Security Cameras 
Gate Access with Keypad Entry 
Extra Unit Door Locks 
Protection Plans for Stored Properties 
And of course, Fire Sprinklers.  
If you are looking for a place you can trust to store your business items, take a look at our locations below.  
Northern California small business storage solutions you can count on.  
We are currently working to open our newest Shield Storage location on Folsom Blvd in Sacramento! Contact the property today to find a storage unit that will fit your small business needs in our brand-new facility! 
Also, if the Folsom Blvd location isn't the best Sacramento storage location, you can contact our facility at 9th&X Self Storage as well. There, you can find units as small as 5×5, which are great for file storage. Or, large 10 x10 units that are large enough to fit desks, office chairs, or other furniture.  
Grass Valley 
Our Grass Valley, CA location is one of the nicest facilities you will find in Northern California. Visit the Old Barn Self Storage facility today to reserve a unit that will meet your specific small business needs today! 
Whether you need a traditional 10 x 10 storage unit or a larger 10 x 30 unit, we have something that will fit your storage needs. At our Grass Valley location, we offer indoor, climate-controlled storage units and outdoor, drive-up units to meet your needs.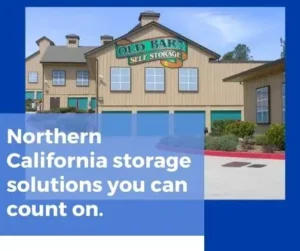 In Stockton, CA you will find our Advanced Mini Storage – I location on Monte Diablo and our Advanced Mini Storage – II location on Murray. Both locations offer self storage units with drive-up access. Drive-up access will allow you to easily access your small business items quickly.  
Our storage units in Stockton, CA are cost effective and if you hurry, you can get a 5 x 10 unit for under $100! Finding the right storage unit at the right price can be difficult to do these days. At Advanced Mini Storage, you can find a storage unit that can fit your storage and pricing needs. 
Our Millbrae, CA location can be found on Adrian Rd. Millbrae Station Self Storage offers storage units of all sizes. Also, you can find storage at Millbrae Station for your small business storage needs as well as for your wine collection! 
Whether you need a small storage unit for file storage or a parking space for your large work truck, we have something that can meet your needs. Storage solutions come in many sizes at Millbrae Station Self Storage, take a look at our availability today so you can make your reservation! 
In Yuba City, CA, you will find two self storage locations that can provide your Northern California small business with a convenient storage solution. Garden HWY Self Storage offers the Yuba City community multiple storage solutions that are inexpensive! Availability is limited, so don't wait long to reserve your unit! 
Our other Yuba City, CA location, Yuba City Self Storage also has great pricing that will fit any business budget. You can contact one of our Yuba City locations on our website through the links above and view availability right there! 
No matter which Yuba City location you choose, you can be sure that your money will be well spent and that your business will be well taken care of.  
Placerville 
Placerville Self Storage has indoor and outdoor self storage units available to meet your business needs. Whether you need a smaller 5 x 5 unit for files or a larger unit for inventory or furniture, we have a storage unit that will fit your business storage needs! 
Did you know that select units at Placerville Self Storage offer 24-hour access? That's right! With select units, you can access your business's items any time day or night. This can offer a great solution for plumbers, electricians, and those in other industries who may provide 24-hour service to clients.  
Contact our facility today to learn more! 
In Sonora, CA you will find two Shield Storage locations with available storage units to meet your needs. Whether you store at Shield Storage on Camage Avenue or Shield Storage on Longeway, you will find a storage unit that will be able to fit your small business storage needs.  
Sonora businesses can come to either of our Shield Storage locations to find options for many different storage needs. Though availability is limited, you will want to contact either store prior to coming in to check availability. You can also reserve your desired storage unit online! 
Start using self storage for your small business in Northern California today! 
No matter what your needs are, if you have a small business, we have a unit available for you! As you can see, if you are in the Northern California area, we have multiple locations with many different features that can meet your specific needs.  
As any Californian knows, some of these locations are at least a hundred miles away. However, if you live between two locations and have multiple locations for your business, we offer you a unique selection of options for your storage needs.  
Shield Storage and all our other properties are here for you! We do our best to ensure that our staff is putting our customers first and offer you top-level service. Find a small business storage solution you can rely on today!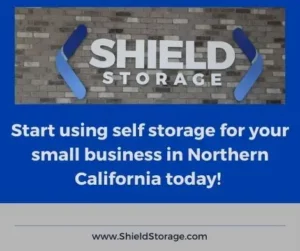 Find your business storage solution nearby today! 
Finding the right storage solution nearby can be a hassle. It doesn't have to be! You can find a self storage location near you today that can provide you with the space your business needs, and even some room to grow! 
Your Northern CA small business should not have to purge money on an office space that is used just to store files, inventory, or unused furniture. Contact one of our Northern California locations today and find a better small business storage solution today! 
More From Shield Storage