Self Storage: Your Better Business Storage Solution
There are many storage solutions for businesses, but year by year they continue to get more and more expensive. It's time for a better business storage solution.  
Some businesses require storage for inventory which leads them to looking for warehouse style storage options. Depending on the size of your business, this could be a great solution. However, in today's market, some pay thousands of dollars per month for warehouse space that is being under utilized.  
Other businesses need storage for interim purposes. This could include needing to store furniture or equipment for short periods of time.  
So, how can self storage provide a better business storage solution? Let's take a look.  
How can self storage provide businesses with enough space?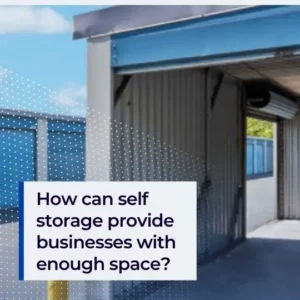 Business storage is utilized for those in many different industries who utilize storage for business purposes. Luckily, our self storage units range in multiple sizes from 5 x 5 to over 10 x 30 such as the ones located at our About Space location in Spokane, WA.  
Self storage can be utilized for many purposes to help a small or large business meet their storage needs. From storing inventory to furniture and anything in-between, our locations have something to fit your business's storage needs.  
Though the uses for business storage may vary, the goals are typically the same – saving time and money. 
Want to learn more? Here are some other ways self storage can help your business. 
How does self storage provide you with a better storage solution? 
Self storage can help accomplish both business storage goals, saving time and money, by providing convenient storage locations that provide easy access at a reasonable cost. 
You can save hundreds, if not thousands, of dollars every year by utilizing self storage to meet your business storage needs. Not only are you going to save money utilizing mini storage, but you will alleviate stress as well.  
Utilizing a self storage unit for your business storage needs helps alleviate stress by: 
Providing a cost-effective storage solution 
Central location for convenient access 
Giving you back more office space 
Providing flexibility with month-to-month contracts 
Why you should choose Shield Storage for your small business storage needs?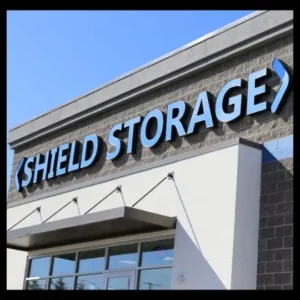 At Shield Storage, we understand the needs of the small business owner because we are business owners. Whether you store at one of our Shield branded stores or one of the managed locations, you will be sure to find a high-level of expertise and customer service along with these other features: 
Price 
Business storage at our locations is a cost-effective solution for your documents, inventory, parts, or equipment. When compared to commercial space, renting a storage unit with Shield Storage can save you thousands of dollars per month. 
Convenience 
Our Shield Storage locations are conveniently located to provide our customers with easy, convenient access. Our month-to-month agreements provide a convenient, flexible option for your business. Many commercial spaces force you to sign a lease which will lock you into a space for an extended period. 
Also, many of our storage facilities offer drive-up storage units that provide an easy and convenient way for you to load and unload your business items. This is especially convenient for businesses that need to store furniture or vehicles. 
Options 
If you're looking for inventory or document storage, many storage solutions provide multiple options for you to consider for your business. From smaller 5×10 units that are perfect for document storage to 10×10 units that can house your inventory.  
The variety of units our location offer allows you to choose what will fit your business's needs the best. 
Does your business need vehicle storage? Larger storage units (where permitted) and outdoor parking spaces provide a better storage solution for your work truck, trailers, or large equipment. 
Parts, inventory, and other business needs can be stored in almost any unit size! The key here is to choose a storage unit that will fit your business's needs. And, if your needs change, there is always a chance you can transfer units.  
Security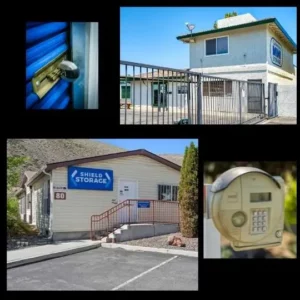 At Shield Storage, we understand that security is a priority for business owners. We want to do the most we can to ensure your business items are safe and secure while storing with us. 
If you have questions about the security features available at the Shield Storage near you, contact us today. 
Though the security features at our facilities may vary, the typical security features you will find at Shield Storage locations include: 
Digital Surveillance System 
Fully Enclosed and Gated 
Protection Plans for Stored Property Available 
Gate Access with Personal Access Code 
Who can benefit from using self storage for business storage? 
If you are a small business owner or an executive of a large corporation, you may be wondering if self storage is the way you should go. Does this provide you with the solution you've been looking for? 
What if…. 
What if you were able to find a solution for your business that not only provides a better business storage solution, but also saves money AND is more convenient? 
Business storage isn't just for doctor offices or solopreneurs. You could utilize a self storage unit to provide a better storage solution for your company and be a hero! 
Self storage, and mini storage, provides a great storage solution for: 
Professionals 
Restaurants 
Tradesmen 
Ecommerce Businesses 
Manufacturers 
Small Business Owners 
Real Estate Agents 
Home Stagers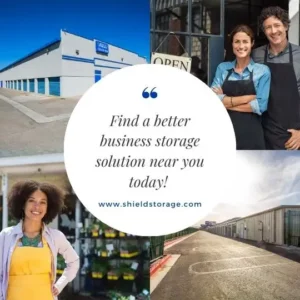 Find a better business storage solution near you today! 
There are a lot of ways to save your business money, and in this economy, you have to get creative. If you're ready for a better business storage solution, contact one of our storage locations nearby.  
Our team is dedicated to helping you find a unit that will fit your business storage need, no matter the size! Start saving and storing with Shield Storage today! 

More From Shield Storage