Self Storage for Small Business – The Pros and Cons
When it comes to  self storage for small businesses, there are many pros and cons to consider. For example, self storage can be the perfect way to store inventory or equipment that you do not have room for in your office or shop. Another is storage units are less expensive compared to commercial buildings or warehouses.
On the other hand, self storage can still be expensive for some, and its location may be difficult to access. Finding the right storage size for your storage needs may also be challenging. You don't want to reserve a unit that is too large. But, on the other hand, you don't want to have a unit that is too small either.
To be safe, it's better to take a close look at self storage and get all the information before making a decision. 
What is small business storage?
Many professionals and workers in various industries use self storage for their business storage needs.
Shield Storage provides storage units to accommodate the needs of professionals and entrepreneurs. Our storage units are available to help people like you find the optimal storage space they need where they can efficiently and safely store their items and documents.
While business owners have their own specific reason for needing space, the goal is typically the same—saving time and money.
Business storage can be used to store supply stock, working equipment, holiday decorations, furniture, and even vehicles. For some professions, they utilize their storage as an archive for documents, records, and other paperwork.
How can self storage for small businesses be useful?
Self storage has become more than just a place to dump extra belongings. It is a convenient solution for small business owners who want to clear up space in their office. Also, it offers a great business storage solution for tradesmen looking for an affordable space to keep their tools and equipment during off-hours.
As a small business entrepreneur, you know that organization and efficiency are key to an effective workspace. Business storage can be a valuable resource, and by renting one, you are free to declutter and sort through your files at your convenience. Thus, you can organize what needs to be kept in your office and what can be stored away. The same goes for items like furniture and decorations—you don't need to keep those items in your office when you don't need them.
Small businesses can utilize self storage in many ways such as:
Inventory


It's important to consider cost-efficient ways to accommodate the space you will need to keep your business supplies, byproducts, and merchandise as your business grows. We understand that some products and supplies require extra care to preserve the quality, thus, we offer our self storage units that are climate-controlled. Learn more about our climate-controlled storage here.

Document Storage


Many professions, including those in the medical and law fields, are required to keep hard copies of documentation for legal reasons. These businesses, among others, can use our self storage units to store these dated documents and records they don't have the space for but are mandated to keep for their records.
Furniture and seasonal decorations take up a large amount of space. This is especially true for bulky furniture such as couches, tables and shelving. You don't want to keep those in your office when you can use the space for something                 more useful. What's more, since many offices must regulate the number of people who can visit, having extra furniture in the office is no longer necessary.
Parts


Tradesmen or handymen need storage space to store their tools and equipment. Though you can't work directly out of your unit, you can certainly store your tools at our facilities instead of using your personal garage.For heavy tools and other items, we have storage facilities that are spacious enough to safekeep your tools for you. Find a location nearby now!At some locations, such as our Craig Rd location in Las Vegas, our semi-truck sized unit is also perfect for storing excess raw materials for your construction projects. Thus, contractors and engineers no longer need to worry about where they should keep their materials during their projects. Also, if there are materials left over, these may also be stored in a storage unit instead of going to waste.

Business Vehicle


At many of our Shield Storage locations, we offer parking spaces for business vehicles, vans, and other heavy-duty vehicles. Some locations offer spacious garage storage units where you can park your work truck or other vehicles during off-hours.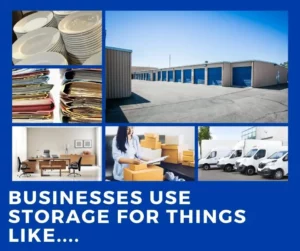 Warehouse


Work-at-home entrepreneurs no longer have to worry about their products cluttering their home or risk compromising the quality of the product due to poor storage. Renting an office space to store your items can be pricey compared to a self storage unit. Not only can you save money storing with us, but you can also benefit from the added security measures we provide at our facilities.It's also not just the security you will gain from renting a self-storage, here are other benefits.

Temporary Storage


Whether you're downsizing your office or moving to a new location, you'll need temporary storage to keep your belongings safe and secure. The challenge is finding temporary storage because not all storage facilities agree to short-term rentals of their units. Fortunately, Shield Storage, as well as all our managed properties, offer the convenience of month-to-month agreements.Overall, at Shield Storage we strive to provide a better storage solution. Thus, we offer storage units equipped with digital surveillance systems, protection plans, and gate access with personal access code.To read more about our security measures, click here.
Can you run a business out of your storage unit?
It depends on your business type. Ecommerce businesses that need a secured space can store their supply stocks and build an inventory on our storage units. However, you cannot utilize the storage unit as an office space or shop.
This is for your protection, as well as the protection of our other customers, that we set regulations for what can and cannot be stored in a storage unit. This also includes what storage units can be utilized for.
To know more about what you CANNOT store in your self storage, read this.
Can you use your self storage unit as a mailing address?
Some of our locations allow and accept deliveries on behalf of our customers. However, we do not offer mailboxes at any of our current locations.
If you need to receive a delivery at one of our locations, you should contact the store manager at the location you currently utilizing. If you aren't storing with us currently, you can contact us to find a location that accommodates this request and inquire about the specifics.
What should you expect when using self storage for your business?
There is a lot to expect when using self storage for your business and we want to highlight how business storage helps alleviate stress by:
Providing a cost-effective storage solution
Central location for convenient access
Giving you back more office space
Providing flexibility with month-to-month contracts
What else can you expect from us?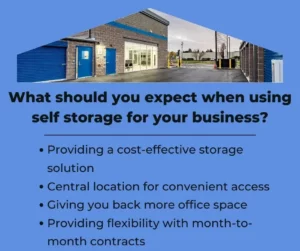 Shield Storage ensures our facilities are convenient and well-secured to assure our tenants that their items and documents are safe with us. Since valuable items and documents can be stored in our units, we have implemented additional security measures.
We also offer climate-controlled units for items and documents that are sensitive to the environment. These units are maintained by utilizing heating or cooling systems to maintain the desired temperature inside the storage building.
Upon moving in, some of our facilities offer dollies, free of charge, for you to easily get your items from your vehicle to your indoor self storage unit. Also, should you need them, moving supplies and packing materials are also available at most locations for you to purchase if needed.
Security will always be a priority. Most of our facilities are gated and access is only granted with an access code. You will have a personal access code created specifically for you to enter the facility when you reserve with us. While access hours vary from location to location, most of our facilities allow you to access your storage unit 6 or 7 days per week.
How can you get the most out of your self storage unit?
No matter what size storage unit your business may need, there are different ways for you to get the most out of the space you have. Whether you are utilizing your business storage unit for inventory or document storage, there are things you can do to get more into your unit.
Just like anyone else, you want to get the most out of your space while spending as little as possible. Here are some hacks on organizing your items, documents, and boxes.
Put up shelves in your storage units


Utilize your storage space by putting up shelves or racks where you can neatly organize your items and documents.

Use bins and stackable containers


Bins and stackable containers are reliable for storing small equipment and items. Using containers makes it easier to cluster small parts and not have them scattered around your unit. You can make the most out of your space with stackable containers or bins.For ideas on safe stacking your items, you can read this.

Label your items and boxes


Make sure to label your items and boxes clearly. This is a great way to keep track of boxed items, and going through the labeling process makes it easier to find your things when you need them.

Create an inventory list


Having a list of your items makes it easier to keep track of what is in your storage. This is also helpful and saves time when you need to look for an item or document, especially if you have multiple units you are storing in..

Arrange your items based on size and frequency of use


It should be common practice to place larger items at the furthest corner. For items and documents frequently taken out of the storage unit, have them stored near the entrance or somewhere readily accessible. When storing away items, make sure you keep a clear path leading outside.Remember, that good organization is key to staying on top of your things. The first thing you want to do when storing away items for your business is to think about what will be useful. You don't need to keep old receipts, dated documents, and decorations that don't serve any purpose—they just take up space, and space is money.For more storage tips, read here.
What documentation do you need to reserve a self storage unit for your business?
For reservations of a self storage unit, you are required to present one of the following forms of documentation:
Driver's license
State ID
Passport
Military ID
It's important to note that if you are reserving a storage unit for your business, you must have coverage for your items. To help you with this, we provide protection plans for our customers, so they don't have to get additional insurance.   All customers must be at least 18 years old to rent a self storage unit at any of our Shield Storage locations.
You do not need to have any information that is directly related to your business to store with us for your small business. However, this means that it is up to you to keep your records for your business expenses in order as we are not responsible for this.
For more information on reservations, click here. 
Who can use self storage for their business?
Renting a self storage unit is the most convenient and affordable solution for small business owners. For those looking to tidy up their offices, safely store their materials and equipment, or set up an inventory for their products and supplies we have a storage solution that will fit your needs.
There are many reasons why people rent self storage units for their business. Here is a list of business owners and professionals who utilize self storage units for business purposes.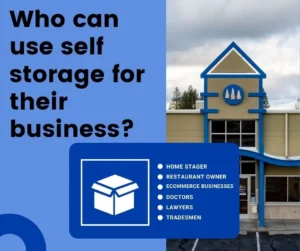 Home stagerswho need a place to keep the furniture they use to stage homes. Storage units are not only affordable, but also offer a convenient location where to keep your items organized between jobs.
Read here on how to prepare your furniture for storage to avoid damage.
Lawyers, doctors, and other professionalswho deal with a lot of paperwork day in and day out. Instead of wasting valuable office space, you can opt to store your files in a secured storage that's near your office.
Ecommerce and business owners whoneed the extra storage for their inventory and supply stocks. They can utilize our storage units for their inventory.
Tradesmen and Engineers can store their tools, equipment, and other materials they need in our storage units.
Restaurants can store their important documents, store furniture, decorations, and other unneeded items for their kitchen.
Where can you find a storage unit for your business? 
Shield Storage has 30 locations in Arizona, California, Idaho, Missouri, New Mexico, Nevada, and Washington.
To find if Shield Storage is in your city or anywhere near your location, click here.
More From Shield Storage