How to Store Your Outdoor Furniture for Winter
Spokane, WA in the winter is wet and cold. If you don't store your outdoor furniture properly, it could be damaged.
Winters that are milder can be pleasant. In Spokane, the winters can be a bit unpredictable. Though it doesn't get drastically cold, it will snow and rain without fail. You can plan on that.
In Spokane, as in many states, you want to be careful. Especially if you have furniture made of wood or metal. If you aren't careful, you can spend more time fixing and replacing your patio furniture than you do enjoying it.
Knowing how to store your outdoor furniture can save you time, money, and frustration!
If your patio furniture is left outside all winter, it can be damaged from the moisture and harsh weather. This means you will be spending money every spring to repair and replace your outdoor furniture.
When your wooden outdoor furniture sits in the rain and snow it can become warped and damaged. Metal furniture can rust, and your plastic furniture can become brittle and break.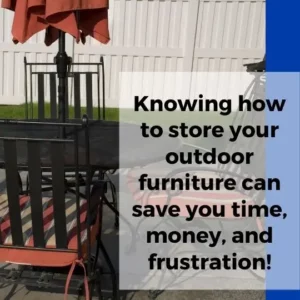 You can try to store certain items, such as pillows, cushions, and possibly umbrellas, in a storage box like this one here. Depending on what you have, however, you may need more than one, and it's still possible for moisture to get in.
What, however, will you do with your table, chairs, sofa, or stools? How do you keep those items safe from the cold, wet winters in Spokane, WA?
Knowing how to prep your outdoor furniture is the first step.
There are many different materials that outdoor patio furniture can be made of. We will focus on the priory three: metal furniture, wooden furniture, and plastic furniture.
Knowing the best way to prep and store your furniture is the key to getting your favorite outdoor pieces through the winter months. It is also important to know what could happen if your furniture is left in the cold unprotected.
You can find more details about the preparation of many different types of outdoor furniture here.
Metal furniture
There are many different types of outdoor metal furniture. Whether it be aluminum or wrought iron, you need to be sure to store it properly in the winter.
Aluminum furniture is rather resistant to rust. However, it can have holes in it which can cause some problems in the wintertime when temperatures fluctuate.
These holes can allow water to get into the frame and as the temperatures change, the water can freeze and cause damage over time.
Wrought iron, on the other hand, can become destroyed in areas, such as Spokane, with cold, wet winters. This type of metal outdoor furniture will rust in the rain or snow.
No matter what type of metal furniture you have, you want to be sure to clean and dry each piece thoroughly before storing for the winter months.
Wooden furniture
Wood furniture can crack if moisture sets into the cracks of the wood. If you plan to keep your furniture outside, you want to make sure it has had a sealant applied.
It is always important to inspect your furniture and make sure that there aren't any splits or cracks that need to be repaired. Leaving this unattended will allow moisture into the wood. Moisture plus cold could mean cracking and breaking in the wood which will lead to damage.
If you aren't careful, your wood furniture will crack and break which will lead to you spending unnecessary money to replace your furniture more often than you desire.
Again, always be sure to thoroughly clean your furniture prior to sealing and storing it.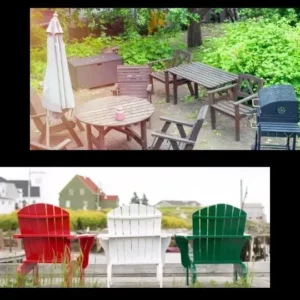 Plastic furniture
Plastic patio furniture can become extremely brittle and break when it is left in the cold. This is especially true when the temperatures fluctuate and drop below freezing.
Over the course of the winter, especially when the temperatures fluctuate over a longer time period, the plastic begins to crack and your furniture will eventually break.
To prep your plastic outdoor furniture for winter, you will want to be sure to clean it well and find a safe place to store it for the winter months.
Find a better storage solution for your outdoor furniture in Spokane, WA!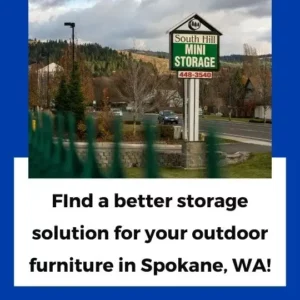 Your outdoor furniture doesn't have to be damaged by the winter weather. Instead, consider using a self storage unit for storing your outdoor furniture.
Using a self storage unit to store your patio furniture will allow you to save time and have peace of mind through the winter months. You won't have to worry about your furniture being damaged, no matter how mild or harsh the coming winter is.
Are you ready to make storing your outdoor furniture easier for you and your family? Start saving time and money on replacing damaged patio furniture, and store with us at one of our local Spokane, WA locations or at one of our other locations.
Don't go another winter having to guess whether your favorite outdoor furniture is going to survive the cold temperatures or not. Reserve your unit today!
More From Shield Storage