How to Store a Wetsuit
If you're someone who loves spending time in the water, you know that swimming gears are an investment. It's not every day you'll be wearing your gear, so you need to know how to store a wetsuit. Their durability is as good as how you take care of them.
Now that summer is finally here—the sun is shining, and the weather's getting warmer. It's time to get out there and enjoy the season. There are plenty of fun activities to do during summer, and surely, most of them are in the water.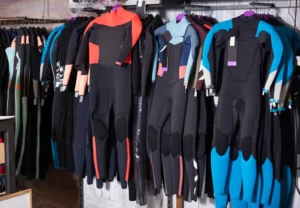 A Step-by-Step Guide 
The proper storage of your wetsuit between uses during summer can be critical to its long-term durability. You should know how and where you will put it when not in use. Here are a few tips on maintaining your wetsuit, so you can make the most out of Summer in the water in your gear.
Step 1: Cleaning your wetsuit
After your fun under the sun, you can't just take off your wetsuit and throw it in a corner. You need to soak your wetsuit in cold water to get rid of saltwater or chlorine. Doing so will keep your suit from fading and maintain its elasticity.
If you're unable to soak your suit, you can quickly rinse it under running water. Make it a habit to rinse your wetsuit after your swim whether in a pool or on the beach.
Reminder: Do not throw your wetsuit in the washer or dryer. Simply handwash your suit and gently wring it before hanging to drip and dry.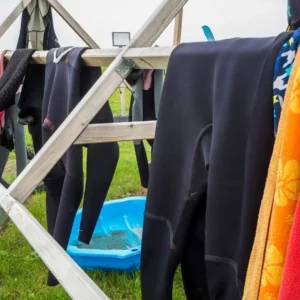 Step 2: Drying your wetsuit
After the initial rinse of your wetsuit, make sure to hang it to let it dry. Do not leave it bundled up in a bucket. Also, turn the suit inside out and keep it out of direct sunlight. Then, you can leave your wetsuit to dry in a cool, spacious area.
Even if you plan to get back in the water and wear your suit the next day or even after a few hours, do not ball up your wetsuit. It's important to still follow the first two steps.
Step 3: Preventing odor buildup
While it's normal for a wetsuit to have an odor, you can prevent odor from building up by washing your gear with a formula soap. After the first two steps, you still need to wash your suit. You can also use the classic shampoo and conditioner combo to handwash your wetsuit.
However, if you have been spending long hours on the beach, it's ideal to wash your gear regularly with an odor-eliminating formula soap.
Step 4: Picking the right storage
Most wetsuits are made of neoprene, and such material is susceptible to damage from sunlight and intense heat. Thus, when storing your suit, choose a place that is not exposed to direct sunlight or in heated areas. Your best choice for storage is in a climate-controlled and spacious area.
Storing your wetsuit in a climate-controlled storage unit will avoid moisture from building up on your suit. Also, it keeps your gear shaded away from direct sunlight and gives it enough space to dry and air out the smell.
Find a storage facility near your location or your favorite summer destination.
By following these easy steps, you can ensure your wetsuit lasts as long and maintained in its pristine condition throughout summer.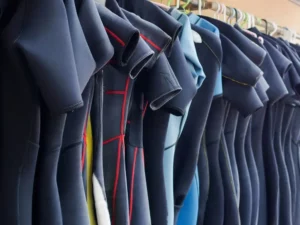 Where is the best place to store a wetsuit?
A storage unit is the ideal storage solution for your wetsuit, as opposed to keeping it in your bathroom or home.
You can have a climate-controlled storage unit
Spacious area for your wetsuit to air out
Keeps it covered from direct sunlight
You can store your wetsuit for as long as you like
Can I store my wetsuit folded?
Yes, you can store your wetsuit folded. However, make sure to fold it by the waistline. Also, make sure to not put anything on top of them if stored in a storage unit.
If you're using a hanger, avoid using thin metal ones that will imprint on the fabric. Instead, use a thick wetsuit hanger, this type of hanger is conveniently made for wetsuits. You can either hang your suit as you would a jacket or hang it in half by the waistline.
How long will a wetsuit last in storage?
You can leave your wetsuit in storage for as long as you like. However, before leaving it in storage, whether for the short-term or long-term, ensure that you have thoroughly cleaned and dried your suit before storing it away.
Learn more about our flexible rental terms.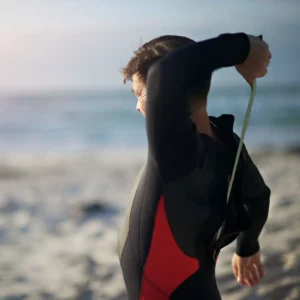 Ready for Summer?
There you have it! Four easy steps to follow to make sure you know how to store a wetsuit whether in between uses or until the next season. Simply making it a habit to rinse, dry, and wash your swimming gear will maintain its durability.
Knowing where and how to store it is also essential in keeping your suit in pristine condition. As long as you followed the steps and took note of the reminders on finding the best storage solution for your gear, you know you'll always have a wetsuit in storage ready until you need it again.
If you're looking for a place to store your wetsuit that isn't in your bathroom or closet, you can find a storage solution nearby at one of our many locations. Find the nearest Shield Storage location in your area and reserve a unit now.
More From Shield Storage