How to Store a TV Long-term
Knowing how to store a TV long-term can save you a lot of money. When you're downsizing, moving, or simply don't have space for your television, storing it in a storage unit is a great option. However, you can't just pack your electronics and leave it in a storage unit.
Televisions can be delicate and expensive to replace, so it's important to take necessary precautions to protect them during storage. If you're not careful, storing your TV long-term can lead to permanent damage. Here are a few reminders you need to take note of for safe storage. Moreover, you can ensure your television is packed and secured for long-term storage with these steps. Here's how it's done,
Step 1: Preparing your packing supplies
Start off by making sure you have all the packing supplies you need. No one likes getting interrupted in the middle of packing because you ran out of tape or got the wrong size of box. If possible, use the box that your television set came in. It can be difficult to find a box to fit your TV in, especially for widescreen televisions.
Plan ahead by reserving a storage unit. Don't wait until the last minute, reserve a unit now!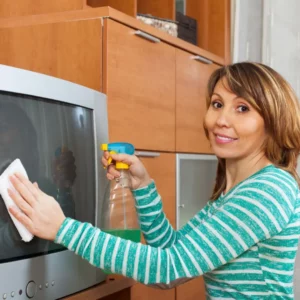 Step 2: Cleaning your television
You don't need to do a thorough cleaning but make sure you're not storing your electronics dusty and littered with smudges.
Using a microfiber cloth, gently wipe down the screen and surfaces of the television. If your TV has a stand, disassemble it and set it aside to be boxed separately. To remove accumulated dust, use a compressed air duster to clean the tight parts of the electronics.
Step 3: Packing for Long-term Storage
If the original box of your TV is not available, you can use a cloth or bubble wrap to cover the screen. Put padding such as foam or additional bubble wrap on the corners of the television.
If you're TV wiggles inside the box, then it's advisable to add extra packing materials to keep it securely wrapped. You can add bubble wrap or foam peanuts inside the box to secure the television.
For other components such as cables and remote, make sure to take photos or keep a note which cable goes where. Pack them in a labeled transparent box or pouch. Avoid misplacing your cables by labeling them. Read more about organized storage of cables here.
Step 4: Storing your Television in a Storage Unit
Store your television upright and keep the screen facing the wall. A few other precautions to protect it from damages is to keep your television elevated from the ground. Then, secure it with a rope so it doesn't topple over. Also, avoid stacking any items on top of the TV box.
Read more here on safety reminders in moving and storing your TV.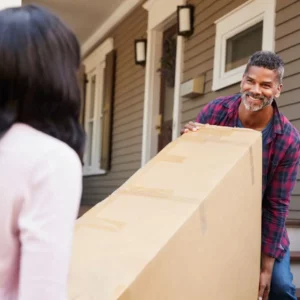 Step 5: One Last Check to Secure your TV in Your Unit
Take one last check to secure your television. Make sure that it's tied and secured so it doesn't fall over or no items will fall on it. Keep the box of cables and remote nearby to avoid misplacing it.
Remember, it's wise to label your boxes in storage or if possible, keep the cables and other small disassembled parts in a transparent box to make it easier to find them when needed.
Can you Keep a TV in the Garage?
It's not a good idea to keep your TV in your garage, especially for long-term storage. There are many risks to storing your TV in a garage. Humidity can cause moisture buildup on your electronic components and extreme temperature will warp or bend exposed parts of your television.
Moreover, placing your electronics out in your garage, where it's a busy place, can risk it being nicked or scratched. The best storage solution for your television is a self storage unit.
Storing a TV in a Storage Unit
To avoid permanent damage to your TV, the best and ideal storage solution is to rent a climate-controlled self storage unit. As opposed to storing your television in a garage, renting a climate-controlled unit will maintain the pristine condition of your television. With a regulated storage unit, you don't have to worry about humidity and temperature damaging the inner parts and circuits of your TV.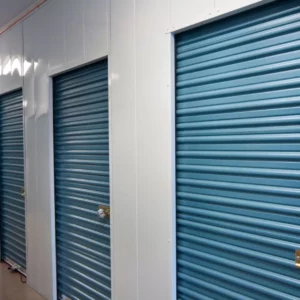 TV Storage Temperature Range
Storing your television in a climate-controlled self storage unit will prolong the functionality of your TV despite being stored for a long time.
The recommended storage temperature for televisions is between -4 to 140 degrees Fahrenheit (F) and 20-90% Relative Humidity (RH).
How Long Can you Store a TV?
You can store a TV for a long time as long as it's stored properly. Make sure to follow the steps and necessary measures in maintaining the condition of your electronics.
Ready to Make Some Extra Space in Your Home?
By following these five simple steps, you can store your television safely and securely for months or even years at a time. Taking all the necessary measures will help prolong the functionality of your electronics despite being stored for a long time in storage. However, it's advisable to maintain as good practice to regularly check your belongings in storage, especially for electronics which has fragile components.
If you're looking for long-term storage solution and want to keep your television in good condition, a climate-controlled storage unit is the better option. Storing with Shield Storage guarantees you a safe and secured storage unit.
Reserve a storage unit today with Shield Storage.
More From Shield Storage