How to Store a Rug for Long Term Storage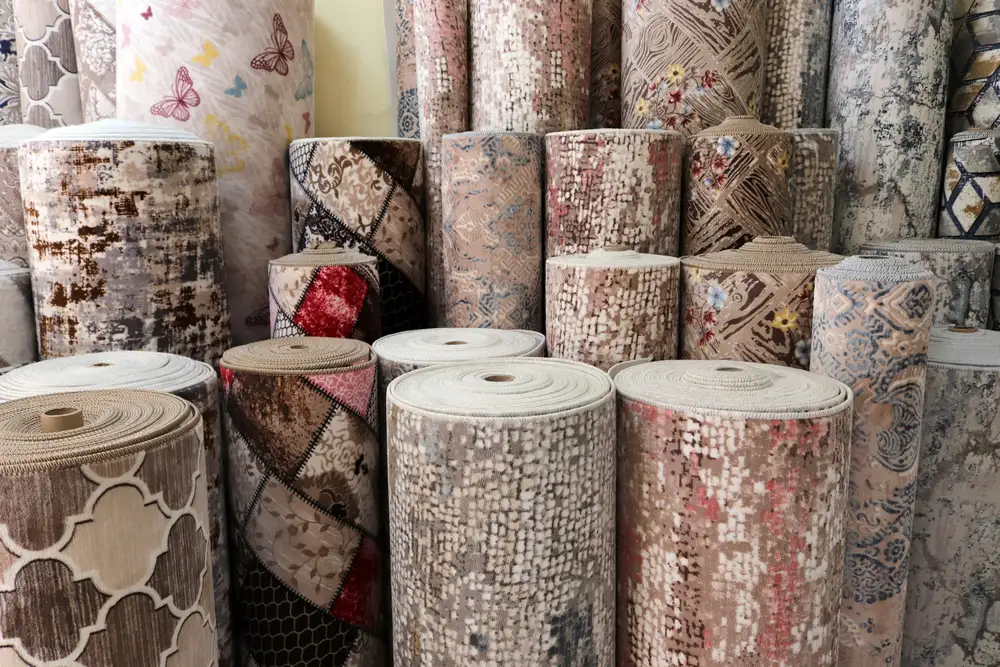 How to Store Rugs
Storing a rug may seem like a simple task. But to preserve its quality, there are maintenance tips and specific steps on how to store a rug for long-term storage.
Here are helpful tips that teach you proper care and how to preserve your rugs for years, even if stored in storage.
How to prepare a rug for storage
Whether you're moving or just want to store your rug for a while, it's important to prepare it properly. If you don't take the time to do it right, your rug could get damaged and may not look as good when you take it out of storage.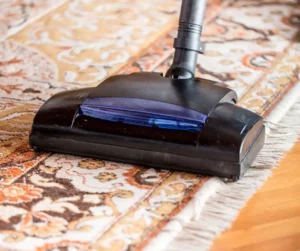 Vacuum
The first thing you want to do is vacuum your rug clean. Remove loose dirt, fibers, dust mites, and other debris on your rug. This prevents attracting pests from infesting your rug when stored.
Check the label
Check the care tag or label of your rug. You can find instructions as to how to clean your rug and what not to do to preserve its quality.
Have it professionally cleaned if you do not have clear instructions
If your rug does not have a label or care tag, opt to have it professionally cleaned.
For rug owners who have messy kids and pets around, it's recommended to send your rug to a professional cleaner for deep cleaning. This will ensure every stain and grime embedded in your rug will be removed.
How to roll a rug for storage 
Rolling your rug up for storage is not only easier but also better for your rugs in the long run. As opposed to folding it, rolling your rug will keep it from cracking or risking the foundation to brittle over time. Here are some tips on how to roll your rug for long term storage.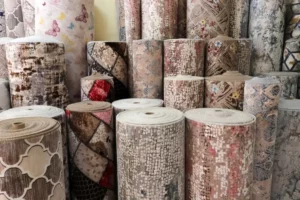 Use a rod to keep the rug straight
Using a rod can guide you in keeping your rug straight as you roll it up. The rod will keep your rug upright instead of folding over, which can result in foundation cracks.
You can use either a PVC pipe or a cardboard tube as a rod. However, make sure what you're using is sturdy and can hold up a heavy rug.
Other household materials you can use as a rod:
Have the pile face inward
Keep the fibers of your rug clean by rolling your rug facing inward. Also, doing so will prevent dust stains from developing over time.
Create a tight roll by rolling from the bottom end first
Lay your rug flat on a clean area and determine which side is more delicate. Then, start rolling your rug with the bottom end.
Rolling from the bottom end where the tassels or fringes are usually at will keep your rug neatly and tightly rolled, especially with the help of a rod.
For bulky and heavy rugs, you can make your job easier by asking for help from a friend.
Secure the rug with a rope
After rolling your rug, secure it with a rope. Choose sturdy ties to avoid having to retie your rug. But avoid materials, such as zip ties, that will make it difficult for you to unroll your rug.
Instead, use ties such as twine or a rope. Another material you want to avoid is tape, as this will end up sticking to your rug and can be troublesome to remove in the future.
Avoid folding the rug
Avoid creases and damage to your rug by rolling it instead of storing it folded.
Folding your rug will cause the folded areas to rot and become brittle resulting to cracks. Not only that but you also risk dust stains and faded lines developing from the folds.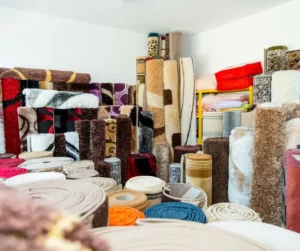 How to wrap a rug for storage
After cleaning your rug, maintain it that way by wrapping it to protect from dust, dirt, and other debris.
Use Tyvek paper, brown craft paper, or canvas
Wrap your rug with Tyvek paper or a craft canvas. Tyvek or craft papers are preferred over plastic wraps because of their lightweight and water-resistant quality.
Water and tear resistant but breathable
Aside from Tyvek and craft papers, you can wrap your rug in a cloth that is light and breathable. Aside from cloth, you can also use a carpet protection film, which is lighter than plastic wrap.
When looking for a wrap for your rug, make sure to find a material that is water and tear-resistant. Not only that but the material should also be breathable to avoid moisture and mildew from manifesting.
Never use plastic wrap
Never use plastic in wrapping your rugs. While they are trusty for keeping away dust and debris, plastic traps moisture in your rug which will result in the growth of mold and mildew. Instead, use the recommended Tyvek paper or other light materials.
How to protect your rug from insects, carpet beetles, and moths
By taking a few simple precautions, you can keep insects, beetles, and moths away from damaging your rug.
Rent a climate-controlled unit
Store your rugs in a climate controlled unit to protect them from temperature fluctuations and extreme humidity. Keeping a temperature-controlled maintained environment for your rug prevents mildew and mold growth.
Moreso, an enclosed room without exposure to direct sunlight or harsh lighting will help you keep the vibrant colors of your rug.
Rent a climate controlled storage unit here.
Spray rugs with scents like cedar or peppermint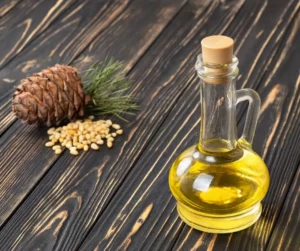 Prevent carpet beetles from infesting your rug by spraying it with scents like cedar or peppermint.
By spraying your rug with cedar or peppermint, the bugs and pests will be repelled by the scent leaving your rug free from carpet beetles and pests. Not only that, but you also get a pleasant smell to your rug compared to just throwing a couple of mothballs.
Apply a coat of insect repellent on the back of the rug
Aside from scented sprays, you can also coat your rug with an insect repellant to protect it from pest infestations. You can either buy a commercial spray or create your own with apple cider vinegar and water.
How to store your rug off the ground 
Storing your rug off the ground will make it last longer.
Rugs are notorious for collecting dirt and dust, and if they're not stored in a way that allows them to breathe, dirt and dust can become embedded in the fibers of the rug and cause it to rot and quickly wear down.
By storing your rug off the ground, you'll help keep it looking its best for longer.
Cinder blocks or wood pallets
Elevate your items in your storage unit with cinder blocks or wood pallets. Keeping your rug off the ground will prevent moisture from directly seeping up into your rug.
In addition, think of it as a necessary precaution to keep your items safe in case of flood or other calamities.
Cool and dry area
The environment where you store your rug will significantly impact the condition and preservation of your item. Store your rug in a well-ventilated and temperature-controlled area to prolong its shelf life and good condition.
Nothing on top
Avoid stacking items on top of your rug to prevent dents on its edges.
Anything heavy placed on top of your rug for a long time will damage and cause cracks in its foundation. It's best to keep the top end of your rug clear and covered.
No natural light
While it's a good idea to air out your rug occasionally, prolonged exposure to natural light will fade the colors of your rug. Harsh lighting or direct sunlight has a tendency to bleach exposed areas of your rug, creating unappealing sun stains
Make sure to store your rug in an enclosed environment where there are no windows directed at your rug.
Store vertically to keep its shape
The ideal way to store your rug is to place it vertically in a corner. Doing so will maintain its shape and keep the rug from folding over time.
Rugs are heavy even when rolled and tied. They tend to deflate and end up getting folded while in storage. However, you can prevent this from happening by storing your rug vertical in any corner of your unit. This way, it won't topple over other items.
If you need to know which storage size best suit your needs, visit our storage size guide here.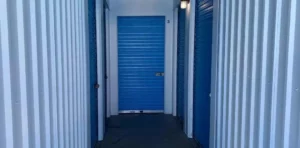 How often should I check on my rug in storage?
Deciding how often to check on your rug in storage really depends on what type of storage it is and what climate you're in. If you're in a hot, dry climate, you may need to check it often for pests or signs of damage.
If you're in a colder climate, monthly checks should be sufficient. No matter what, always make it a habit to check on your belongings in storage.
Check on it every few months
Proper maintenance and cleaning are key to preserving your items. Rugs are delicate and better maintained regularly to make sure it's not infested with pests, or there are no new stains or damage.
Make sure to visit your storage unit immediately after major weather changes.
Here are easy ways for you to do a quick maintenance check on your rug:
Unroll it and check for bugs
It's best practice to unroll your rug to air it out and inspect if there are pests or signs of mold and mildew.
Vacuum 
Even if you haven't used your rug, vacuum the piles to rid of accumulated clouds of dust and cobwebs.
Apply a new coat of insect repellent
Just like the steps in preparing your rug for storage, after vacuuming it clean, apply a new coat of insect repellent and scented sprays to repel pests and bugs.
Conclusion
Overall, it doesn't take much to prepare and store your rug in a storage unit. While rugs are delicate, they can last for a long time if cared for and maintained properly.
When storing a rug, remember the basics. Start by cleaning your rug and applying insect repellent to keep away pesky pests. Then, to preserve its quality and texture, follow the proper storage steps.
Roll your rug inwards while wrapping it with a breathable and lightweight paper or cloth. And remember to use a rod to straighten the rug and keep it vertically upright.
Lastly, where you store your rug will contribute to keeping your rug in its pristine condition. So, if you're looking for a storage facility, you can find the nearest Shield Storage location in your area here.
More From Shield Storage