How To: Safely Store a Refrigerator in 5 Easy Steps
It's not always easy to know how to store a refrigerator or other large appliances. Maybe you're moving, remodeling your kitchen, or don't have enough room in your new home. Whatever the reason is, there are a few things you can follow to ensure your appliance will be safely stored.
How to Store a Fridge Long-term
Many don't think it is difficult to store a refrigerator safely until they need to. Long-term storage for your fridge can be challenging if you don't know what you're doing. It's not like storing a couch or piano, there are electrical components to worry about.
However, you don't have to worry. We will walk you through a step-by-step procedure for securing your fridge in a storage unit. Also, we'll provide tips to make sure your fridge remains in good condition when you're ready to use it again.
To get started, follow these five steps to ensure you are set up for success to safely store a refrigerator.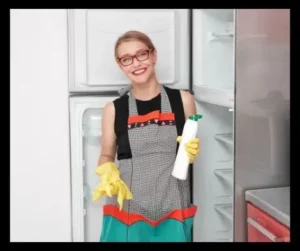 Step 1: Planning your Storage
Planning is essential when storing long-term. You want to make sure your appliance is not the only thing prepared, but also the unit where you plan to store it.
Don't wait until the last minute and book a self storage unit with Shield Storage.
Step 2: Emptying your Fridge
The first thing you want to do is empty your fridge and unplug your appliance for safety.
Prepare cool bags or an icebox for perishable items you're taking out of your refrigerator. While emptying your fridge, you can also sort which foods need to be thrown out or can still be consumed.
Step 3: Defrosting and Cleaning
After emptying your fridge, leave it for two to three hours for the freezer to defrost. In the meantime, you can take apart the shelves and drawers for washing.
When the ice is thawed out, drain the water from the pan. Wipe down the surfaces of the fridge with a damp sponge, then once again with a dry cloth. After, put back the drawers inside the fridge and make sure to tape them to keep them secure and in place during transport.
Extra Tip: The messiest part in cleaning a fridge is the condenser coils. Not all refrigerator have coils on their fridge, but if yours does, here's an efficient way to clean it.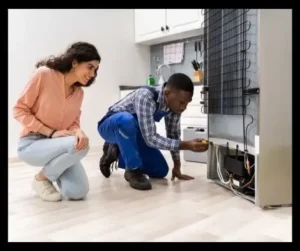 Using a long-handled brush, start by scraping dirt stuck around the coils. This will also make it easier to vacuum the accumulated dust and dirt. Then, vacuum the dust bunnies using a narrow flat suction. If possible, you can fit the nozzle of the vacuum to clean inner parts of the fridge your hands can't reach.
Step 4: Transporting your Fridge
Secure your refrigerator's doors by tying a cord or moving straps around it. For safety purposes, use a dolly to move the fridge while you support it on the side and make sure it doesn't topple over.
Reminder: Avoid damaging your refrigerator's cooling system by making sure to only tilt the appliance. Never carry it horizontally.
Step 5: Storing your Fridge in a Storage Unit
The ideal place to safely store your refrigerator is in a storage unit. When storing an appliance long-term, it's critical to store it in a clean and dry environment. You want to take all the necessary measures to ensure your appliance remains in good condition despite being in storage for a long time.
The best way to do this is to prepare a designated area for the refrigerator. Make sure it's cleaned and accessible should you move it in and out of storage.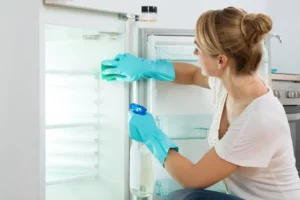 After placing your fridge in storage, remove the straps or cord around it and leave the doors slightly ajar. This will prevent moisture from building up while stored in a confined space.
You should also prop your appliance with a plank of wood or any stand to keep it above the ground. Lastly, cover it with a thin cloth or linen to prevent dust from accumulating on the surface.
For added safety, find a storage facility that offers temperature regulating units. Climate-controlled storage units will help ensure your appliance doesn't rack up molds and bacteria. This will also prolong the good condition you left your fridge in. Find out more about climate-controlled storage units here.
How to Prevent Mold in an Unused Refrigerator
We understand this is the ultimate concern when storing a refrigerator long-term. It's a good thing you can prevent this. 
By following these easy steps, you can prevent mold from growing on your stored refrigerator. If you've done the cleaning and securing of your appliance in storage like we suggested, you can take an additional step by leaving a deodorizer in the compartments of the fridge. You can buy one from your local store or check this DIY deodorizer for frugal tips.
Extra Tip: Be sure to regularly check and change the deodorizer you leave in your refrigerator.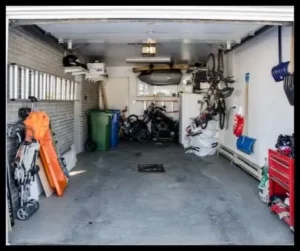 Other storage solutions for your refrigerator
If you don't have enough space for a refrigerator or know where to store it, what are your options? While there are other cheap alternatives, they're not necessarily the best option.
Can you Store a Fridge in the Garage?
Why not store your fridge in the garage? It won't cost you money, and there's no hassle of moving involved! It seems like a practical idea.
However, doing so risks permanent damage to your appliance. With the weather changes and temperature fluctuations, it just isn't an ideal environment to leave an unplugged fridge in. Therefore, it's not really practical in the long run.
Can a Refrigerator be Stored Outside?
You shouldn't store your refrigerator outside, and here's why: it will damage the components, and your entire appliance. If you leave your fridge outside for a long time, you risk damaging the components and its functionality. It's safer to keep your appliance inside a storage unit where there is a guarantee that it remains in good condition and safe from damages.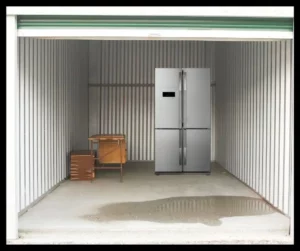 Ready to Make Some Space and Store your Unused Fridge?
It doesn't take that much effort to safely store a refrigerator in a storage unit. You only need to remember to prepare and clean your appliance, put safety first when transporting your fridge from your home to the storage facility, and make sure your storage unit is ready.
There are other considerations, such as making sure to book a storage unit in advance, preventing the build-up of mold in your fridge, and choosing the best and safest storage for your appliance.
If you have questions regarding storage units, visit our website: Shield Storage. You can find the nearest facility in your location and see what size and type of storage unit best suit your needs.
More From Shield Storage