How to Make This 4th of July Weekend in Rio Ranch, NM the Best Yet!
The 4th of July is a time to celebrate with family. To celebrate the birth of our nation as we collectively celebrate America's birthday in Rio Rancho! We want to relax, bar-b-que, and watch the show in the sky as fireworks fill the sky with color.
Last year, we couldn't celebrate. There were no bar-b-ques. There were no fireworks. We couldn't do any of the "normal" 4th of July things.
This year is different! This year we can, and we will celebrate together! Make 2021 your chance to make up for last year and make this year's 4th of July celebration the best one yet!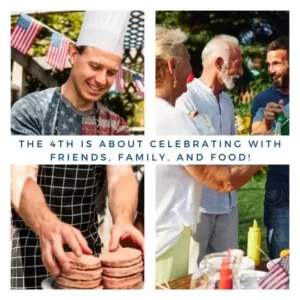 The 4th is about celebrating with friends, family, and food in Rio Rancho!
Food, family, fireworks, and many other traditions are what makes this summer's greatest holiday! Some families are set in the tradition of getting together for food and festivities. Others, on the other hand, live for the large community celebrations.
You can start your celebration by grilling hot dogs, hamburgers, and corn. Adding a juicy watermelon to the spread is great way to cool off on a hot Rio Rancho summer day. Enjoy your favorite summertime beverage, like one of these, and your 4th of July BBQ is complete!
What's more, if you are planning to spend time with your family and friends bar-b-queuing, then consider adding some lawn games to the party. Whether your family enjoys playing horseshoes, cornhole, or a game of "Blocks" you can add to the fun with some friendly competition.
In Rio Rancho, you can enjoy the above, but there are opportunities for new traditions as well.
Celebrate our nation's birthday in a new way in Rio Rancho!
A great way to enjoy the entire holiday weekend with your family and friends is to go camping at a local RV park or campground. You can pack up for the weekend and get out of town with those closest to you. Last year, we were all stuck at home. This year, get out and enjoy the outdoors!
A camping trip is a great way to build new memories with those you love. You can stay at the Chi-Treehouse at Sunny Mellow Villa. Or, book your trip at Tierra Del Raven Tree and go hiking at the Petroglyphs which are about a 20 minute rather strenuous hike.
If camping isn't your thing, however, there are other ways for you to celebrate the 4th with your community.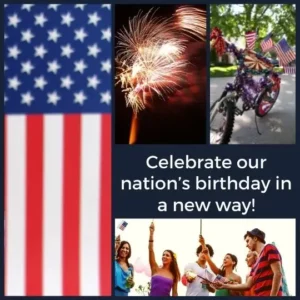 Celebrate with your Rio Rancho community!
This year, the cities of Rio Rancho and Albuquerque, NM are organizing 4th of July events for their respective communities. Both are doing their best to offer many different options for attendees to ensure they are safe and following state guidelines.
In Rio Rancho, the event will be held at Campus Park. This is the city's newest outdoor gathering space at City Center. The new 6-acre space will provide the perfect setting for the event that was cancelled in 2020.
What better way to celebrate the birth of our nation and the ability to gather once again!
Get your chores done now so you can enjoy your 4th of July celebration!
We all have things to get done. The last thing any of us want to do is take care of these things over the 4th of July holiday weekend. Declutter and take care of your chores so you can relax this 4th of July weekend.
Are you a business owner planning to use the long weekend to organize your office space? Don't wait! Get organized before the holiday weekend so you can spend time with those you love the most and enjoy a much-deserved break.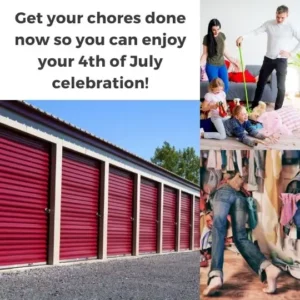 Do you need some assistance to get things done quickly? You no longer have to wonder, "where can I find storage near me?"  We have a self storage facility nearby that provides you a better storage solution.
At Northern Blvd Storage, we offer our customers a safe, secure, and convenient place to keep your things. Open six days a week, our facility offers storage units and parking for your boats, RV, or trailer for safe keeping.
Our facility will meet any of your storage needs! Contact us today to get your storage unit reserved so you can get moved in before the 4th of July weekend!
More From Shield Storage