How Self Storage Can Help your Small Business in 2021
Storage for your small business
Sacramento is a hub for businesses both large and small. Many are moving their businesses out of the bay area due to the continued rising costs. Those moving may be wondering, "What will I use for business storage near me?"
Others, on the other hand, are looking to start a small business as the population continues to grow.  It was recently reported that there are "more people moving to Sacramento than any other metro area." This is a good sign for those looking to start a business in the Sacramento area.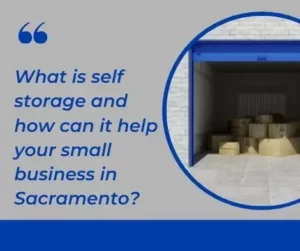 Many are moving to the Sacramento area because of the increasing cost of doing business in the Bay Area. If you're looking to move your business to the Sacramento area, you may need to utilize self storage for a long or short period of time.
What is self storage and how can it help your small business in Sacramento?
Self storage units provide a flexible storage solution that allows you the convenience and flexibility to store items for long or short periods of time. These storage units are enclosed and can be located inside a facility or outside. Each of options provide benefits to the renter. Drive-up units, with access outside, allow for direct, drive-up access to your unit.
Small businesses use self storage units for multiple purposes. They can help provide a flexible solution no matter your storage needs. Some small businesses, such as yours, may use self storage during a move or relocation. Others, on the other hand, utilize mini storage for extended periods of time to store things such as documents or inventory.
The uses for self storage units for business storage are endless!
What can you store in a self storage unit?
The list of uses for self storage for your Sacramento small business could be a mile long, but over the many years we have been in the storage business, we have found that the primary uses include:
There are many different business documents that businesses store in self storage units. This is particularly a better business storage solution for doctor offices. Doctors have to maintain their patient records for an extended period. Keeping these documents in an office can be cumbersome and take up quite a bit of room.
Another reason your Sacramento small business may need to store documents in a self storage unit is for tax documents. Many small businesses utilize a self storage unit to keep their tax records and corresponding documents to ensure they have them on hand while also clearing precious office space.
When relocating your business to the Sacramento area, there is the possibility that you won't have the space for all your current office furniture. Whether you have desks, chairs, computers, or filing cabinets, your business property is safe and secure at a local Shield Storage facility.
Some Sacramento small businesses are searching for a better storage solution as they down-size their offices and allow more workers to work remotely. They need the flexibility of a month-to-month contract to allow them the ability to store their items for as long as necessary during these uncertain times.
Utilizing a self storage unit provides the convenience and flexibility your small business needs.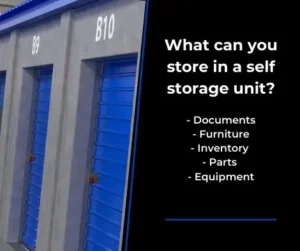 If you are moving your small business to the Sacramento area, you should consider keeping your inventory in a self storage unit versus having to spend hundreds, if not thousands, of dollars on a larger warehouse space.
Many business owners choose to keep their inventory in a self storage unit to limit their overhead costs. There is also flexibility, so if your business grows and you need to have more inventory on hand you can move to a larger unit. The possibilities are endless!
Many entrepreneurs, particularly those who work in as a tradesman, store extra parts in a self storage unit. Again, this helps lower overhead costs. It also is very convenient as they can also keep their work truck at the same property if there is covered or uncovered parking available.
Whether you are a plumber, garage door mechanic, car mechanic, pool guy, or electrician you could be using a self storage unit to store the extra parts you need to have on hand.
Some small business owners need to have access to equipment to get their job done. For some, this may be a work truck and for others it may be a large table saw. Many entrepreneurs utilize the space in their own homes and garages for pieces of equipment such as these, but you don't have to any longer.
Many of our Shield Storage locations offer onsite parking spaces where you can store your work vehicles and trailers. Our larger storage units also offer a better business storage solution for your larger pieces of equipment.
Finding a better self storage solution for your Sacramento small business.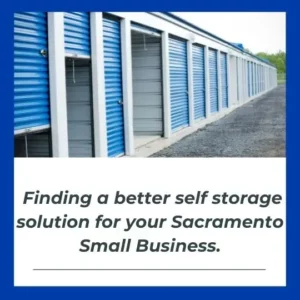 Finding a better storage solution for your Sacramento small business does not have to be stressful. Relocating can be enough stress as it is. Save money and gain flexibility and convenience by utilizing a self storage facility for your small business storage needs.
If you are not in the Sacramento area, don't worry! You can find a better storage solution for your business at one these Shield Storage locations.
If you have questions about how Shield Storage may be able to help you with a unique business storage need, please contact us today.
More From Shield Storage