How Long Do Tires Last in Storage?
Tires are a common item that people store, but how long do they last in storage? While tires are designed to withstand a lot of wear and tear, their shelf life still depends on different variables. For example, the type and material they're made of. Eventually, even the most durable tire will succumb to time and use.
Fortunately, there are a few guidelines you can follow to help ensure your tires stay in good condition while in storage. Here are some tips on storing tires so they last as long as possible when not in use.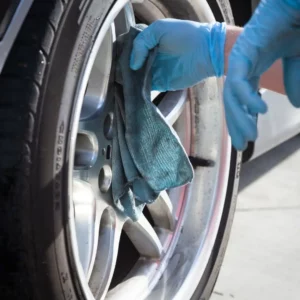 How do I keep my tires from cracking in storage?
Tires are mostly made up of rubber which can be easily damaged by exposure to water, heat, or chemicals. To slow down the aging process of your tires, you should store your tire in a dry environment with proper ventilation and follow these few reminders for proper care.
Clean your tires. When preparing to store your tires whether for the long-term or short-term, make sure to clean them thoroughly before storage. Simply washing and brushing away dirt and grime should do the trick. It's best practice, however, not to overdo it. Remember to avoid using cleaning products that are made with petroleum and all tire dressings. Instead, use products that are specifically created for cleaning tires.
Protect your tires by placing them in separate bags. After cleaning your tires, bag them separately in airtight storage bags. Also, to keep your tires from dry rotting, keep them away from direct sun exposure when stored. The heat can cause premature deterioration to your tires and eventually break down the rubber compounds causing cracked tires and rapid aging.
How long do snow tires last in storage?
Tires can last up to six years when stored in proper storage conditions. 
When storing tires, consider investing in a climate-controlled storage unit. While it's common for people to store their tires in a garage or basement, most of these places undergo fluctuating temperatures and which easily builds up moisture. Keeping your tires in this type of environment will damage them.
It's more convenient, and an ideal solution, for tires to be stored in a conducive environment that only a storage unit can provide. Not only are your tires stored away from direct sunlight and heat, but the temperature inside a climate-controlled storage unit is regulated and well-ventilated which prevents moisture buildup.
Find the right storage size for you now!
Should tires be stored flat or upright?
The best way to store your tires is by keeping them in a self storage unit. This ensures that they stay in good condition and ready for use when you need them. 
Storing your tires flat and stacked may seem like the easiest and most efficient way, but it poses a safety threat as they could topple over. Thus, the best way to store your tires is by keeping them upright. Also, you could hang them by the rims to save floor space if storing them for a shorter amount of time.
To ensure your tires are well-maintained, despite being stored in a unit, make it a habit to rotate the tire's position after a few months. Doing so will prevent sagging and deformities in your tires.
Find the nearest location in your area now!
Conclusion
Overall, it's easy and does not take much effort to ensure your tires are stored and maintained while in storage. As long as you have cleaned them before storage, and regularly maintained them from time to time, your tires can last for a longer period in storage without getting damaged. 
Also, it's important to remember that you need to find the right storage that accommodates your needs. Shield Storage provides a range of storage unit sizes and convenient locations near your area. Reserve a storage unit now!
More From Shield Storage