Everything You Need to Know About Reserving a Storage Unit
Reserving a storage unit can feel overwhelming. This is especially true if you've never done it before. We're here to help! 
It is our goal, at Shield Storage and all our managed properties, to make renting and reserving a storage unit as easy as possible. Thus, we have done our best to accumulate as much information about reserving a storage unit as possible.  
What's more, to help clear up any confusion you may have, we've put together a simple guide with everything you need to know about renting a storage unit.  

What can a storage unit be used for? 
Self storage is used for many different purposes. Though some utilize self storage for an extended period, many use it for short-term purposes. Also, self storage facilities can be used for vehicle storage. Contact your nearest location to learn more!
No matter the reason, a self storage unit can offer you the convenience and flexibility you need. Typical uses for a storage unit include, but are not limited to, the following: 
Moving 
Life Transition 
Decluttering 
Storing a Vehicle 
Home Renovations 
Business Storage 
College Storage 
Military Living 
Remember, this is not a comprehensive list. As always, if you have a question about what you can use a storage unit for, contact us today!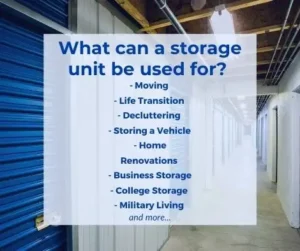 Are self storage and mini storage the same thing? 
Yes! Though there has been confusion by some customers in the past, self storage facilities and mini storage facilities provide the same solution. Don't be fooled.  
What is required when reserving a storage unit? 
Though there aren't many requirements a customer needs to fulfill when reserving a storage unit, it's important to know what will be expected. To help provide clarity, here are some details about the major requirements necessary to reserve and rent a self storage unit.  
It's important to have all the information about reserving a storage unit before you start the process. Do so will make the process faster and much more efficient! 
Age Requirements 
What is the age requirement to reserve a self storage unit? 
All customers must be at least 18 years old to rent a self-storage unit at any of our Shield Storage locations. 
Why is there an age requirement to reserve a storage unit? 
Upon renting your storage unit, you will be required to sign an agreement for your storage unit which states you understand the rules and liabilities of utilizing a self storage unit. Due to this, we are not permitted to rent a storage unit to anyone under the age of 18.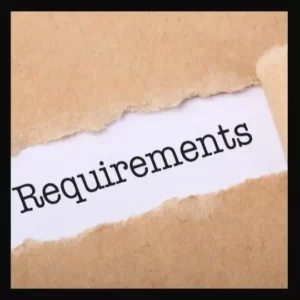 Document Requirements 
What documents are required for reserving a storage unit? 
You will be required to present one of the following forms of documentation upon leasing a self storage unit: 
Driver's license 
State ID 
Passport 
Military ID 
Insurance/Protection Policy Requirements 
What are insurance and protection plan policies? 
Insurance or protection policies provide you coverage in case of a flood, fire, or other unforeseen event. 
Am I required to have an insurance plan or protection policy? 
Yes.  Our Protection Plans are offered to provide you with an additional layer of protection to ensure that any losses are covered up to the amount of coverage listed in your policy. 
Why am I required to have insurance coverage or a protection policy when storing with Shield Storage? 
The storage facility is not responsible for any loss or damage to your property. Again, please remember that you are "storing at your own risk".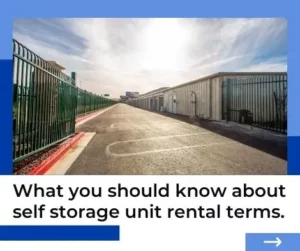 What you should know about self storage unit rental terms. 
How long are your rental agreements? 
For your convenience, all storage rentals are month-to-month. This will allow you to use your unit for as long as you need and no longer. 
Who is responsible for my things while stored at a Shield Storage facility? 
You are. Remember, you are "storing at your own risk". For more assistance, contact one of our locations for more information about the Protection Plans we offer our customers. 
Can I vacate my storage unit anytime I want? 
Yes, as long as you notify management. All agreements are month-to-month, so you can cancel your agreement and vacate when you decide. Remember, there are no long-term contracts. 
Furthermore, all customers must provide notice to vacate prior to the end of the month of the current month. However, if you fail to notify management that you are vacating can lead to your account being charged. So, if this occurs you will not be able to receive a refund. 
Where can I find self storage nearby? 
To find a storage unit nearby, visit our locations page today! We have facilities in Northern California, Washington state, Idaho, Missouri, Nevada, and New Mexico. 
Remember, our locations all offer month-to-month rental agreements to provide the most convenient solution for your storage needs!  
Get started reserving your storage unit today! 
More From Shield Storage