A Weekend in Post Falls, ID – A City Guide
Post Falls, ID is a great town in the northwest United States. The city provides a great place to raise a family and with so much to do that spending a weekend in Post Falls can be packed with fun of all different kinds.
The city experiences all four seasons. You can really get the most out of Post Falls no matter the time of year. The weather, for the most part, isn't too crazy, though it does get rather cold in the winter.
Post Falls offers amazing outdoor experiences for anyone and everyone.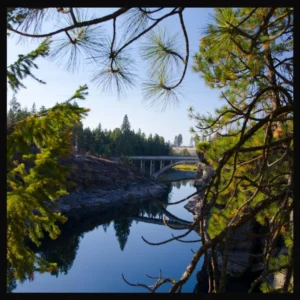 One of the best things about Post Falls, ID is that it isn't too far from anywhere. Spokane, WA is just across the river. You can also find Wallace, ID just over an hour away which is home to the Sierra Silver Mine.
The town is small, but with such a great location, your options for a weekend of fun are almost limitless.
Being outdoors is a must to really enjoy the true essence of Post Falls. With roughly 30 parks in Post Falls alone, choosing which one to send you to on a weekend is close to impossible.
Thus, we tried to focus this city guide specifically on places you could go with family and friends of all ages. We chose five of the best places we could find that are kid and family friendly, and would make a great date experience.
5 of the best ways to spend your weekend in Post Falls, ID
1. Experience nature and Post Falls history at Treaty Rock Park.
It is believed that the rock at Treaty Rock Park is where a treaty between Frederick Post and the Coeur d'Alene Tribe occurred. The area is beautiful to experience. Take time to walk along the path through the park and down the rock gorge. You won't be disappointed by the beauty of the park.
From motorbikes to stock cars, and many other vehicles, Stateline Speedway Stadium is a perfect place to spend your weekend in Post Falls. If you're an adrenaline junkie or a car junkie, you won't be disappointed by what Stateline Speedway has to offer.
What's even better, you can spend the day here with your family or with a date. There is something for everyone, but make sure you bring earmuffs like these for your little ones.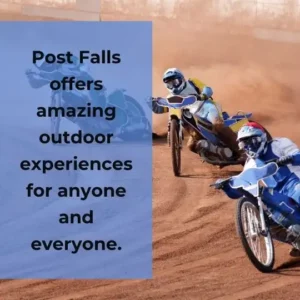 3. Take the family to Silverwood Theme Park.
Less than 35 minutes away, Silverwood Theme Park has something for everyone. Whether you want to go with your family or with a group of friends, you won't be disappointed.
From roller coasters to the "Puppy-Go-Round", there is something to meet everyone's level of adventure and thrill seeking. You can also spend time going to shows, eating at various restaurants, and, of course, shopping.
During the summer months, you can also enjoy some water fun at Boulder Beach!
The Bonner County Historical Society and Museum state their mission as believing "in the power of collecting, preserving, and presenting Bonner County's historical objects and stories to ignite the imagination, stimulate thought, and provide enjoyment". To bring this mission into reality, they collect and display items that share the story of Bonner County.
If you are looking for a new experience for your weekend in Post Falls, spend the day here. Learn more about the history and influence of the great town and county you live in.
Just over an hour away from Post Falls, you will find the Sierra Silver Mine in Wallace, ID. Here, you can tour the mine with Wally, your guide. He will take you through the mine as shares his experiences from his 16 years as a hard-rock miner.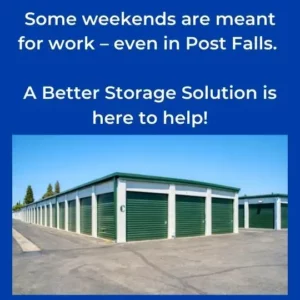 Some weekends are meant for work – even in Post Falls.
A Better Storage Solution is here to help!
As much as we all enjoy having fun, some weekends are meant for work. Whether you need to clean out the garage or basement, there are times you need to spend the weekend doing your chores.
When those chores leave you looking for more space, consider storing with us at A Better Storage Solution. Our facility has a storage unit to fit your needs. Whether you are looking for personal storage or business storage, we're here to help.
We don't want you to spend more time than necessary on storing your items. Storing with us will give you the peace of mind you need to go and enjoy your weekend in Post Falls with your family and friends. For more information contact us today!
More From Shield Storage