9 Creative Uses for Your Self Storage Unit in Placerville, CA
Over the last year we have all gotten more creative with the space we have available to us. Have you ever thought about what else you could do with your self storage unit?
Typically storage units are used for storing furniture, extra things from around the house, camping gear, and many other items. Self storage units have been around for years, but lately they are starting to be used for much more.
In Placerville, you will find a dense population of people who enjoy the outdoors and are connected to the town's history. With apple orchards, wineries, and museums locals and tourists don't lack for things to do.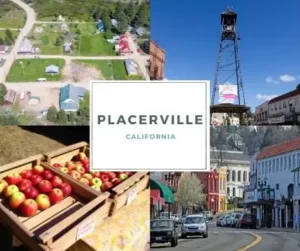 Many of the residents have been in Placerville for many years, and as the population continues to grow, the spaces available doesn't. Most live in their homes and stay for years, but may find that the art studio or home gym they desire just won't fit.
This is where a bit of creativity comes in!
Why not use a self storage unit for something a bit different than the typical "extra storage"?
It's time to get creative with your self storage unit!
Here are 9 creative uses for your Placerville Self Storage unit:
Art Studio
Create the space you've always wanted by using a storage unit as an art studio. Paint or create all day in your space while being able to leave it safely behind for next time when you're finished.
"Home" Gym
Like many, you may have purchased a bunch of home exercise equipment over the last year or so, and now you want a more defined space to keep it other than the garage. What better option than to use a storage unit to create your own personal gym.
Practice Studio
If you are in a band, you may be looking for an inexpensive place to hold practice regularly that isn't going to get you kicked out of your house. A storage unit, of the right size, could provide just the space you need to practice every week!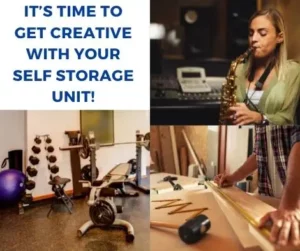 Creative Space
Creative spaces are becoming more and more popular. Whether you like to scrapbook, draw, or make anything you can dream of in your own creative space. Get your table, supplies, and start creating without having to worry about taking space in your dining room, bedroom, or children's playroom.
Dance Studio
The avid dancer needs a place they can rehearse and practice regularly. What better way to do this than in a large storage unit? You could dance for hours with nothing but a simple mirror, headphones and the right playlist.
Photo Studio
Many photographers look for years for the perfect studio. One that isn't too expensive, too big, too small, too bright, or too dark. You can create your perfect photo studio in a self storage unit that will allow you to take pictures any time during access hours.
Workshop
Having the right space for a workshop can be difficult. This is especially true when you need space for tools, a work bench, and supplies it can be difficult to find the right space at home that isn't the garage. A storage unit provides a space for you to work and create projects you love while not monopolizing your family's garage at home.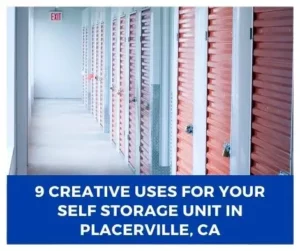 Warehouse
Business owners, you too can be creative and use self storage space for much more than just document storage!
Many businesses have turned to self storage to store inventory prior to shipping their product off to the customer. Others utilize storage units to store parts that are needed instead of spending thousands of dollars renting warehouse space.
Vehicle Storage
Did you know that you can store your vehicle in a storage unit or in an outdoor space? If you have an extra vehicle you are tired of storing in front of your house or in your side yard, self storage provides a better storage solution. Whether you have an RV, boat, car, motorcycle, or a work trailer to store we have a space for you!
The possibilities are (almost) endless! Find a unit today!
There are so many possibilities out there for your Placerville self storage unit. Whether you are looking for a storage unit for traditional purposes or for a new creative purpose, we have a unit or space that can provide a better storage solution near you.
If you don't already have a self storage unit or aren't located in the Placerville area, find one near you at www.ShieldStorage.com.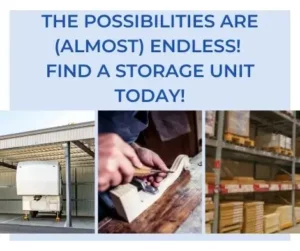 Are you uncertain of what size storage unit you may need? Can a storage unit could be used for your creative purpose? Please don't hesitate! Contact us today. Our team is here to help!
More From Shield Storage