7 Ways to Ensure You Find the Best Storage Unit 
It's difficult to find the best storage unit in a market that seems so saturated. There are storage facilities on every corner these days and knowing which one is going to be the best fit for your needs can be difficult.  
There are a number of reasons why people use self storage units.  
The key, no matter what you have to store, is to find a facility that meets your needs. But, that single piece of advice leaves a number of questions unanswered.  
Thus, we compiled a list of 7 ways you can ensure you're finding a storage solution that will be the best for you. Not just that, we included information that will help you answer your questions on a deeper level to ensure you have all the information you need.  
Here are the 7 Ways to Ensure You Find the Best Storage Unit for you: 
1. Know what you need to store and what you CAN and CANNOT store. 
The first thing we always ask our prospective customers is, "What are you looking to store?" Answering this question will allow you to continue with the right information and find a better storage solution.  
Are you looking to store a vehicle, household goods, collectibles, or clothing? Knowing what you need to store will help direct you in the right direction. You can find information about the different types of storage here.  
It is also important to know what can and cannot be stored in a self storage unit. Read more here! 
2. Find the best storage unit by using a sizing guide 
Next, a sizing guide is a great tool to help you decide what size storage unit will fit the items you are looking to store. Knowing what you are storing and how much space you need will help our team ensure that you get into a storage unit that meets your needs.  
It is also important to know how big of a storage unit you need in case you plan to need extra space in the future.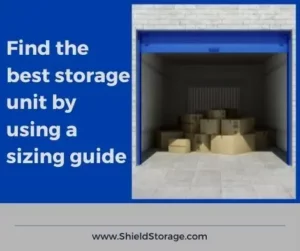 3. Utilize a self storage unit nearby. 
Another important storage tip that will help you find the right self storage unit is to consider the location. You will want to be sure you find a facility that provides you easy access with a convenient, nearby location.  
Find a storage location near you now! 
4. Find the best storage unit with the security you're looking for.  
Like most, the type of security that a storage facility provides is an important factor in choosing a location to store your items. Next to price, this is the one key factor our customers consider when choosing a storage unit.  
Thus, we provide multiple security features at our locations to ensure that you and your items are as safe as possible. Though no one can guarantee that there will never be an incident, taking the right safety precautions are our top priority.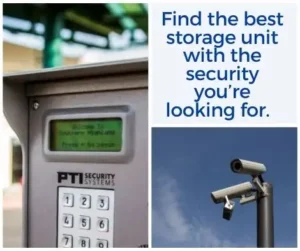 5. Ensure you find the best storage unit by having your questions answered today! 
Everyone has questions. Having the answers seems like an obvious requirement to finding the right storage unit. However, many facilities and large corporations make finding those answers difficult.  
It is our goal to get you the answers you need as quickly as possible. The faster you have the answers you need, the faster you can have your needs met. So, use our Help Center to find the answers you're looking for! If there's something missing, feel free to contact us anytime! 
6. Store with a storage company that cares about their customers! 
At Shield Storage, you can count on working with team members that care about helping our customers find what they're looking for. Whether you store at one of our branded stores or a store we manage, you will work with staff who want to help you! 
From quick, convenient service to helping you work through a unique situation, our staff is read to be there for you! 
Take a look at our website now to see what some of our current customers are saying now!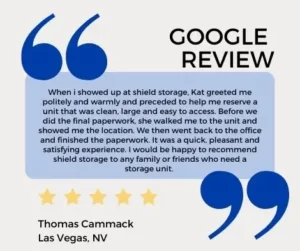 Remember, finding the right storage solution can be stressful, but it doesn't have to be. Find a self storage solution you can count on now!  
Start storing with us today and you can rest easy knowing that you were able to find the best storage unit!  
Reserve your storage unit now! 
More From Shield Storage