7 Tips for Better Wine Storage in Millbrae, CA
The challenge for any wine collector is ensuring they have better wine storage. Wine storage that won't waste their favorite indulgence. Storage that will enable them to grow their collection and not hinder it.
Some collectors have elaborate wine cellars in their homes. Many, on the other hand, just don't have the right space. Especially in the bay area, many don't have the space for much more than a wine fridge.
What's the best solution then? How can you continue to grow your wine collection if you're limited to the typical capacity of most smaller wine fridges?
The solution may sound simple. You may be thinking, "I just need to buy a larger wine fridge." Or "I'll just use the space in your pantry."
A larger wine fridge, such as this one, can cost almost $7,000. And if storing your wine in the pantry could cause you to lose more wine than you may think.
There has to be a better way to store your growing collection!
Wine collectors can find so many local wines near Millbrae, CA.
In the bay area, there are many different places to go to enjoy the regions finest wines. Where is your favorite place to buy new bottles to add to your collection?
There are wineries and vineyards all around the Millbrae area such as Vineyard Gate right here in Millbrae. Or you can visit the Trojak ~ Knier in Half Moon Bay just over a half hour away from Millbrae.
Napa Valley, on the other hand, is just a little over an hour's drive. With over 375 wineries in Napa Valley alone, make sure you plan your trip ahead of time to get the most out of your time you're there.
Locally, you can also find great selections at specialty stores such as Bacchus Wine & Spirits. They have a variety of wines to choose from along with amazing parings as well.
The Top 7 Tips for Better Wine Storage in Millbrae, CA!
Finding the right storage solution for your growing wine collection can be a challenge, but it doesn't have to be! To help, we've put together a list of the top 7 tips for better wine storage!
Are you ready? Let's get started!
Tip 1: Temperature Control is the most important.
Typically speaking, you want to keep your wine stored at approximately 50 – 59 degrees Fahrenheit. This allows your wine to age properly. You also need to consider how long you intend to store your wine. This guide here breaks down all the important things you need to consider, and know, about what the optimal temperature is for storing your wine.
Tip 2: Keep the right angle.
Angle matters. That's right. It's vital that you keep your wine stored at the proper angle to ensure that no air gets into the bottle. All wines should be stored "either horizontally, at a 45º angle with the cork facing down, or somewhere in between," according to Cellaraiders.com.
Tip 3: Make sure it's not too bright!
That's right, light matters. Sunlight, electric fluorescent, and ultraviolet light can impact your wine. Any type of bottle that is exposed to these types of light for any amount of time can have a negative effect on your wine. There are many factors to consider, so be sure to take a look here at all the important things you should know about lighting and your wine.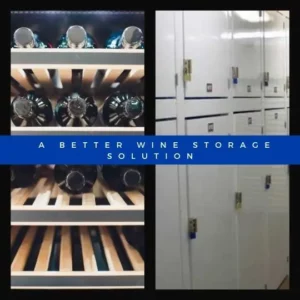 Tip 4: Keep it steady.
Though vibrations are good for dancing, they're terrible for your wine. Did you know that if you're storing wine for an extended period, too much exposure to vibrations can impact the taste, quality, and aroma of the wine?
Tip 5: Keep your wine safe!
Wine collections can be worth thousands of dollars. Especially larger collections. Therefore, it's important to keep your collection safe. Make sure that you choose a storage option, such as one offered by many of our locations, to ensure your collection is always safe and secure.
Tip 6: Ensure you have plenty of space.
It is important that you have the space you're looking for when looking for a better storage solution for your wine collection. Some may only need a small fridge, while others need a space they can store bottles that they want to keep for many years to come. When you store your wine collection with us, you give yourself back space in your wine fridge at home.
Tip 7: Use a wine storage unit at Millbrae Station Self Storage
Did you know you can store your wine at a self storage facility? At our Millbrae location, you can find storage units that are specifically designed for wine storage. These units are temperature controlled, humidity controlled, and secure so your wine can be kept safe and stored to maintain the highest quality possible.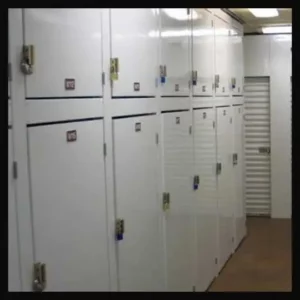 If you are looking for a better wine storage solution in Millbrae, contact us today to learn more about the wine storage units we have available. We want to help you have the space you need to continue growing your collection.
More From Shield Storage