5 Tips for Scheduling Your Next Staycation in Vancouver, WA
 Many only consider the benefits of a staycation in Vancouver during the summer. There is a lot to see and do here, however, in the fall as well.
A quick staycation is the best way to re-energize. Though many only think about vacations and time off in the summer, you can take advantage of a great staycation in the fall and winter.
Vancouver, WA provides a great staycation atmosphere. Though many think that the cold weather would be a hinderance, it actually can be quite inviting.
Vancouver, WA provides the perfect staycation atmosphere.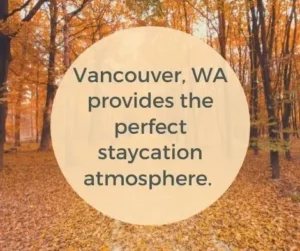 As the weather begins to get crisper, you can find a number of great activities to do outside. The cooler weather brings about the beauty of fall as the trees leaves change.
In the winter, you can find snow in higher elevations. This allows you to enjoy winter sports of all kinds with friends and family! Many just think of the cold weather, but if you look at all the beauty and fun that comes with it, you won't hesitate to schedule your staycation in Vancouver!
5 Tips for Scheduling Your Next Staycation in Vancouver, WA
To help you plan a staycation in Vancouver that your family won't forget, we've provided these 5 tips to guide you.
Don't forget that there is plenty to do for couples, and if you just want a weekend getaway by yourself. No matter what you're looking for, you can find it in Vancouver, WA or somewhere nearby
1. Have a plan of what you want to do while you're on your staycation.
If you are planning a quick staycation for a weekend, you want to make sure you have a plan. Be sure to look at all the things there are to do in the Vancouver area and schedule your time accordingly.
You can also find some fun seasonal events here depending on the time of year you plan your staycation in Vancouver, WA.
If you're looking for something a bit more lowkey, you can spend your time relaxing at your hotel and enjoying the surrounding area. The best thing about a staycation is that you can really take advantage of the opportunity to slow down.
2. Book at a local hotel that offers the amenities you prefer when planning your staycation in Vancouver, WA.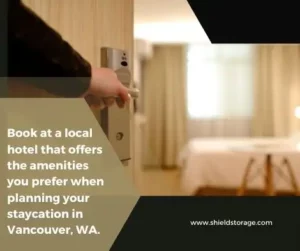 Planning a staycation in Vancouver, WA allows you the opportunity to book a hotel at a place that really provides you everything you're looking for.
When planning a staycation, you don't have to worry about too much travel. Thus, you can splurge a bit and find a hotel or resort that offers you the amenities you really prefer.
What's more, if you're looking to explore a new area of the city, stay in the heart of it! When you consider the amenities you prefer, be sure to think about the hotel's surroundings. Consider the restaurants, shopping, and other activities that will be close by.
3. Get adventurous and try something new!
When you plan your next staycation in Vancouver, get adventurous and try something new! You can keep it simple and try a new restaurant or go shopping somewhere new.
Or, really get out and explore the area. Take the time to find a new adventure that you and your family haven't experienced before.
You could also travel a bit outside of Vancouver and find a place to try skiing, snowboarding, or another winter sport such as snowshoeing. You can head to Mount Hood or White Pass for the weekend. Though you'll have a bit of a drive, you won't be disappointed!
4. Think outside the box and go across the river.
If you're really looking to get away from the Vancouver area, you can head across the river to Portland, OR for a weekend. Though you won't technically be planning a staycation in Vancouver, WA, you will be close enough to make the trip convenient.
In less than 30 minutes, you can be across the river and in the great city of Portland, OR! Book a hotel for a night or two and enjoy all the city has to offer!
You won't be disappointed by all there is to see and do in the area. From great food to catching a Blazers game, you will be sure to find something to make you trip worthwhile.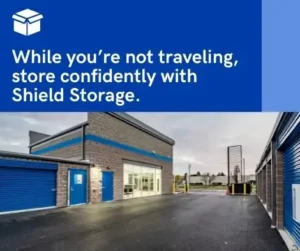 5. While you're not traveling, store confidently with Shield Storage.
Whether you're planning a staycation in Vancouver or traveling nearby, when you're not out enjoying yourself store your traveling gear with Shield Storage on Scott Ave.
Here, you can store your luggage, skiing equipment, and other items with confidence. This will help you be ready for each trip without having to worry about taking up extra space in your garage. To find a storage unit that fits your storage needs, contact us today.
More From Shield Storage