5 Fail Proof Ways to Choose the Right Storage Unit
Choosing the right storage unit for your storage needs can be a difficult, and at times, overwhelming process. 
If you haven't stored anything in a self storage unit before, you may not have a clear understanding of how sizing works and what can actually fit in a storage unit. This is why it's important to really know what you want to store and how long you plan to store it.  
Also, it's important to know what type of storage you need. To get a real in-depth understanding of the different types of storage, you can visit our Help Center or our Storage Guide. 
1. Start with what you already know about your storage needs. 
When you first start looking into self storage units, you want to make note of the information you already have. It's important, especially if this is your first time storing at a mini storage facility, to write these things down so you have everything you need in one place.  
Also, it's going to be important to create an inventory list of what you plant to store. This will help you later when you move-in and begin organizing your storage unit.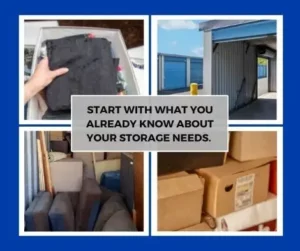 To begin the process, you will want to write down the answers to the following questions: 
What are you storing? 
How much space would these items take up in your house? A bedroom, small closet, or your entire garage? 
How long are you planning to store your items? 
What are you putting your items in? Are they closed boxes, open boxes, or bins? 
After you've thoroughly answered these questions, you can move on to the next step.  
2. Decide what questions you need answered. 
Once you've answered the question in the last step, you can continue by making a list of the questions you still have. Some of those questions might be: 
Do I need an indoor or outdoor storage unit? 
Do I need vehicle parking? 
Are my items going to withstand the weather changes if you're storing items long-term? 
Once you have your questions answered, it's time to start looking for the best place to find the right storage unit.  
3. Choose the right storage unit by using these resources!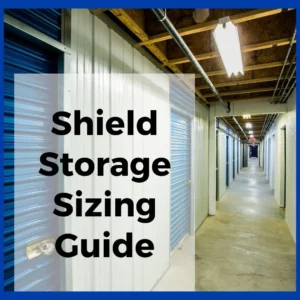 Sometimes, the answers to your questions aren't as easy to get as you may hope. So, we developed some resources for you to use to help guide you through your storage experience.  
To get the answers you need, you can look at one of the following resources: 
Not only will you find the answers to the questions you have now, but you can always use these resources in the future when a question pops up! 
4. When in doubt, call and ask for more help. 
If you're still not sure which storage unit is going to be best for your storage needs, help is just a call away. You can contact one of our locations today to get the extra help you're looking for.  
Our team is dedicated to helping our customers find the best storage solutions. No question is too big or small, so feel free to give us a call today!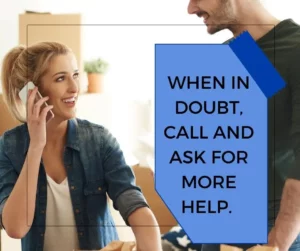 5. Find a location nearby with the right storage unit for your storage needs.  
After you have all your questions answered. You will have a better idea about the type of storage unit you need and the size of the unit you need.  
It's possible, depending on how much you need to store, that you may need more than one storage unit. If that's the case, be sure to mention that when you find a location and go to reserve your unit. When possible, the staff can try to keep your units close together. 
When you're ready to find a storage unit that fits your needs, you can find a storage unit nearby at one of our locations! 
We offer storage units in the following areas to help serve you better: 
and 
You can reserve your storage unit online or call one of our stores today for more help.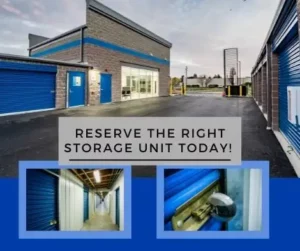 Reserve the right storage unit today! 
Don't wait! If you know what size storage unit will best fit your storage needs, reserve your unit today! 
Space may be limited depending on which storage location you prefer to store at. To ensure you get the right storage unit, don't wait any longer than necessary to get your unit reserved! 
Good luck and happy storing! 
More From Shield Storage