5 Creative Ways to Use a Storage Unit for Vehicle Storage
Finding vehicle storage near me is a challenge many face in Northern California. Though you can find parking at your home for your everyday vehicle, extra parking can be a challenge.  
This is especially true if you have a large vehicle that isn't used regularly. RVs, boats, and trailers can be some of the most difficult items to store safely when they aren't in use. 
On the other hand, you may have a smaller vehicle, such as a motorcycle or jet ski, that you want to store, but don't need an entire space for. What storage options are there for vehicles large and small? 
Vehicle storage can come in many shapes and sizes.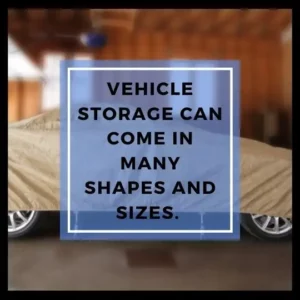 Depending on what your storage needs are, you can find a better storage solution if you're willing to get a little creative. In Northern California, our facilities offer storage units of many different sizes to provide you with more options. Whether your storage needs are large or small, we have a storage unit that can fit your needs.  
Vehicle storage can be difficult and challenging, but when you are creative and look for solutions that are a bit "outside of the box", you will find you have a lot of options.  
Self storage units don't have to be used for just furniture. You can use them to store your vehicles too! With drive-up access, your options are blown wide open! 
A self storage unit provides the creative options you're looking for. 
You can use a self storage unit to solve several your vehicle storage needs. Here are 5 creative ways you can use a self storage unit as a better vehicle storage solution.  
1. Store your boat. 
Depending on the size of your boat, you can use a storage unit as small as a 10 x 10 as a better storage solution. Larger boats do require larger units, so you will need to make sure you measure your boat, and trailer, prior to moving in. A storage unit can provide your boat with a safe, secure, place to be stored especially during the boating offseason.  
2. Store your classic car. 
Typically, you need to have a storage unit that is a 10 x20 at the minimum to store a car. Luckily, some of our locations have units available that are even larger than that! You can store your classic car in a drive-up storage unit. Some of the units even have an alarmed door which provides extra security, and peace of mind.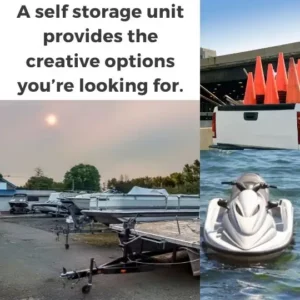 3. Store your All Terrain Vehicle.  
ATVs aren't typically very big, but they can take up a lot of space in your garage or backyard. When you store your All Terrain Vehicle with us, you are getting back your precious space at home while maintaining the security you want. Though some ATVs can be stored in a unit as small as a 10 x 10, others decide to get something a bit larger when they can to store tools and extra parts when needed.  
4. Store your small watercrafts. 
Smaller watercrafts, such as jet skis and kayaks, can be stored for safe keeping in a storage unit. You don't need to find a facility with boat parking when you can find a self storage unit to safely store your jet ski or other small watercraft.  
5. Store your work truck. 
Do you need a place to store your work truck? Does your HOA have strict rules about vehicles being parked in the street? If you answered yes to either of these questions, we have a better storage solution for you! 
You can store you work vehicle in a self storage unit with drive-up access. Be sure that you get a large enough unit to fit your vehicle to ensure  you can comfortably enter and exit your vehicle. The size of the storage unit also must be large enough to allow for proper storage and ventilation.  
Self storage provides you a better storage solution for your vehicles!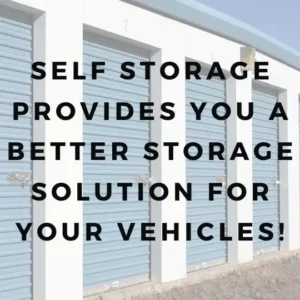 As you can see, self storage can provide you with a better storage solution. But the list doesn't have to stop here. You can learn more about vehicle storage by visiting the Shield Storage .  
If you have a vehicle storage need outside of the Northern California area, contact us today and we will help you find a storage location that can meet your needs. You can also find a list of all our locations here to see what availability we have in your area! Stop fretting over your vehicle storage needs, store with us today! 
More From Shield Storage