5 Creative Uses for Self Storage Space During the Holidays 
This holiday season, take a new approach and use your self storage space for something a little different than usual. Most think they can only store items long-term in a self storage unit. However, that couldn't be further from the truth.  
Self storage units can be used for short-term or long-term storage.  
Instead of using your garage, closet, or friend's house to store your gifts, wrapping, and household items that need to be moved for your Christmas tree to fit, it's time to look into using a self storage unit.  
Here are 5 creative ways to use your self storage space this holiday season. 
Set up shelving to store and organize the gifts you're giving. 
If you have a long Christmas list, you could use shelving to help you stay organized. Using a self storage unit can allow you to keep your gifts organized and provide you the space you need to sort through what you've purchased. 
This is a great solution for large families.  
Also, this is a great solution for those who buy gifts for family, friends, co-workers, and others. Having a place to put the gifts you are buying can keep things from getting mixed up.  
Re-organize your storage unit to make room for the large items you're buying for the kids. 
For some, using a storage unit for a large number of gifts isn't necessary. However, most need a place to put larger gifts such as rideable toys, bikes, new beds, and more.  
If you already have a storage unit, you can re-organize your current unit to make space for these items. However, you may want to get a little creative.  
If you often go to your storage unit with your kids, like we do to get sports equipment, you may need to get creative when re-organizing. Instead of organizing your storage unit to make space for the gifts when they are easily visible, try something a bit different. 
Make space behind the items you have currently in your storage unit. If reorganized properly, you should be able to easily access these larger gifts when you need to while also keeping them out of plain sight.  
Rent a separate storage space for all the Santa gifts! 
Another creative way to use a self storage space for holiday gifts is to reserve a separate unit for any gifts from Santa. This is next level! 
Some families, like mine, have children that pay close attention to details this time of year. Thus, as parents, we need to get more creative when it comes to hiding gifts, especially large gifts, that are going to be from Santa.  
Reserving a storage unit for a short period can provide just enough space to hide the gifts while not having to take up space in a current, accessible unit or at home.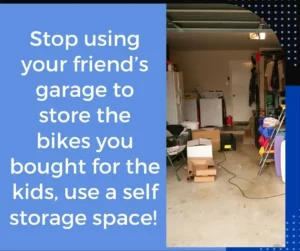 Stop using your friend's garage to store the bikes you bought for the kids, use a self storage unit! 
A storage space provides a great solution for storing bikes. Whether it is during the holidays or not, a storage unit can provide a better solution.  
I can't tell you how often I hear of friends looking for a place to store bikes or other items like bikes during the holidays. These items are too large to keep in the home without being seen by the kids.  
Thus, many look to friends and family to hide these gifts until Christmas Eve.  
This year, use a self storage unit to provide the perfect hiding space for your kids' new bikes! 
Use a storage space for the extra inventory you need to carry during the holiday season.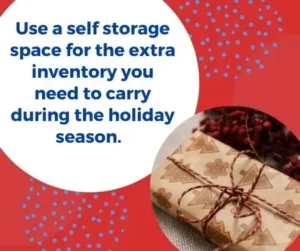 Do you own a small business? There's a lot to do as a business owner to get ready for the busy holiday season.  
Especially for ecommerce businesses, the holiday season is one where business must carry extra inventory.  
From having shipping materials on hand to ensuring there is plenty of inventory to fill orders. No matter what your needs may be, having a self storage space for your business's needs during the holidays could be a life saver! 
Are you looking for a storage space this holiday season? 
Are you looking for a self storage space for the holidays? If so, take a moment to see if we have a location nearby that will be able to meet your holiday storage needs.  
Using a self storage unit for your storage needs for the holidays and beyond will help relieve stress. Find a storage unit today and make sure you're able to enjoy your holiday season! 
More From Shield Storage