3 Reasons to Choose Self Storage for Your RV Storage Solution
If you have an RV, recreational vehicle, you know that finding the right parking can be a bit difficult. Did you know that self storage facilities can provide a great storage solution for RV owners? RV storage doesn't have to be a conundrum any longer.
No matter the size of your RV, we have facilities that have space to fit your RV storage needs.
Most RVs are stored in outdoor parking spaces at many of our locations. Some locations, on the other hand, do have storage units that are enclosed that are large enough for your RV. Also, you can find some facilities with covered parking that provide a solid option as well.
If that wasn't enough, here are 3 reasons you should choose self storage as your RV storage solution.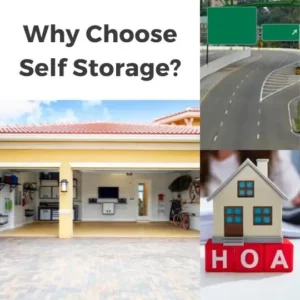 1. Get More Space
Utilizing a large enough storage unit or a storage space at a storage facility allows you to free up space in your own carport, side yard, or large workshop.
No longer do you have to give up space to store your RV, start storing it at a Shield Storage location near you!
2. Avoid HOA Fees
Avoid fees from your HOA for having your RV parked outside your home!
Some HOAs have strict guidelines about having vehicles parked in the street or in the side yard for extended periods of time.
Parking your RV at a storage facility will help you avoid these and any other possible fees from your HOA.
3. Make Travel Easier
Location is everything!
For some, traveling becomes much easier when they have their RV parked at a self storage location with easy highway access. This makes getting in and out of town much smoother.
You can also leave your other vehicle in your storage space while you're away which means your family's vehicle will be safe and available when you return from your trip.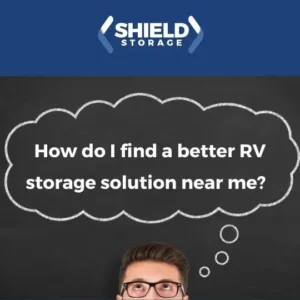 How do I choose a better RV storage solution near me?
Finding a self storage facility for all your RV storage needs doesn't have to be difficult. There are two primary things you must consider, however, when choosing a storage facility.
Access and Security. It all boils down to which facility can give you the access you need for your storage needs. Also, which one provides the security you desire to keep your RV and other stored items safe.
Here are some things to consider about each of these factors.
Security Features
It is important to ensure that your RV will be safe and secure wherever you choose to store it. Therefore, we strive to provide the highest level of security possible for our customers.
Though the security features from location to location will vary, many of our facilities offer security features such as:
Digital Surveillance Systems
Fully Enclosed and Gated Facilities
Gate Access with Personal Access Codes Only
Protection Plans for Stored Property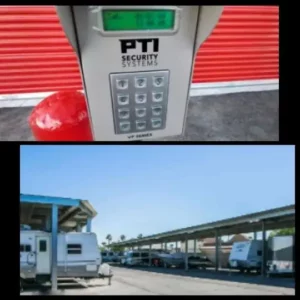 Accessibility
Unit/Space Accessibility
Is the storage unit or space large enough and located in an area that will make it possible for you to park and store your RV properly?
Be sure to ask questions and make sure the space and unit you are reserving for your RV is accessible for the size of RV you own.
Accessible Hours
It is also important to note the hours in which the storage location allows you to access your RV throughout the week. If you are going to need to have access to your RV early on a Saturday morning, you will need to make sure the facility you are storing at has access hours that accommodate your needs.
You can find the access hours for all Shield Storage locations on our website on each facility's webpage.
How should you prepare your RV for storage?
Once you have found the right storage facility for your RV, you need to prepare your RV for storage. Below, we have provided some tips on how you can prep your RV for storage.
Wash your RV before storing, especially if you'll be storing for long durations of time.
Remove your battery and charge it at home when applicable.
Top off all the fluids in your RV before storing for the winter.
Disconnect the propane tank(s).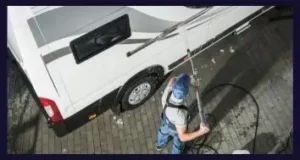 Clear the pipes, especially in cold weather climates, before storing for the winter.
Block entrances, such as the exhaust, to avoid rodents and pests from getting into the system and causing damage.
Close and seal your roof vents to prevent damage from the weather, pests, and other causes.
Get a high-quality, breathable cover for your RV or trailer to protect it while being stored. This is especially important if you are unable to utilize covered storage.
Shield Storage is here for all your RV storage needs!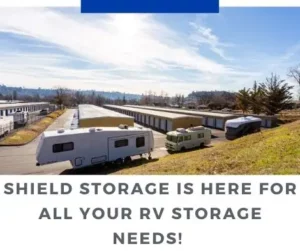 If you have questions about how we can help meet your RV storage needs, contact us today! Shield storage is here for all your storage needs, no matter how big or small!
We have over 30 locations in the US ready to serve you with top-notch service! Contact one of the locations below to find out if we have a space available for your RV!
More From Shield Storage