15 Game Changing Holiday Travel Tips
Holiday travel can be one of the most exciting, yet stressful, traditions for families. To help, we've gathered some game changing holiday traveling tips to help you make this time better than ever.
The anticipation of seeing family and friends is growing.
You and your loved ones have been apart for a while and its finally time to see them again. However, the stress and anxiety of traveling can dampen your enthusiasm.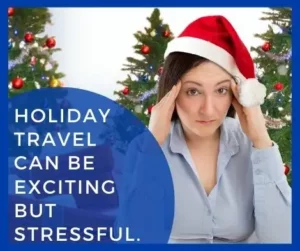 Holiday travel can be exciting but stressful.
When traveling out of town for the holidays, the anticipation to see friends and family can be overwhelming. Planning what to pack and how to get gifts or food to the destination can cause some to panic.
The key to successful holiday travel, whether you're flying or driving, is to plan. Having a plan in place can help your trip be more successful. Also, you can truly enjoy the time with those you love and make memories that aren't laced with stress and anxiety which could have been avoided.
Planning during the holidays key, and underlying foundation, to these 15 Game Changing Holiday Travel Tips.
Pack smart when you travel for the holidays.
Start planning for your holiday travel by packing smart. You can get a jumpstart on your holiday travel plans by using these 5 tips!
Check the weather and pack accordingly.
Pack layers for colder climates.
Plan to pack your carryon with items to keep the kids occupied on the plane.
Pack extra clothes for younger kids.
Bring a bigger suite case so you have extra space for gifts.
Plan everything you can ahead of time when you travel for the holidays.
Planning ahead doesn't just relate to packing and scheduling your flight or drive. It also can be extremely helpful to plan the time you are going to spend with friends and family while away.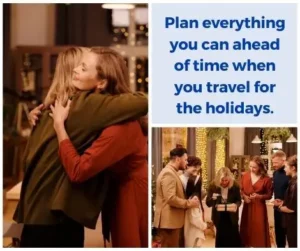 These 5 tips will help you get more out of your holiday travel.
Plan any extra entertainment ahead of time so you can pack accordingly.
Plan extra time to get together with friends or loved ones you might not get to see during typical holiday functions.
Take the time to plan a night out. Don't rely on holiday get togethers alone to spend precious time with your friends and family.
Be proactive and find a babysitter for an "adults only" evening out.
Plan the holiday meal with local family ahead of time so you can contribute and be part of the preparation.
Schedule help before you leave.
Having help during the holidays is a must! Whether you are staying home or traveling, it is important to get help in certain areas to alleviate stress.
When traveling for the holidays, you want to be sure to gather the village and schedule help well before you leave so you can ensure all your bases are covered. Here are 5 more tips that can help you ensure your holiday travel plans go off without a hitch this year!
Find someone to housesit or watch your animals while you're away.
Schedule help with typical landscaping and pool service.
Plan for someone to help drop you and your family off at the airport and pick you all up if possible.
Schedule help to get your house cleaned before you leave so you can come home to a nice, clean home.
Schedule help with picking up any deliveries and mail that might get delivered while you're away.
Taking these steps won't only help you maintain your sanity, but they will also help keep your home safe while you're away.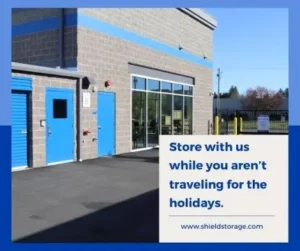 Store with us while you aren't traveling for the holidays.
Whether you stay home for the holidays or travel to see your loved ones, you can always count on Shield Storage to be here for all your storage needs.
If you are traveling this holiday season and need a safe place to store a vehicle, consider storing at one of our locations nearby!
Or, maybe you have some furniture you don't want to leave outside while you're away. That's okay! You can store that with us as well!
Find a storage location nearby today to see how we can help you while you're away this holiday season.
More From Shield Storage