15 Camping Hacks for Fall Camping in Placerville, CA
Fall is here and the cooler temps and the ability to really enjoy the outdoors. In Placerville, CA, the fall offers cooler camping and hiking weather. Take a look at these 15 camping hacks to help you get the most out of your fall camping experiences!
The best camping spots in Placerville are just minutes away.
Camping can be done almost anywhere nationwide. In Placerville, CA, however, you don't have to drive hours and hours to get to your destination.
There are so many great places to camp in the El Dorado National Forest, you are a short drive away from sites such as those at the Fallen Leaf Campground. In less than 90 minutes, you could be at this beautiful campground near Lake Tahoe.
You can go hiking, backpacking, and camping this fall and spend little time in your vehicle.
In some areas, camping destinations are over an hour drive from the city. Take advantage of all the surrounding areas have to offer by going camping this fall!

15 Camping Hacks for Fall Camping in Placerville, CA
These camping hacks will help campers at all abilities to conquer their adventure more efficiently than ever before! The great thing here is that all of these are tested and implemented by yours truly.
My family and I love to camp, and whether we are camping with all four of our kids or a group of friends, these camping hacks have made preparing for our camping trips much simpler. Also, as we have implemented these hacks, we've been able to enjoy our trips even more than ever before!
Are you ready?!
Let's get started!
1. Do your research before EVERY trip.
Make sure you research the area BEFORE you leave on your trip. Even if you are familiar with the area, make sure you research whether or not there are fire restrictions or anything that may impact your trip.
You will also want to print out any maps you may need if exploring a new area. Don't count on always having your phone's GPS available.
2. Always have extra blankets and sleeping bags available.
Having a few extra blankets and sleeping bags is always a great idea when camping. This is especially true if you are camping with your kids. These extras can be used for extra coverage as the temperatures drop or as extra padding under the kids' sleeping bags.
3. Always have a hammer.
Many think that all you need when camping is a good mallet. Though this is true if you're thinking about how you'll get your tent stakes into the ground, if you also have a hammer, you could do so much more.
You can use a hammer to help split wood, take stakes out of the ground, move hot cast-iron skillets or pans from the fire and much more!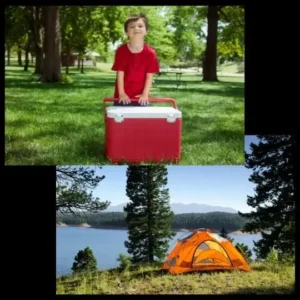 4. Make sure your tent is completely dry before storing.
You may be in a rush to pack and leave. We all feel that way. However, getting a jump on tearing down the tents so they can dry will save you a lot of time, and frustration, in the long run.
You can tear down the tents and lay them out to dry while you clean up the rest of camp and even have breakfast. That way you can still hit the road when you need to, but also don't have to deal with the mess later.
5. Have a tarp or two handy.
Having a tarp or two handy is always a great idea. From providing shelter from the rain to creating a clean space to dry towels, dishes, or your tent, you'll never regret having them.
Tarps are typically pretty inexpensive and don't take up much space. But they certainly can be a life saver!
6. Store your camping gear in bins when possible.
Who doesn't love rummaging through the garage looking for all the camping gear?
I know I don't miss it! Having all our camping gear in bins has made prep, packing, travel, and unloading much easier. This tip also allows us to ensure that everything we need is in a weather-proof container!
7. Have a bin that is specifically for your dry foods.
We have found that having an extra bin that we use specifically for dry foods keeps our food fresh and in good shape during transit. You don't want to worry about your bread or chips getting smashed on the drive. Having them in their own bin, along with your cans of corn, baked beans, and other food items will make packing much easier.
8. Speaking of bins – make sure you have one just for "kitchen items".
One of the easiest things to do when you're packing up your camping gear is to just through anything in where it will fit. Stop!
Make sure your kitchen items are all in the same bin. This will allow you to control what needs to be washed and dried well while everything else can be packed away. Also, this makes storing your food and kitchenware easier at night when you're camping in bear country.
9. Pack two coolers.
It may sound a bit silly, especially if you don't have many people with you, but you won't regret it! Pack one cooler with drinks and the other with your food items. Doing so will keep your food packed properly and will keep the kids from snacking on items you need for meals.
Also, having a cooler for drinks only will make sure your food items stay where you want them in the cooler. Let's be honest, nothing is worst than grabbing a drink and watching your hot dogs sink to the bottom of the hole that you just created!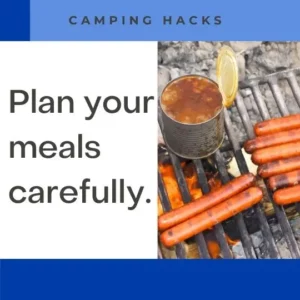 10. Plan your meals carefully.
Meal planning on a camping trip can be tricky depending on how many people you plan on cooking for. Here are a few hacks depending on the size of your group!
If you have multiple families going, rotate who's in charge of which meal.
If you're cooking for a large family, try to make meals simple by limiting the number of required ingredients.
ALWAYS prep any food you can ahead of time! There are meals we love while camping that can be prepped 100% at home so all we have to do is cook and eat!
11. Layer up for cooler temps.
When you camp in the fall, the days may seem quite warm but temperatures will drop at night. Be sure to have plenty of layers of clothing to put on at night and in the morning. It's also important to have thicker socks to help keep your feet warm!
12. Invest in a good sleeping pad.
If you want to stay warm and be more comfortable while you sleep, invest in a high-quality sleeping pad like this one here. These are light weight and easy to pack so they won't take up much room. What's more, they self-inflate so you don't need to worry about having a pump with you.
13. Bring plenty of water.
When you're camping, no matter what time of year it is, make sure you bring plenty of water. Even when camping in the fall, you need to be sure you have access to water or bring enough with you.
Camping and hiking in the fall can be dangerous because we aren't always thinking about hydration like we are in the hotter summer months. Bring plenty, and make sure you have access to more if and when necessary!
14. Don't forget to bring your sunscreen!
Sunscreen is also important for you to bring with you when camping in the fall. Though it may not feel as hot, the sun is still out and can actively burn you.
Be aware of this and make sure you are putting sunscreen on when you go to the lake or out for a long hike!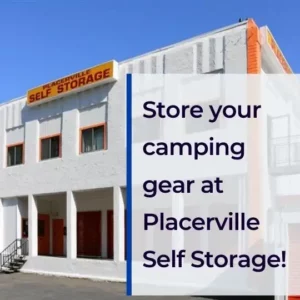 15. Store your camping gear at Placerville Self Storage!
One of the best hacks we found for camping, not matter the time of year, has been to store our gear in a self storage unit. Storing your camping gear at a self storage facility will allow you to keep your gear organized, but out of your garage when you aren't using it.
Also, you can store a boat, trailer, or ATVs which can make your camping trips even more fun!
Contact Placerville Self Storage today and find a great storage solution for your camping gear.
More From Shield Storage