13 Items that CANNOT be stored in a self storage unit? 
 Renting a self storage unit can provide a great solution if you are looking for extra storage space. You can store a lot of different items in a storage unit. However, there are many items that cannot be stored in a self storage unit that you should be aware of.  
Storage units are perfect for extra household items, collectibles, and furniture. Some people, like myself, store their camping and extra sports equipment in a self storage unit.  
Others, like my brother, store their ATVs and RVs at storage facilities. The list and possibilities of the items that can be stored in at a mini storage facility are close to endless. Close. 
It's important that if you are going to store your items at a self storage facility that you know what can and can't be stored in your self storage unit. Thus, we have compiled a list of 13 different items that cannot be stored in your self storage unit under any circumstances. 
Before we get into that list, however, let's discuss some of the different categories that these items fall into. Many don't understand the need for regulations on certain items, so I thought it would be most helpful to you if we took a moment to discuss these in a bit more detail.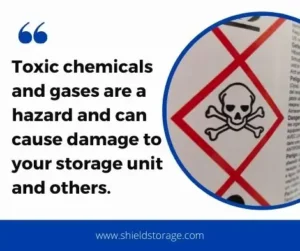 Toxic chemicals and gases are a hazard and can cause damage to your storage unit and others. 
Many think that as long as their chemicals are "stored properly" that they can be stored in a storage unit. The truth is, if you have chemicals in your unit and they combust, you aren't just putting your items at risk, but the items in surrounding units as well. Not to mention the issues that can be caused by fumes mixing together in a tight space.  
This can include propane, fertilizer, chlorine bleach, ammonia, or paint thinner. Really, anything that has fumes that can mix and cause issues.  
Please contact the facility you are renting with, or plan to rent with, if you have any questions about the items you would like to store. Also, remember that any items that are in your storage unit that shouldn't be is a violation of your agreement. 
Food for you or your pets need to be stored somewhere other than a self storage unit.  
When stored in a self storage unit, food can cause a number of problems when stored in a mini storage unit.  
We aren't just talking about food that you and I want to eat either. This goes for pet food as well.  
Many people try to buy their pet food in bulk and try to store the large bags or containers in their storage unit. The problem is; however, they don't realize that this is the perfect way to attract rodents and bugs to your storage unit. And, if these pests are infecting your unit, it won't be long until they infest the units around yours as well.  
Vehicles that aren't running can't be stored in a self storage unit either. 
Many self storage properties, like the majority of ours, provide storage space for vehicles. However, there are some people who try to park or store vehicles that aren't running at the facility.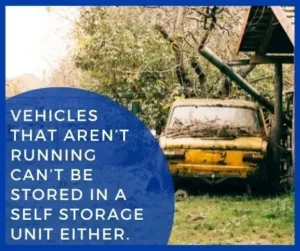 Even if you are working to get your car or vehicle in running order, you cannot store a vehicle that isn't running, insured, or registered at a self storage facility. This also means that you can't perform major repairs on vehicles on the premises either.  
Your complete list of items that CANNOT be stored in a self storage unit.  
Though this list is rather thorough, there may be items you desire to store that could possibly fit into one of these categories. Remember, if you aren't sure, please contact one of our locations nearby to ask any questions you may have! 
1. Food 
2. Pet Food 
3. Plants 
4. Drug
5. Flammable Chemicals  
6. Combustible Chemicals 
7. Toxic materials 
8. Perishables 
9. Vehicles that aren't running, insured or registered 
10. Weapons 
11. Ammunition 
12. Wet items 
13. Stolen goods 
Now that you know what cannot be stored in your self storage unit, contact us today to reserve your unit at a self storage location nearby!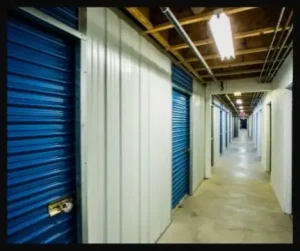 More From Shield Storage