13 Dos and Don'ts for Self Storage in Las Vegas, NV
There are many things you may not think of that can impact your experience at a self storage facility. That is, until you run into a situation where it suddenly becomes top of mind.
I remember when I was shopping for a storage unit near me. The top priority was convenience. We wanted to know our items were safe and secure so we could focus on enjoying the rest of what life has to offer.
Don't waste your time worrying about your stored items!
With so much to do in the Las Vegas area, the last thing you want to do is worry about your stuff! Whether you spend the weekend traveling to Red Rock Canyon or you love to tour the Neon Museum, worrying about the safety of the items you have stored is not what you want to fill your time with.
When renting at a self storage facility, be sure you are being thoughtful and following the safety measures that have been put in place to protect you and other customers.
Be thoughtful and follow all safety guidelines at the self storage facility.
Self storage is a great asset, especially in a place like Las Vegas, NV. However, there are always things you need to be careful about when looking for a storage unit and deciding what items you will store there.
The priority is to find the best storage option that meets your needs. Whether you are storing personal items, a boat, RV, or business documents, you want to make sure that the self-storage facility you choose has a unit that meets your needs.
The list of uses for a storage unit could go on and on for residents of Las Vegas, NV like you. This makes it even more important to remember the following Dos and Don'ts when renting a self-storage unit.
Though some of these items may seem obvious, you would be surprised at what I have seen while renting a storage unit near me. It's important to be aware of how the smallest mistake could leave you, and other customers, vulnerable to possible theft or the destruction of your things.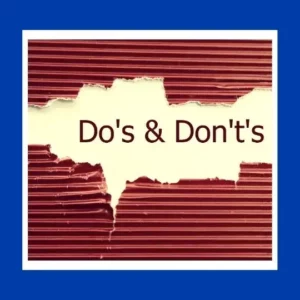 13 Dos and Don'ts for Self Storage in Las Vegas, NV
Self  Storage Dos
Be a good shopper. Do your research!   
Not all storage facilities are created equal. Do your do-diligence and make sure you find a location that best fits your self storage needs, provides the security you desire, and provides you with a customer-focused experience.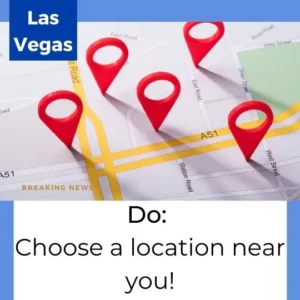 Choose a self storage location near you.   
Though you may think that driving 10+ miles to your storage facility is not that big of a deal, after a few months of inconvenient, extended trips you are likely to change your mind. Find a location that is nearby and conveniently located.
Tour the location and available units prior to move-in.   
To ensure that you are getting the best for your money, take the time to tour a self storage facility and the potential unit you may rent whenever possible.
Pack your items so they are secure.   
Though there may be items that will not fit into a box or bin, be sure to pack your items securely. This simple practice will help keep your items safe and will make it easier for you to move items around. Also, this is a great tactic for getting more out of your self storage unit space.
Store your larger belongings carefully.   
When you have large, bulky items the tendency is to just lean them wherever they will fit. You want to be sure that these larger items are stacked and stored carefully so they do not cause any damage to smaller items that may be around them.
Use a secure lock on your self storage unit.
This may be one of the most important keys to a better self-storage experience. Be sure, from day one, to use a secure lock on your unit. There are many locks available, such as this one here, that provide security to your stored items.
Be courteous of other customers.   
One of the best ways to enhance your self-storage experience is to be courteous of other customers at the facility. Whether you are sharing the aisle space between units or parking in front of a unit so you can load or unload items, it is best to always be patient and courteous to one another.
Self Storage Don'ts
Do not share your gate access code with others.     
It is important that you never share your gate access code with anyone. This includes those driving moving trucks when moving in. Be sure that you are the only one entering your gate access code when entering or leaving your self storage facility.
Do not allow others to access your storage unit without you.   
Not only is it important not to share you gate access code with others, but it is also important not to allow anyone to access your unit, or the facility, without you. If something were to go wrong, this could leave you liable for any damage that may occur.
Never store items that are not permitted by Nevada state law in your self storage unit.     
There are many items that should never be stored in your storage unit. Some of those items include hazardous materials, liquids, perishables, animals, and plants. There are many other specific items that you should keep out of your self storage unit. Contact the store manager if you need more specific information.
Never allow anyone to borrow your storage unit.   
When you rent a self storage unit, you are accepting responsibility for the items that are stored in that unit. If you allow someone to borrow your unit, you may not know specifically what they are storing but you will still be responsible for it.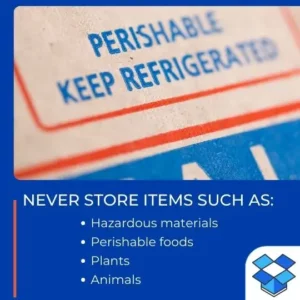 Do not speed through aisles.     
It is important to adhere to the posted speed signs that are at each self storage facility. The speed is set to protect you and those around you to ensure that everyone on the property remains safe while there loading and unloading their items.
Do not leave your storage unit unattended while open or unlocked.
Even if you will only be away for a moment – lock your unit! It is imperative to ensure that your items are safe and that there is not an opportunity for someone to sneak something into your unit that you would not want to be there.
You can store your personal and business items with confidence at one of our Las Vegas properties. It is our goal to help you have the best self storage experience possible and are here for your convenience. When you follow this list of Self Storage Dos and Don'ts you are sure to have a great storage experience!
More From Shield Storage