10 Things you NEED to know about Vancouver, WA – Your City Guide!
Vancouver, WA is a beautiful city located on the north bank of the Columbia River. Though the city is in Washington state, it is considered the largest suburb of Portland, OR. Though it is typically confused with the other Vancouver, in Canada, it is about 300 miles south of the Canadian city.
With so much to do in the area, no wonder people love to live here and visit. People come from all over to ski in the winter at one of the many resorts. The locals relish in their time spent at their favorite restaurants, dive-bars, and family entertainment spots. Whether it's the Battle Ground State Park or Big Al's Family Entertainment Center, there is something for everyone to enjoy.
Some little-known facts about Vancouver, WA
If you're new to the area, it's important to get you acquainted with some little-known facts about the Vancouver area. You want to be on the top of your game the first time someone asks you what part of "The 'Couve" you're from.
Let's start here. Most locals and individuals from surrounding areas call Vancouver, WA "The 'Couve". If you've just moved here, you'll stick out like a sore thumb as a newbie if you call your new home "Vancouver", so be sure to add this bit of slang to your vocabulary quickly.
2. There's no sales tax across the river.
That's right. You'll keep a few extra dollars back into your pocket when you shop across the bridge . You won't have to pay sales tax on any purchases in nearby Portland either, so don't be afraid to cross the bridge and do some shopping there on your weekends.
Kick-start your enjoyment of your new home with a visit to Uptown Village. This area has become the best place in the city to find trendy restaurants as well as many different little shops and boutiques to shop at.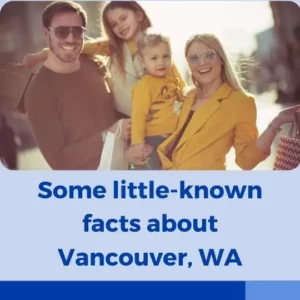 A star was born here!
That's right! Vancouver, WA is home to some famous faces. The most recognizable star, however, would be the one and only Daniel Seavy from American Idol. Daniel was on the show part of the 14th season of Idol when he blew the judges away with his rendition of the song "Hallelujah". Today, Daniel is part of the band, Why Don't We.
The beauty of Vancouver and the surrounding areas is also famous. World famous even. There are local treasures to be found in the area that many travel from all around to observe and enjoy. The outdoor offerings of Vancouver, WA is probably one of the most famous things about the area.
Vancouver, WA has some of the best places to enjoy the outdoors.
If you're looking for something to do outside in the Vancouver area, you won't be disappointed! This city has plenty of areas to hike, fish, camp, and ski. If you're a sports enthusiast, you can find areas to play your favorite sports too! Take a look!
From a walking path to a museum, to biking, and even a zipline, the Gorge has enough to keep you and your family or friends busy for hours. This is only the tip of the iceberg when you're there, so be sure to plan many trips back!
Another famous stop that is full of beauty and wonder is Mount St. Helens. This beautiful mountain is a short hour and a half drive from Vancouver, WA which makes it a perfect destination for a day tip out of the city. With things to see and do year round, no matter when you go you will be able to enjoy all the area has to offer.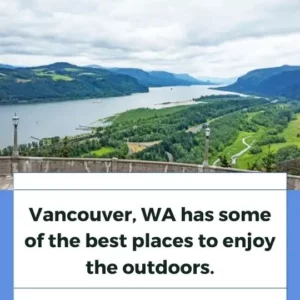 That's right! You can enjoy a new park every weekend and wouldn't see the same park or trail twice for almost 2 years! With over 90 parks in the city, you can tour and play at each one to build your list of favorites! You will be sure to find your favorite place to kick a soccer ball, play ball with friends, or exercise!
Fishing is a common sport and past-time in Washington. With over 3,000 miles of shoreline, you will be sure to find your favorite fishing spot. You can find spots close to Vancouver here, or you can spread your wings and get a feel for the whole state by visiting areas further from home.
It's important that you find the places you enjoy the most. With so much to choose from, it may take some time. But don't worry, you'll find your "spots".
In the meantime, you should also brush up on some hot topics in the area. From coffee to craft beers, there are some things that everyone in the area just can't seem to get enough of!
You should study up on these hot Vancouver topics!
You don't want to be caught off guard when asked about your recycling preferences or your favorite place to get a craft beer. Here's a few things to get you started so you can keep up with the conversations happening with the seasoned locals.
If there is one thing for certain, coffee is popular in the Vancouver area. With Seattle being the home to one of the largest coffee corporations, you can expect that most of the people you meet will have a quick list of their top 5 favorite, high-maintenance coffee drinks. So, brush up on your coffee vernacular and get ready to spice up your "Iced Grande Latte".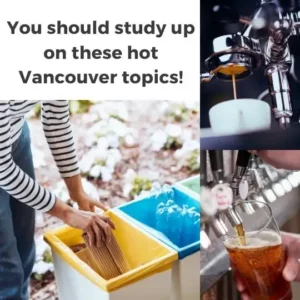 For most, if you aren't brewing your own craft beer then you have your local favorite spots to enjoy on. The city hosts not one, but three different brew festivals each year!
Keeping pace with other cities in the Pacific Northwest, Vancouver is on top of its recycling game. With an annual art festival that is dedicated to designs that are made of recycled materials, the city goes above and beyond in the effort to keep Washington as clean as possible.
What you should know if you're moving to Vancouver, WA.
If you're new to Vancouver, WA or getting ready to move to the area we hope that these tips help you become acquainted. We also would love to help you get settled, and if you are looking for a place to hold any of your personal or personal belongings, we're here for you!
Shield Storage of Downtown Vancouver can provide storage for your RV, Boat, custom car, winter gear, sports equipment, or any other storage need. For more information about how we can help you, contact us today!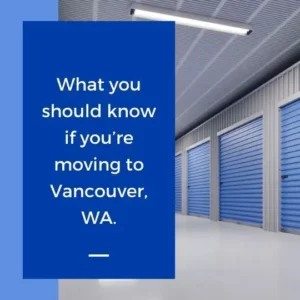 More From Shield Storage