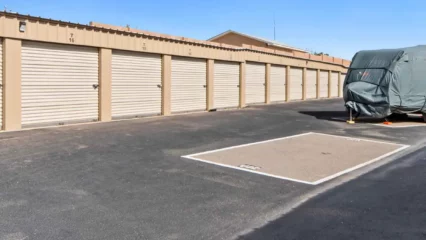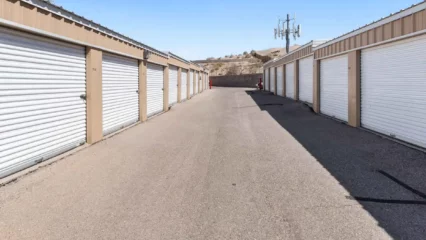 Bernalillo, NM Storage Solutions
Just 15 miles from Albuquerque, NM, Bernalillo is full of culture and tradition. The town of Bernalillo has been around for centuries. Bernalillo, NM was the center of trade at the base of the Rio Grande River and continues to be today. Not only is the town rich in culture, but there is plenty to do in the Bernalillo area as well. Bernalillo is also conveniently located to Rio Rancho, NM and Albuquerque, NM which means you have plenty to choose from in the city and surrounding areas. With so much to do, the population is growing in the Albuquerque/ Bernalillo area which means that the need for storage and flexible space is growing as well. At Shield Storage, we provide the community with best storage solutions possible.
Storage Solutions with a Personal Touch
In Bernalillo, NM we do our best to provide our customers with options that fit their individual needs. Whether you need somewhere to park your RV or boat, or a drive-up storage unit to keep your camping gear, we have a better storage solution that will meet any of your needs. We also offer our customers the convenience of 7 day a week access and month-to-month agreements. Shield Storage is committed to providing you everything you may need to have a successful storage experience. Our facilities offer dollies and large flat carts to make your moving experience as simple as possible. The Shield Storage staff will always strive to help our customers in any way possible. Never hesitate to call our friendly, professional on-site managers for help or assistance.
Shield Storage Solutions at a Facility near you
Finding a storage unit near you can be stressful. We currently offer storage solutions in the Bernalillo area at the following locations: 528 Self Storage
Contactless Move-Ins Available
As we continue to navigate the uncertainty of COVID-19, we will continue to provide our customers with contactless move-in options. It is our highest priority to keep our employees and customers safe during this time and always. For more information, please contact us today.
Providing Better Storage Solutions for Small Businesses
Many small business owners take advantage of the flexibility, convenience, and cost-effectiveness of using a self storage unit for their business storage needs. The month-to-month contracts, easy payment options, and extended access hours allow business owners a convenient solution. Whether you need somewhere to store your inventory, documents, extra furniture, or work vehicle our Bernalillo Shield Storage location has something that will meet your storage needs. We have units of different sizes, parking spaces, and climate controlled units to provide you a better storage solution.
Safe and Secure Storage Solutions with Shield Storage
Providing a safe and secure storage solution for the residents in Bernalillo, NM is one of our top priorities at Shield Storage. We take many different precautions to ensure your stored items are safe when they are at our facility. Some of the units at are facility are equipped with armed doors to provide the highest level of security possible. We also have digital surveillance systems in place to ensure the property is always safe for anyone coming or going. Lastly, our property is fully gated and enclosed with access only granted to those with a personal access code. This feature ensures that only customers are on the property and have access to the storage unit areas. What's more, this feature also makes it possible for our staff to track who has been on the property in the event of there being a theft or another unforeseeable situation occurring. At Shield Storage, we also provide our customers with the opportunity to purchase protection plans to ensure that their items are covered in the case of a loss of property. This adds an additional layer of protection to your items while stored at our facility and offers a greater peace of mind.
Shield Storage also serves the following cities nearby.
We are committed to continuing to serve the Grass Valley community and nearby cities such as: